EghtesadOnline: Money-market traders in the U.K. may have capitulated, but not the analysts.
While currency pundits were jolted by Governor Mark Carney's surprise hint that a rate increase by the Bank of England next month isn't a foregone conclusion, they aren't exactly doing an about-turn on their forecasts. ING Groep NV, Nomura International Plc, Credit Agricole SA, CBA Europe Ltd., MUFG and Canadian Imperial Bank of Commerce all say they are keeping their call for a hike in May intact, Bloomberg reported.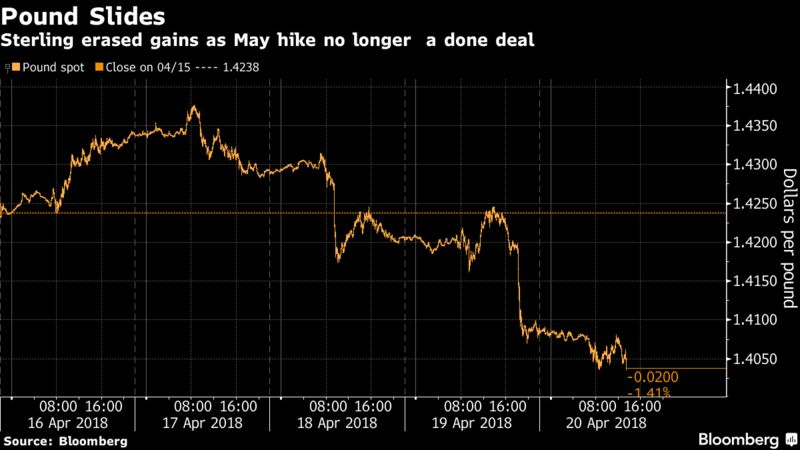 Gilts rallied on Friday and money-market investors pared expectations for a rate move to around 50 percent following Carney's remarks, from more than 80 percent earlier, calling into question the outlook for the pound. Sterling is among the top performers in Group-of-10 currencies this year, largely led by conviction that the central bank will need to raise rates to quell inflation that breached 3 percent in November.
"We still have a May hike penciled in -- and see this clear-out as a good opportunity to chase tactical pound upside into the May BOE meeting," said Viraj Patel, an analyst at ING Groep NV. "All Carney has done has turned May from a surefire bet to a 50:50."
Pound Trajectory
The pound traded around $1.4030 on Friday, having lost almost 1.5 percent last week, the worst five-day performance since February. Still, the currency has strengthened almost 4 percent this year against the dollar.
Sterling is likely to end the year higher despite Carney's latest comments, according to Nomura.
"For the time being, and before all of the monthly data are in, we still on balance expect the MPC to raise rates next month," said Jordan Rochester, an analyst at the brokerage. "The MPC's known reluctance to pre-commit may lead us to discount the importance of these comments."
Rochester predicts the pound to strengthen more than 5 percent from here to end 2018 at $1.48, levels around which it was trading in the run-up to the Brexit referendum.
Not all in the street are unified in expecting a May rate hike.
"Grudgingly, we have changed our forecast for the next interest-rate move," according to Alan Clarke, a strategist at Scotiabank. "We no longer expect an increase in the May MPC meeting," he wrote, citing recent disappointing U.K. economic data and Carney's comments.