EghtesadOnline: Oil rose for a second straight week as OPEC's commitment to rebalance the market and geopolitical risks to global supplies overshadowed U.S. President Donald Trump's tweet on "artificially Very High" prices.
Trump's comments came as the Organization of Petroleum Exporting Countries and allies including Russia showed willingness to further tighten oil markets and boost prices in a meeting in Saudi Arabia. West Texas Intermediate futures dropped as much as 1.2 percent early on Friday before rebounding as the impact of the tweet fizzled. They've risen 10 percent in two weeks, Bloomberg reported.
Looks like OPEC is at it again. With record amounts of Oil all over the place, including the fully loaded ships at sea, Oil prices are artificially Very High! No good and will not be accepted!

— Donald J. Trump (@realDonaldTrump) April 20, 2018
"Trump didn't change the fundamentals yet, he just expressed he was mad," said Bill O'Grady, chief market strategist at Confluence Investment Management in St. Louis. "It's pretty hard to thread the needle of lower oil prices when you're threatening a major oil producer," he said, referring to Iran.
Oil ministers from Saudi Arabia, Russia and the United Arab Emirates pushed back on the charge, saying there's no such thing as artificial prices, that current market levels reflect geopolitics and that demand is strong. Crude has rallied in recent weeks as output cuts from OPEC and its allies were compounded by heightened geopolitical risks, including the possibility of renewed U.S. sanctions on Iran. U.S. shale producers are also facing production challenges.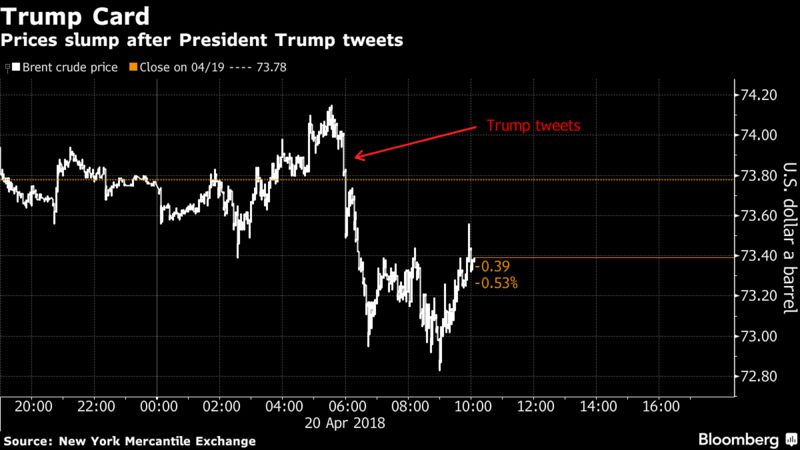 "Looks like OPEC is at it again," Trump said on Twitter early Friday morning. "With record amounts of Oil all over the place, including the fully loaded ships at sea, Oil prices are artificially Very High! No good and will not be accepted!"
Meeting in Jeddah, a committee of OPEC and other oil producers found high levels of compliance with the production curbs. Still, there's capacity for prices to rise beyond this week's three-year high, according to Saudi Energy Minister Khalid Al-Falih, who said cooperation between producers would continue into 2019.
"Those goals OPEC set out are nearly achieved," said Katie Bays at Height Securities LLC. "I don't see how the president's position necessarily will weigh in on that at all."
WTI for May delivery gained 9 cents, or 0.1 percent, to settle at $68.38 a barrel in New York. The contract expired on Friday. It rose 1.5 percent for the week, after an 8.6 percent jump the week before.
Brent crude for June delivery fell about 69 cents at the time of the tweet, before closing 28 cents higher at $74.06 a barrel in London. Brent was up 2 percent for the week.
President Trump's criticism comes in the same week that U.S. oil inventories fell below their five-year average for the first time since 2014. Brent moved to almost $75 a barrel on Thursday, its highest level in more than three years.
U.S. producers deployed five more oil rigs this week, pushing the total number of active equipment to 820, the highest since March 2015, according to data from Baker Hughes.
Despite this, U.S. shale is facing some "production challenges," said Paal Kibsgaard, chief executive officer of Schlumberger Ltd., the world's biggest provider of oilfield services. Shortages of pipelines, labor, equipment and sand is threatening to curtail growth.
Twitter has emerged as a preferred medium of communication for Trump, allowing him to directly reach his 51 million followers and countless more through news coverage. On April 2, Amazon.com Inc. shares dropped after Trump said the company's deliveries cost the postal service and drive retailers out of business.
Other oil-market news and OPEC comments:
Gasoline has climbed in past days ahead of the U.S. driving season and was up 0.9 percent to $2.0959 a gallon on Friday.
OPEC Secretary General Mohammad Barkindo said the U.S. oil and gas industry is benefiting from the group's efforts to stabilize the market.
Inventory levels are still significantly higher than before the downturn, Saudi Energy Minister Al-Falih said after the meeting in Jeddah.
Oil prices may theoretically jump to $80 a barrel as soon as this month, depending on many factors including geopolitics, Russian Energy Minister Novak tells reporters in Jeddah.
Global oil demand growth in the first three months of this year is forecast to reach 2.55 million barrels a day, the strongest year-on-year expansion since 2010, as demand has come in line with its optimistic expectations so far in 2018, according to Goldman Sachs Group Inc.