EghtesadOnline: Stocks in Asia climbed and U.S. equity-index futures rebounded as investors weighed the likelihood that the world's two largest economies will eventually resolve their ongoing trade spat. Treasuries fell and the dollar steadied.
Appetite for risk returned, lifting shares across the region with those in Hong Kong outperforming. Chinese equity markets reopened with gains after a holiday. Markets showed little reaction to a missile attack on a Syrian airbase as a Pentagon spokesman said it wasn't conducting airstrikes. The yen fluctuated ahead of remarks Monday by Bank of Japan Governor Haruhiko Kuroda at the start of his second term. While Friday's sell-off left U.S. stocks teetering on a key support level, futures on the S&P 500 Index rebounded, according to Bloomberg.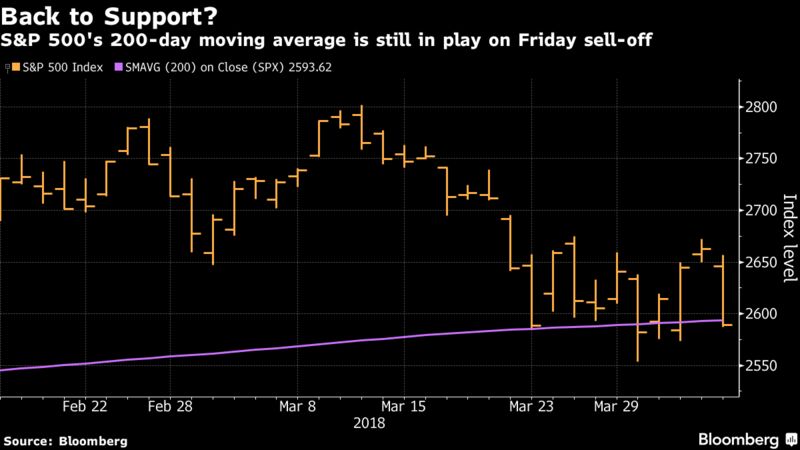 Trade remained at the forefront of investors minds as President Donald Trump said Beijing will relax its restrictions "because it's the right thing to do," and added that deals will be made on tax reciprocity and intellectual property. Attention now turns to China's Boao Forum, where President Xi Jinping is among senior officials scheduled to speak.
Elsewhere, oil pared losses as hedge funds cut bullish bets amid the escalating trade conflict. Aluminum on the London Metal Exchange extended a rally for a fourth day after U.S. sanctions on Russia.
Here's what is coming up this week:
Bank of Japan Governor Haruhiko Kuroda speaks in Tokyo Monday at the start of his second term.
President Xi Jinping gives a keynote address at Boao Forum Tuesday.
Facebook's Mark Zuckerberg testifies at two Congressional hearings Tuesday and Wednesday.
U.S. CPI data and FOMC minutes due Wednesday.
JPMorgan and Citigroup first-quarter earnings Friday.
These are the main moves in markets:
Stocks
The MSCI Asia Pacific Index rose 0.6 percent as of 2:30 p.m. Tokyo time.
Topix index climbed 0.4 percent.
Hong Kong's Hang Seng Index gained 1.3 percent.
Kospi index rose 0.5 percent.
Australia's S&P/ASX 200 Index rose 0.3 percent.
Futures on the S&P 500 Index added 0.6 percent.
Currencies
The Bloomberg Dollar Spot Index rose less than 0.05 percent.
The Japanese yen fell less than 0.05 percent to 107.97 per dollar.
The euro was little changed at $1.2276.
Bonds
The yield on 10-year Treasuries rose two basis points to 2.79 percent.
Japan's 10-year yield fell one basis point to 0.038 percent.
Australia's 10-year yield was steady at 2.66 percent.
Commodities
West Texas Intermediate crude rose 0.4 percent to $62.31 a barrel.
Gold was little changed at $1,332.80 an ounce.
LME copper rose 0.2 percent to $6,785.00 per metric ton.