EghtesadOnline: U.S. equity-index futures gained, the dollar edged lower and Treasuries were steady before a key inflation report that may throw more light on the Federal Reserve's policy path. Stocks in Europe advanced, bolstered by robust economic data.
The Stoxx Europe 600 Index climbed as investors traded on earnings from companies including Credit Suisse Group AG, following a mixed session in Asia. The yen's rise to a 15-month high weighed on Japan's Topix index, while shares in Hong Kong and Seoul gained and those in Shanghai fluctuated before a week-long Lunar New Year holiday. Bunds advanced, along with other core European bonds, even as data showed the euro-area economy maintained its growth pace as policy makers prepare to wind down stimulus, Bloomberg reported.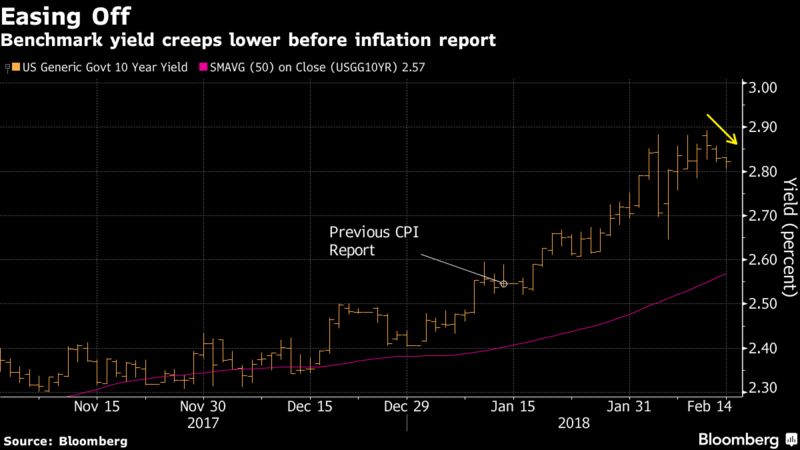 Investors' focus is now firmly on the American consumer-price data due Wednesday that may give clues on where markets are heading after the past two weeks' gyrations. The question is whether the outlook for inflation is strong enough to provoke a steeper trajectory of U.S. interest-rate increases. New Chairman Jerome Powell suggested the Federal Reserve would forge ahead with gradual tightening even as it keeps an eye on financial-system risks following the recent equity rout.
"Since the last payrolls about two weeks ago, inflation is the obsession of traders," Pierre Martin, a trader at Saxo Bank in Zurich, said by phone. "Given the selloff in stocks and with a lot of brokers pushing clients to buy the dip, people are trying to position themselves ahead of the CPI figures today."
Elsewhere, WTI crude oil drifted below $59 a barrel after its worst week in two years as fears over rising U.S. supplies curb investor optimism. South Africa' rand headed for its strongest level against the dollar in almost three years after the ruling African National Congress said it will remove President Jacob Zuma from office tomorrow through a Parliamentary vote of no confidence.
Here are some important things to watch out for this week:
Lunar new year celebrations for the Year of the Dog begin, affecting China, Hong Kong, Taiwan, Singapore, Malaysia and Indonesia. Chinese mainland markets are closed Feb. 15-21.
The U.S. core consumer-price index probably increased at an annual 1.7 percent pace in January, economists project. Retail sales in the U.S., also out Wednesday, probably increased for a fifth straight month.
Earnings season continues in full swing with reports including companies from Bunge to Nestle.
These are the main moves in markets:
Stocks
The Stoxx Europe 600 Index increased 0.8 percent as of 6:56 a.m. New York time.
The U.K.'s FTSE 100 Index climbed 0.7 percent to the highest in a week.
Germany's DAX Index rose 0.7 percent.
Futures on the S&P 500 Index gained 0.4 percent.
The MSCI Asia Pacific Index rose 0.3 percent.
Topix index fell 0.8 percent, Hong Kong's Hang Seng Index gained 2.5 percent, the Kospi rose 1.1 percent and Australia's S&P/ASX 200 Index fell 0.3 percent.
Currencies
The Bloomberg Dollar Spot Index fell 0.1 percent to the lowest in more than a week.
The euro declined 0.1 percent to $1.2343.
The British pound decreased 0.3 percent to $1.3852.
The Japanese yen increased 0.4 percent to 107.38 per dollar, the strongest in 15 months.
South Africa's rand jumped 1.1 percent to 11.8348 per dollar, the strongest in almost three years.
Bonds
The yield on 10-year Treasuries gained less than one basis point to 2.83 percent.
Germany's 10-year yield dipped two basis points to 0.73 percent, the lowest in more than a week.
Britain's 10-year yield decreased one basis point to 1.618 percent.
Japan's 10-year yield fell one basis point to 0.07 percent, the lowest in more than five weeks.
Commodities
West Texas Intermediate crude decreased 0.7 percent to $58.77 a barrel, the lowest in almost eight weeks.
Gold gained less than 0.05 percent to $1,330.17 an ounce.