EghtesadOnline: Buckle up: commodities are gyrating as equity market turmoil sends ripples through everything from crude to copper. So far on Monday we're in the green, but there's much to look out for. Earnings season is going full tilt, and it'll be dominated this week by gold miners including Barrick Gold Corp. just as bullion's role as a haven comes in for scrutiny. There's also a report from Bunge Ltd., the trading giant coveted by Archer-Daniels-Midland Co.
Midweek sees the deadline for 13F filings, while in energy there's data from OPEC and the International Energy Agency on the state of the play. And in Europe, keep an eye out for a forecast from France for wheat sales beyond the European Union. While all that's going on, China's about to step back from global markets as the country shuts down for the Lunar New Year holiday. Just in case you're wondering, we're about to embark on the Year of the Dog.
Golden Earnings?
With investors on edge amid the turmoil in markets, according to Bloomberg, gold's back in the spotlight and there'll be a barrage of commentary as a rich seam of producers report earnings. Chief among them is Barrick Gold Corp., which just delivered the third-worst returnamong the 15 major gold miners tracked by Bloomberg Intelligence last year.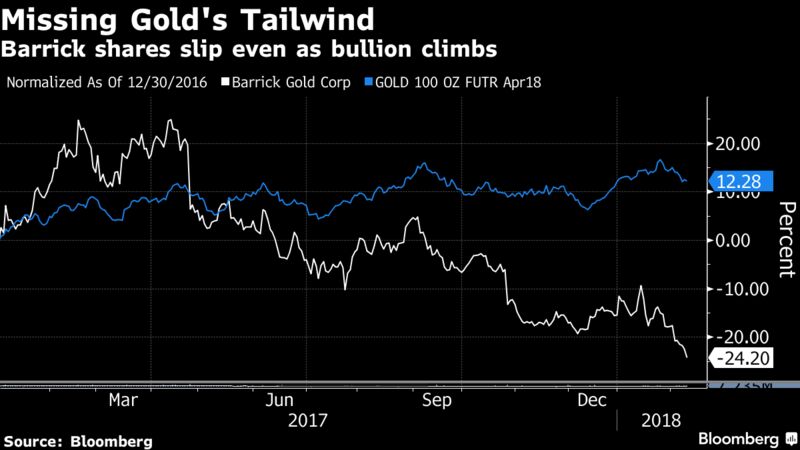 Analysts will be eager to hear about the company's strategy to improve margins after Barrick shares failed to catch the tailwind that propelled gold to its biggest annual gain in seven years. The Toronto-based miner will report Wednesday, and will discuss the results with analysts the next day. Apart from Barrick, we'll also see scorecards this week from Goldcorp Inc., Newcrest Mining Ltd. and Agnico Eagle Mines Ltd.
The 13F filings -- the once-a-quarter disclosure on holdings from money managers who oversee more than $100 million in the U.S. -- are due by Wednesday, and they'll offer a glimpse of hedge funds' conviction on gold and the companies that produce it. Billionaire Ray Dalio's Bridgewater Associates and John Paulson's hedge fund, which had SPDR Gold Shares in their portfolios in the third quarter, are among those expected to report their positions.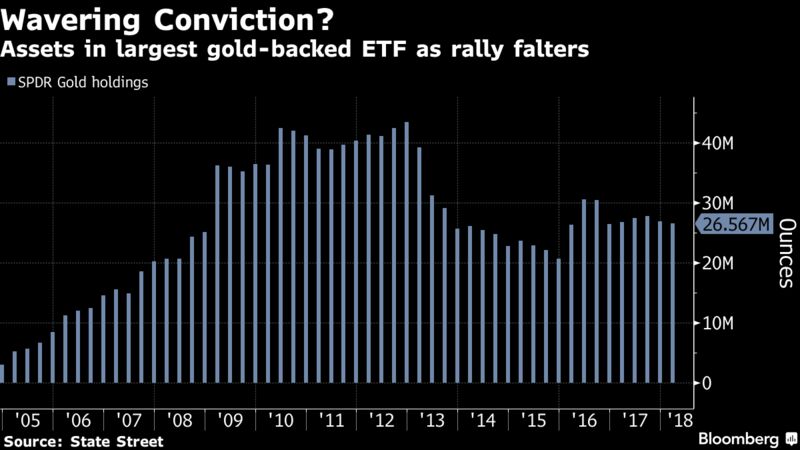 David Einhorn's Greenlight Capital, which owned 7.9 million shares in VanEck Vectors Gold Miners ETF will update regulators of its holdings as of Dec. 31. The ETF is the largest such fund tracking the major producers, including Newmont Mining, Barrick and Newcrest.
On Troubled Waters
Oil's having a choppy year. After the best January since 2013, Brent gave up all its gains as surging U.S. supply and the slump in global equities scared off investors. The slide came just after banks including Goldman Sachs Group Inc., Morgan Stanley and JPMorgan Chase & Co. issued bullish oil forecasts.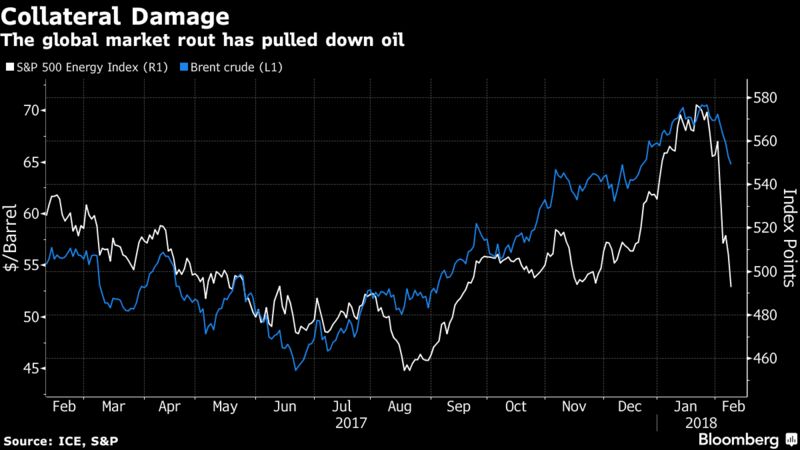 Is crude becoming more difficult to read? Will macro shifts -- fears about inflation and borrowing costs -- seep into the oil market and weaken sentiment? Julius Baer's Norbert Ruecker certainly thinks so. "The latest financial market jitters and a strengthening dollar, reflecting more hawkish rate expectations, are likely to unleash profit-taking," he said. We'll know more this week with monthly reports from OPEC on Monday and the International Energy Agency Tuesday shedding more light on the state of the market.
Will Bunge Jump?
Analysts on the lookout for an official announcement on a potential deal between Archer-Daniels-Midland and Bunge Ltd. will get to peek into the target's earnings Wednesday. The two are the A and B in the so-called ABCD companies that dominate global agricultural trade, alongside Cargill Inc. and Louis Dreyfus Co.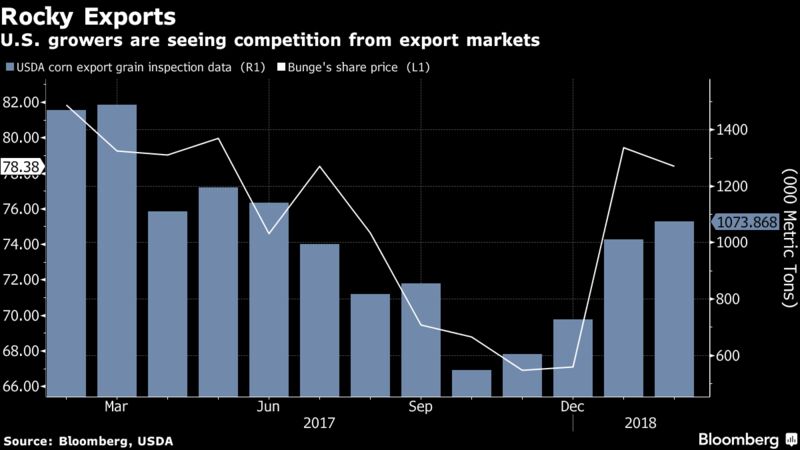 Bunge's results are seen offering a window into how the company is navigating the downturn brought on by a series of bumper crops. The White Plains, New York-based company, which was said to be in advanced talks to be acquired by ADM last week, is seen posting adjusted earnings of $1.37 a share, according to estimates compiled by Bloomberg. That compares with $1.70 a year earlier.
Sow Sad
The outlook for European wheat exports may deteriorate this week. Fierce competition from the cheap grain of Black Sea nations including Russia, as well as countries further afield like Argentina, have hammered demand for sales outside of the European Union.
A forecast for sales beyond the EU from France, the bloc's biggest grower, may be cut again this week. France AgriMer, the nation's crop office, already lowered its estimates three times this season and will report its latest figures on Wednesday. Shipments are unlikely to meet the current 9.3 million metric-ton prediction, according to Jean-Pierre Langlois-Berthelot, president of lobby group France Export Cereales.
Bulls Versus Bears
With Chinese traders off to celebrate the Lunar New Year later this week, trading volumes are expected to dip, potentially dragging copper lower. Analysts and traders are most bearish on the metal since June.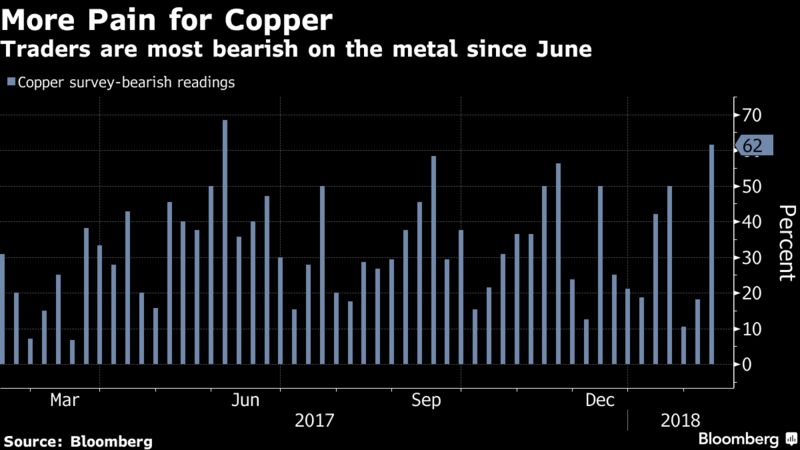 Analysts and traders were also bearish on crude. The fuel fell on Friday below $60 a barrel for the first time this year. Sentiment was positive for natural gas, sugar and corn. Terminal subscribers can see the surveys here.
For the Diary
MONDAY, FEB. 12
OPEC Monthly Oil Market Report
EIA monthly Drilling Productivity Report
Malaysian Palm Oil Board data on stockpiles, exports, output for January
Zinc conference in Carlsbad, California, through Wednesday
USDA data for grain-export inspections
Ivory Coast cocoa arrivals
EARNINGS: First Quantum Minerals Ltd., Rajesh Exports Ltd., Acacia Mining Plc
TUESDAY, FEB. 13
IEA monthly Oil Market Report
France's Agriculture Ministry estimates for 2018 crop areas
API Crude Oil Inventory Report
EARNINGS: Occidental Petroleum Corp., Harmony Gold Mining Co. Ltd, Kumba Iron Ore Ltd., Mitsubishi Materials Corp.
WEDNESDAY, FEB. 14
Deadline for release of 13F filings
EIA Crude Oil Inventory Report
FranceAgriMer updates French crop forecasts
African Fine Coffee conference, Kampala, through Friday.
EARNINGS: Bunge Ltd., Teck Resources Ltd., Barrick Gold Corp., Agnico Eagle Mines Ltd., Goldcorp Inc., Gold Fields Ltd., Woodside Petroleum Ltd., Idemitsu Kosan Co., Showa Shell Sekiyu KK, Marathon Oil Corp., Thyssenkrupp AG
THURSDAY, FEB. 15
Chinese New Year celebrations: mainland markets closed through Feb. 21.
Russian refining maintenance schedule from ministry
China's markets closed for New Year holiday, through to Feb. 21.
GrainCorp AGM in Sydney
EU weekly grain, oilseed import and export data
Strategie Grains monthly report on European supply and demand estimates
EIA Natural Gas Storage Change
USDA weekly figures for crop net-export sales
EARNINGS: Nestle SA, Yamana Gold Inc., Lundin Mining Corp., South32 Ltd., Newcrest Mining Ltd., Evolution Mining Ltd., Origin Energy Ltd., Thai Oil Pcl, Polyus PJSC, Cherkizovo Group PJSC
FRIDAY, FEB. 16
ICE weekly commitments of traders report for Brent, gasoil
Baker Hughes weekly rig count report
CFTC weekly commitments of traders report
EARNINGS: Deere & Co., Eni SpA, Danone, Norsk Hydro ASA, PTT Pcl