EghtesadOnline: Investors got a reprieve from the rout in stocks and the worst volatility spike since 2015, with equities rising in Europe and Asia. S&P 500 futures rose, while the dollar and Treasuries fell amid concern President Donald Trump's budget proposal will drop his party's goal to balance the budget in 10 years.
The Stocks Europe 600 index climbed, led by miners and chemical makers. South Korean equities rose after President Moon Jae-in was invited by North Korean leader Kim Jong Un to meet. The dollar's decline supported commodities, with metals higher and crude oil halting a six-day selloff. Japan's markets are closed for a holiday.
Traders however remained on edge following tumultuous moves in equities last week, which saw the S&P 500 post its worst week in two years with a 5.2 percent decline on fears over interest rate hikes. The Cboe Volatility Index dropped on Monday after an almost three-fold jump since late January week when the turbulence erupted, according to Bloomberg.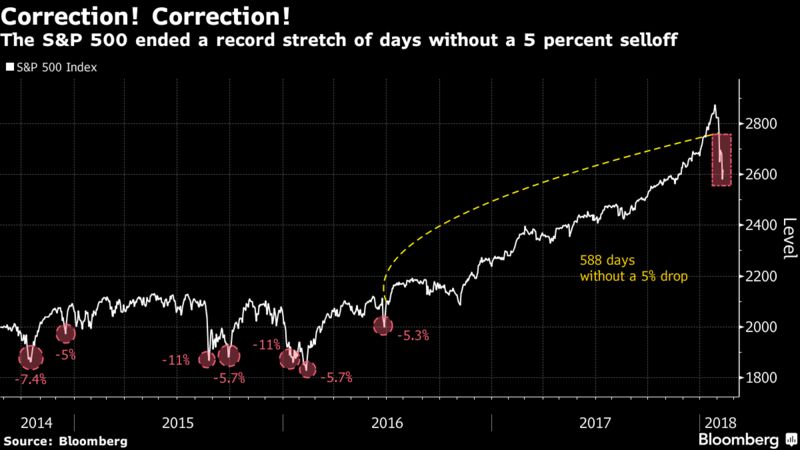 Investors are awaiting U.S. consumer-price data on Wednesday with some trepidation. Pressure on equities has been emanating from the Treasury market and in the outlook for inflation. Ten-year Treasury yields climbed on Monday, touching a fresh four-year high amid concern the Federal Reserve may accelerate its rate-hike schedule.
Asian stocks were buoyed by the attempts to thaw the tensions on the Korean Peninsula. Vice President Mike Pence told the Washington Post the U.S. is ready to engage in talks about North Korea's nuclear program, signaling a shift in policy. The won outperformed major currencies.
Here are some important things to watch out for this week:
Trump will deliver his 2019 budget blueprint on Monday.
Chinese New Year celebrations for the Year of the Dog begin in China and follow across much of Asia, including Hong Kong, Taiwan, Singapore, Malaysia and Indonesia. Chinese mainland markets are closed Feb. 15-21.
South African President Jacob Zuma's fate is set to be sealed on Monday when the top leadership of the ruling African National Congress meets to conclude the transition to a new administration.
The U.S. consumer-price index, due Wednesday, probably increased at a moderate pace in January, economists project. Retail sales in the U.S., also out Wednesday, probably increased for a fifth straight month.
Japan is expected to extend the longest stretch of economic growth since the mid-1990s when it reports fourth-quarter gross domestic product on Wednesday.
Earnings season continues in full swing with reports from Bunge, TripAdvisor, SunPower, Con Edison, Bombardier, Heineken, Loews, Michelin, PepsiCo, MetLife,Cisco, Japan Post Bank, Credit Suisse, Nestle, Airbus, Allianz, Telstra, Coca-Cola, Deere, Eni, Credit Agricole and Campbell Soup.
These are the main moves in markets:
Stocks
The Stoxx Europe 600 Index climbed 1.3 percent as of 9:15 a.m. London time.
The MSCI All-Country World Index jumped 0.5 percent, the largest increase in more than two weeks.
Futures on the S&P 500 Index rose 1.2 percent.
The U.K.'s FTSE 100 Index gained 1.2 percent.
Currencies
The Bloomberg Dollar Spot Index dipped 0.2 percent, the largest decrease in more than a week.
The euro gained 0.2 percent to $1.2274, the biggest climb in more than a week.
The British pound increased 0.3 percent to $1.3862, the largest climb in more than a week.
South Africa's rand increased 0.1 percent to 11.9764 per dollar.
Bonds
The yield on 10-year Treasuries rose four basis points to 2.89 percent, the highest in more than four years.
Germany's 10-year yield increased three basis points to 0.78 percent, the highest in more than two years.
Britain's 10-year yield gained four basis points to 1.605 percent.
Commodities
West Texas Intermediate crude surged 2.4 percent to $60.65 a barrel, the first advance in more than a week and the biggest jump in almost seven weeks.
Gold rose 0.3 percent to $1,321.23 an ounce, the largest advance in a week.
LME copper gained 1.4 percent to $6,850.00 per metric ton, the first advance in a week.