EghtesadOnline: U.S. equities ended their worst week in two years on a positive note, but rate-hike fears that pushed markets into a correction remain as investors await American inflation figures on Feb. 14.
The S&P 500 tumbled 5.2 percent in the week, its steepest slide since January 2016, jolting equity markets from an unprecedented stretch of calm. At one point, stocks fell 12 percent from the latest highs, before a furious rally Friday left the equity benchmark 1.5 percent higher on the day. Still, the selloff has wiped out gains for the year, Bloomberg reported.
Signs mounted that jitters spread to other assets, with measures of market unrest pushing higher in junk bonds, emerging-market equities and Treasuries. The Cboe Volatility Index ended at 29, almost three times higher than its level Jan. 26. . The VIX's bond-market cousin reached its highest since April during the week, and a measure of currency volatility spiked to levels last seen almost a year ago.
Pressure on equities came from the Treasury market, where yields spiked to a four-year high, raising concern the Federal Reserve would accelerate its rate-hike schedule. Yields ended the week at 2.85 percent, near where they started, as Treasuries moved higher when equity selling reached its most frantic levels. Commodities including oil, gold and industrial metals moved lower Friday. The dollar, euro and sterling all declined.
Traders are now focusing on next week's U.S. consumer-price data after a week in which the 10-year yield pushed as high as 2.88 percent. Equity investors took the signal to mean interest rates will rise as inflation gathers pace, denting earnings and consumers' spending power.
"Sometimes making a bottom can take time," Ernie Cecilia, chief investment officer at Bryn Mawr Trust Co., said by phone. "Investors should be at least aware, cognizant, and expect a little more volatility after we go through this period of more cathartic volatility."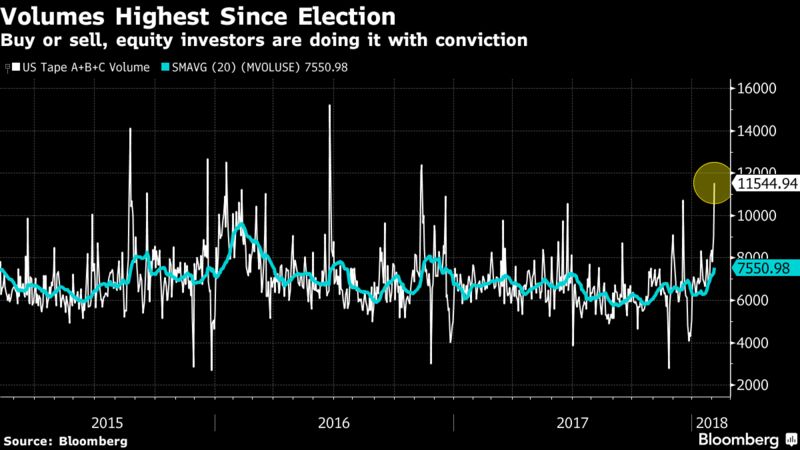 Europe and Asia weren't spared from the drama that's afflicted global stocks. The Stoxx Europe 600 Index clocked its worst week since 2016, losing almost half a year's gains. China's benchmark fell the most in almost two years earlier, while the MSCI World Index had its biggest weekly drop since 2016.
These are the main moves in markets:
Stocks
The S&P 500 Index rose 1.5 percent as of 4 p.m. in New York.
The Dow Jones Industrial Average climbed 1.4 percent and the Nasdaq 100 added 1.7 percent.
The Stoxx Europe 600 Index declined 1.4 percent, the lowest in more than five months.
The U.K.'s FTSE 100 Index decreased 1.1 percent to a 13-month low.
The MSCI Emerging Market Index fell 1.6 percent, the seventh straight decline.
Currencies
The Bloomberg Dollar Spot Index fell 0.1 percent.
The euro declined 0.1 percent to $1.2236.
The British pound sank 0.7 percent to $1.3819, the weakest in more than three weeks.
The Japanese yen fell less than 0.05 percent to 108.77 per dollar.
Bonds
The yield on 10-year Treasuries rose two basis points to 2.85 percent.
Germany's 10-year yield dipped two basis points to 0.75 percent.
Britain's 10-year yield declined five basis points to 1.57 percent.
Commodities
West Texas Intermediate crude dipped 3.2 percent to $59.18 a barrel, the lowest in six weeks.
Gold fell 0.3 percent to $1,314.59 an ounce.
Copper decreased 1.3 percent to $6,755 a metric ton.
The Bloomberg Commodity Index fell 1.6 percent, its sixth straight decline.