EghtesadOnline: Cryptocurrencies continued to whipsaw investors, sending Bitcoin to its lowest level since October before recovering, as worries over tighter regulation by U.S. authorities and central bankers elsewhere gave traders fresh reasons to exit after a brutal start to 2018.
The selloff has now knocked about half a trillion dollars from digital coins since early January. That's shaken a nascent market whose core attraction -- anonymity and decentralization -- is being challenged as never before by regulators, according to Bloomberg.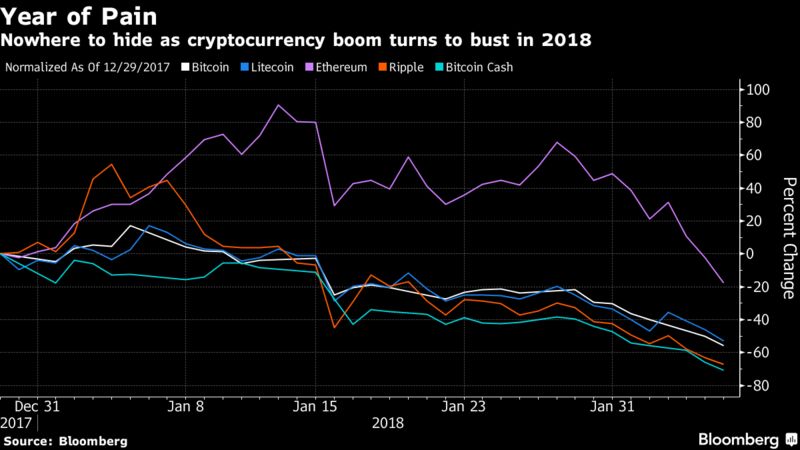 The latest broadside came from Europe, where Bank for International Settlements General Manager Agustin Carstens said there's a "strong case" for authorities to rein in digital currencies and that central banks -- along with finance ministries, tax offices and financial market regulators -- should police the "digital frontier."
"Novel technology is not the same as better technology or better economics," Carstens said in a speech in Frankfurt. He said Bitcoin may have been intended as an alternative payment system with no government involvement, yet it has become "a combination of a bubble, a Ponzi scheme and an environmental disaster," in reference to its electricity use.
The biggest virtual currency sank as much as 17 percent to as low as $5,922, before trading little changed as of 9:12 a.m. in New York, according to Bloomberg composite pricing. Alternative coins Ripple, Ether and Litecoin also fell at least 3.5 percent before recovering.
"Crypto is being driven by daily negative news," said Craig Erlam, a senior market analyst in London at online trading firm Oanda Corp. "There's regulation speculation in India, South Korea, and the U.S. And then there's hacking, the Facebook situation and finally the Tether story has people worried as well."
The slump in cryptocurrencies got fresh momentum after a Bloomberg News report that the top U.S. market watchdogs plan to ask Congress to consider national oversight for digital-currency trading platforms, many of which have been operating in a regulatory gray zone. Chiefs of the Commodity Futures Trading Commission and Securities and Exchange Commission will appear together at a Senate Banking Committee hearing to discuss cryptocurrencies on Tuesday.
"The market is feeling regulatory pressure," said Zhou Shuoji, a founding partner at FBG Capital, a Singapore-based cryptocurrency investment company.
Half Trillion-Dollar Loss
Cryptocurrencies tracked by Coinmarketcap.com have lost more than $500 billion of market value since early January as governments clamped down, credit-card issuers halted purchases and investors grew increasingly concerned that last year's meteoric rise in digital assets was unjustified. This week's selloff has coincided with a rout in global equities, with markets in Asia extending losses on Tuesday following a white-knuckle day for U.S. stocks.
Some technical indicators suggest the rout in Bitcoin has further to go. The cryptocurrency's Moving Average Convergence Divergence indicator, the most profitable of 22 trading signals tracked by Bloomberg over the past year, flagged further downside after turning bearish in December.
Bitcoin also dipped below its 200-day moving average for the first time in more than two years on Tuesday. The last time that happened, in August 2015, the cryptocurrency sank as much as 24 percent over the following two weeks.
"We're possibly heading back to where the true value of what Bitcoin should be," Oanda's Erlam said.