EghtesadOnline: The pound dropped as British Prime Minister Theresa May found herself under renewed pressure just as Brexit talks enter a crucial phase. European stocks fell, tracking many Asian shares, while the region's bonds advanced.
Sterling retreated against all its main G-10 peers following a report that as many as 40 Conservative lawmakers have agreed to sign a letter of no confidence in May, eight short of the number required to trigger a leadership challenge. The currency's weakness lent support to the FTSE 100 Index, but the picture was less positive across the rest of Europe and the Stoxx 600 Index dropped. Earlier, equities in Tokyo deepened a decline toward the close of the session amid a red day in Asian equities, though Chinese shares bucked the slide. Bitcoin slumped after the cancellation of a technology upgrade prompted some users to switch out of the cryptocurrency, though it pared some of the loss, Bloomberg reported.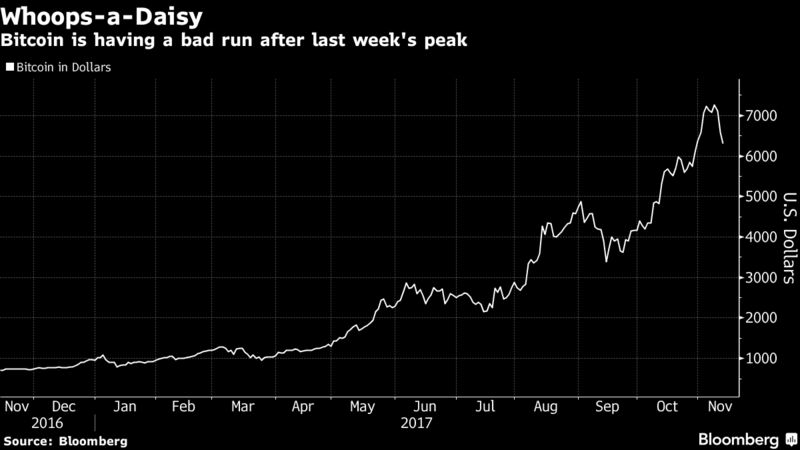 The threat to May's leadership comes at a sensitive time for the U.K. leader. The opposition Labour Party accused her of lacking the support within her Conservative Party to deliver the Brexit transition period she's proposed. In a week that also features a slew of Bank of England members speaking and updates on U.K. inflation, the labor market and retail sales, British assets could be in for a choppy ride.
But the U.K. data won't be the only numbers on investors' minds. U.S. inflation and growth numbers are also on the docket, and they could be key to the Federal Reserve's determination to lift rates next month. Talks on tax legislation may also play into market thinking; pessimism over the likelihood of successful reforms helped drag global equities down from this month's record high late last week. Measures of equity-market volatility have risen, albeit from low levels.
Elsewhere, gold and most industrial metals rose, and West Texas oil dropped below $57 a barrel.
Here are some key events investors are watching this week:
President Donald Trump continues on the final leg of his tour around Asia.
This week's data include GDP reports for Japan, Germany, Italy and the euro area, CPI in the U.S., U.K. and Spain, retail sales and industrial output in China, along with Aussie jobs and wages.
It's also a busy week for central bank speakers, with Mario Draghi, Janet Yellen, Mark Carney and Haruhiko Kuroda appearing at an ECB conference on monetary policy communication. BOE officials address the bank's future on Thursday, while Draghi speaks a second time Friday. A string of Fed appearances may further illuminate the FOMC's commitment to a December hike.
OPEC publishes its monthly market report Monday, followed by the IEA's Tuesday.
Oil executives are gathering in Abu Dhabi to jostle for access to the Emirate's oil riches.
More details about PDVSA's bond payments may surface when Venezuela hosts creditors in Caracas at 2 p.m. local time on Monday.
These are the main moves in markets:
Stocks
The Stoxx Europe 600 Index dipped 0.3 percent as of 10:33 a.m. London time, hitting the lowest in almost three weeks with its fifth consecutive decline.
The MSCI All-Country World Index dipped 0.2 percent to the lowest in almost two weeks.
The U.K.'s FTSE 100 Index climbed 0.2 percent.
Germany's DAX Index fell 0.1 percent to the lowest in almost three weeks.
The MSCI Emerging Market Index sank 0.4 percent to the lowest in almost two weeks.
Futures on the S&P 500 Index declined 0.1 percent to the lowest in more than a week.
Currencies
The British pound declined 0.9 percent to $1.3077, the weakest in more than a week on the largest drop in more than a week.
The Bloomberg Dollar Spot Index climbed 0.2 percent.
The euro fell 0.2 percent to $1.1644.
Bonds
The yield on 10-year Treasuries declined two basis points to 2.37 percent, the largest drop in more than a week.
Germany's 10-year yield fell two basis points to 0.39 percent, the biggest fall in a week.
Britain's 10-year yield fell three basis points to 1.309 percent, the largest drop in more than a week.
Commodities
Gold advanced 0.2 percent to $1,278.34 an ounce.
West Texas Intermediate crude declined 0.2 percent to $56.64 a barrel, the lowest in more than a week.
Asia
Japan's Topix fell 0.9 at the close. The Nikkei 225 slid 1.3 percent, the most since May.
South Korea's Kospi index lost 0.5 percent.
The Hang Seng Index in Hong Kong climbed 0.2 percent. Country Garden Holdings Co. jumped as much as 11 percent and Sunny Optical Technology Group Co. climbed as much as 5 percent after their inclusion in the index.
The MSCI Asia Pacific Index lost 0.6 percent.
The Japanese yen gained 0.2 percent to 113.34 per dollar, the strongest in two weeks.