EghtesadOnline: To the naked eye, it was just another up week for stocks. The S&P 500 Index rose 7 points, the eighth time in a row it's been up. Beneath the surface a barrage of headlines on everything from earnings to the Federal Reserve and taxes were drawing brighter lines between winners and losers.
While benchmarks muddled along and broader volatility gauges plumbed to record lows, turbulence was rising within individual industries. Homebuilders and companies with shaky finances dropped as the House tax bill sought a limit on mortgage and interest expense deductions. Meanwhile, Apple joined other tech megacaps in beating estimates, solidifying the industry's market leadership, according to Bloomberg.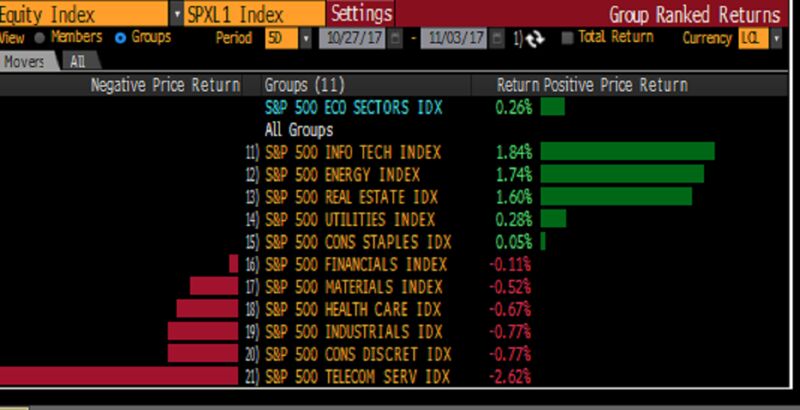 "You have seen homebuilders get whacked and the big tech companies really fire ahead," said Jeff Lancaster, a principal of San Francisco-based Bingham, Osborn & Scarborough, which oversees more than $4 billion. "Investors remain attentive to the shift in the regulatory environment and the tax environment."
Surface calm masked wide divergences in returns during a quarter in which investors have bought companies with the best earnings potential while staying away from those that may be hurt by competition or new policies. The Fed's plan to raise interest rates has bolstered financial shares and at the same time made high-dividend stocks such as utilities and phone companies less attractive.
Another example: Amazon's stock is rising along with its online presence while retailers such as J.C. Penney Co. nurse mounting losses. Despite concern over megacap valuations, tech shares have jumped the most this quarter among 11 main groups as the industry enjoyed the broadest profit beats.
While the S&P 500 climbed 2.7 percent since September, the gap between the best and worst performing industry widened to 19 percentage points. It's the first time since the 2008 financial crisis that such a small move in the index was accompanied by such big industry divergence.
The S&P 500 was virtually flat on Thursday, when President Donald Trump nominated Jerome Powell to replace Janet Yellen as next Fed chair and the House announced its bill to lower the corporate tax rate to 20 percent from 35 percent. While Powell and the proposed rate were anticipated, investors still found groups to punish.
They dumped homebuilders, sending a S&P index tracking the group down almost 3 percent, as the mortgage interest deduction for newly purchased homes is set at $500,000, a departure from the current cap of $1 million for couples filing jointly.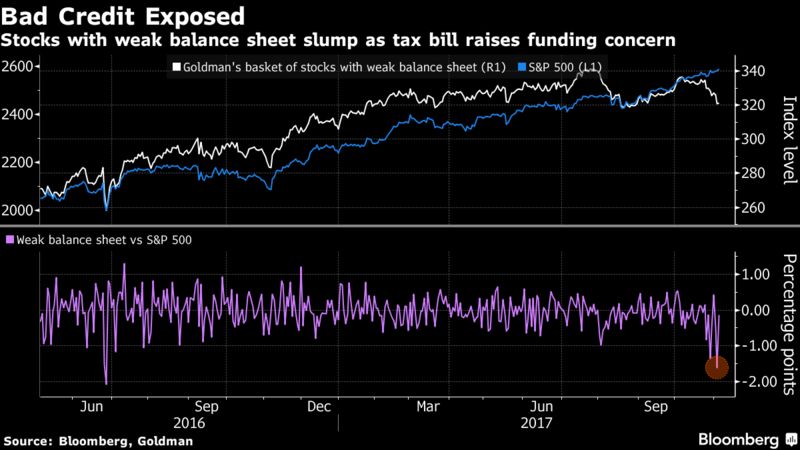 Stocks with the weakest balance sheets fell the most relative to the market since June 2016 as a provision in the tax bill capping the amount of deductible interest expenses at 30 percent of a company's income. A likely repeal of electric vehicle tax credit also weighed on Tesla shares.
While almost all Wall Street strategists expect an earnings lift from the tax cuts, few have factored it into their current estimates yet. The reduction to 20 percent would increase S&P 500 profit by 11 percent in 2018, according to Canaccord Genuity Inc.
Not only does market impact depend on which bill gets passed, if any. It will also depend on what companies do with any extra money they get, according to UBS AG. Their options include capital investment, share buybacks, takeovers, paying down debt or doing nothing.
"The real hope for investors and the economy, though, is that companies would use any higher retained earnings and freed-up foreign-held cash to reinvest in their businesses," said Jeffrey Saut, chief investment strategist at St. Petersburg, Florida-based Raymond James Financial Inc. "It will likely take the market some time to figure out what exactly it thinks about it. And investors may still be adopting an 'I'll believe it when I see it' approach to tax reform overall."
Investors should focus on the the potential boost to the broad economy, rather than specific tax provisions, according to Paul Christopher, Wells Fargo Investment Institute's global market strategist.
"A tax reform will probably provide a moderate stimulus to the economy, and investors should probably focus more on sectors that would benefit from this growth than on specific tax provisions," he said. "We like consumer discretionary, industrials and financials stocks. That would be a smarter play."
While widening stock dispersion shows investors are discerning losers from winners, it's too early to say they've given up their habit of buying shares blindly, said Brian Frank, portfolio manager at Key Biscayne, Florida-based Frank Capital Partners LLC, who says he picks stocks based on individual companies' profit prospects or valuations. With central banks globally mulling monetary tightening, stocks may start trading on their own merit next year, he said.
"Once that free money stops coming to market, then yes you could see correlation break down, you could see things trade on fundamentals," Frank said. "Hopefully we're getting there, it'll make my life easier."