EghtesadOnline: Venezuela's credit grade was cut deeper into junk territory by Fitch Ratings and S&P Global Ratings Friday, after President Nicolas Maduro called for a restructuring of the nation's global debt.
Fitch reduced the nation's long-term foreign rating to C from CC and called a default "highly probable," according to a statement. S&P downgraded the sovereign and state run-oil company Petroleos de Venezuela to CC from CCC-, two notches from default. Moody's Investors Service said earlier Friday that "losses could be significant" if a debt restructuring gets drawn out, according to Bloomberg.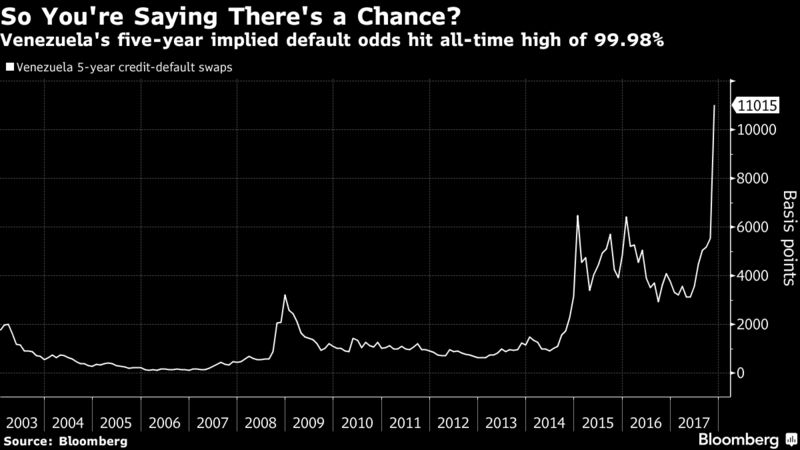 "It can't go any further than this, unless they default," Fitch analyst Richard Francis said by phone from New York. "If they don't make the payment by the grace period, the rating on the sovereign would go to RD and the actual issue would go to D, which means the bond would be in default."
A default seems all but certain after Maduro pledged to refinance and renegotiate the nation's foreign debt Thursday. Venezuela, PDVSA and the state electricity firm owe about $800 million in overdue interest payments. The implied probability of the country missing a payment over the next five years rose to an all-time high of 99.98 percent on Friday, according to credit-default swap data compiled by Bloomberg.
"The sovereign could miss a payment on its outstanding debt obligations or advance a distressed debt exchange operation, equivalent to default, within the next three months," S&P analyst Manuel Orozco wrote in a report, adding that "U.S. sanctions on Venezuela will most likely result in a long and difficult negotiation with bondholders."