EghtesadOnline: U.S. Treasuries extended their declines and the dollar traded near its three-month high amid continued optimism over the global growth outlook. Safe-haven assets such as the yen and gold slipped, while global shares were mixed as the earnings season continued to unfold.
Benchmark Treasury yields rose to the highest since March, while those of core government bonds in Europe tracked the increase after data showed German business confidence unexpectedly climbed to a record in October. Sterling jumped as accelerating U.K. growth spurred rate hike bets. The Stoxx Europe 600 Index swung before advancing as companies in the region reported mixed results. Benchmarks in Asia were largely higher, but Japan's Nikkei finally snapped its record run of gains. The greenback edged lower as traders await President Donald Trump's pick for Fed chair and before tomorrow's ECB meeting, Bloomberg reported.
With equities at or near records globally, investors are looking hard at earnings and economic data for indications of broadening growth that may keep the rally alive. The big U.S. results from Tuesday certainly helped, with more to come this week as well as the latest American GDP reading.
The outlook seems more important than ever as the Federal Reserve and other central banks start to pull back on emergency monetary stimulus. The European Central Bank is expected to announce a reduction in the size of its monthly bond buying at its policy meeting Thursday, the biggest scheduled event for markets this week.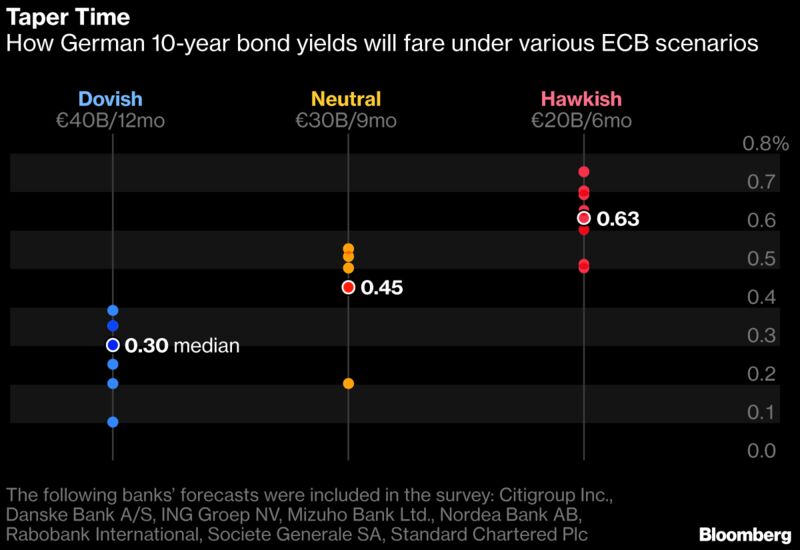 "Calling the end of this market at the moment is very, very tricky because interest rates are going to remain low, earnings are OK," Neil Dwane, global strategist at Allianz Global Investors, said on Bloomberg Television. "'We are seeing good economic performance out of Europe, but all the equity markets now need earnings to rise."
Elsewhere, India's S&P BSE Sensex jumped as much as 1.6 percent after Prime Minister Narendra Modi's government said late on Tuesday it will inject an unprecedented 2.11 trillion rupees ($32 billion) into the banks over two years to revive growth.
These are some of the key events coming up:
South Korea reports on GDP and Hong Kong on imports and exports, while Japan reports on CPI later in the week.
The U.S. economy probably expanded at about a 2.5 percent annualized pace in the third quarter, restrained in part by the effects of two hurricanes, economists forecast the government to report on Friday.
Companies reporting earnings this week include Alphabet Inc., Microsoft Corp. and Twitter Inc. in the technology sector. Ford Motor Co., Volkswagen AG and Boeing Co. headline cars and planes. Coca-Cola Co. and brewer Heineken NV join European banks including UBS Group AG, Deutsche Bank AG and Barclays Plc.
The week also boasts rate decisions from the Bank of Canada, Norges Bank and Riksbank.
And here are the main moves in markets:
Stocks
The Stoxx Europe 600 Index rose 0.2 percent as of 8:02 a.m. New York time.
The MSCI All-Country World Index increased 0.1 percent.
The U.K.'s FTSE 100 Index decreased 0.4 percent to the lowest in three weeks on the largest dip in almost six weeks.
Germany's DAX Index decreased 0.1 percent.
The MSCI Emerging Market Index increased 0.5 percent, the largest climb in more than a week.
Futures on the S&P 500 Index declined 0.2 percent.
Currencies
The Bloomberg Dollar Spot Index decreased 0.1 percent.
The euro gained 0.1 percent to $1.1778.
The British pound climbed 0.9 percent to $1.3256, the largest increase in almost six weeks.
Bonds
The yield on 10-year Treasuries gained two basis points to 2.44 percent, the highest in about seven months.
Germany's 10-year yield climbed one basis point to 0.48 percent, the highest in 12 weeks.
Britain's 10-year yield gained five basis points to 1.407 percent, the highest in almost nine months.
Commodities
Gold decreased 0.3 percent to $1,273.52 an ounce, the weakest in almost three weeks.
West Texas Intermediate crude dipped 0.3 percent to $52.30 a barrel.
Copper declined 0.7 percent to $3.18 a pound, the biggest drop in more than a week.
LME nickel fell 0.9 percent to $11,890 per metric ton, the largest fall in a week.
Asia
Japan's Topix index fell 0.3 percent and the Nikkei 225 declined 0.5 percent at the end of trading in Tokyo. Australia's S&P/ASX 200 Index rose 0.1 percent. The Hang Seng Index climbed 0.5 percent, while the Shanghai Composite Index gained 0.3 percent. India's Sensex advanced 1.3 percent.
The Japanese yen dipped 0.1 percent to 114.06 per dollar, the weakest in more than five months.