EghtesadOnline: A landslide election victory for Japan Prime Minister Shinzo Abe sent the yen down and stocks in Tokyo higher, with the path paved for a continuation of loose monetary policy.
With Abe now in good political shape ahead of a pending decision on nominating the Bank of Japan's leadership, the Japanese currency slumped to its weakest since July. The nation's two main benchmarks extended their recent rallies that sent them to the highest in at least a decade. Elsewhere in Asia, equities swung between gains and losses. Oil extended gains after OPEC and its allies achieved record compliance to cuts in September, Bloomberg reported.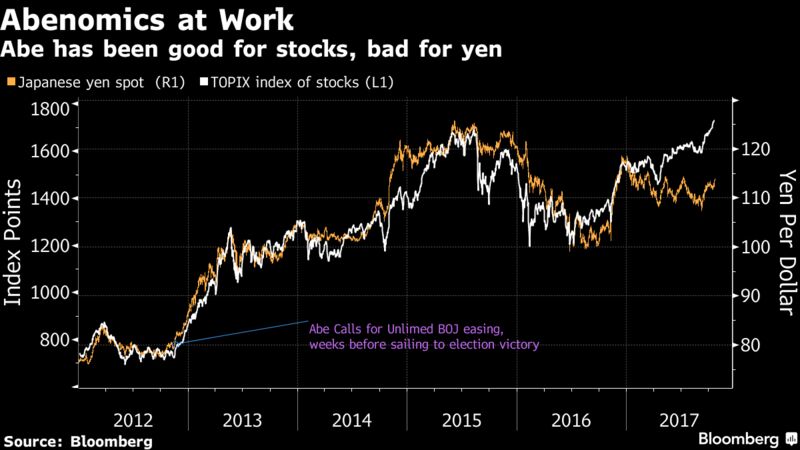 Abe's ruling coalition retained a two-thirds majority in Japan's lower house of parliament, polls from Sunday's election show, bolstering his chances to become the nation's longest-serving postwar leader. The prime minister's Abenomics program has spurred a more-than 20 percent decline in the yen since he took office in December 2012, while the Nikkei 225 Stock Average has roughly doubled.
Investors also continue to watch the developments in Spain. Catalan separatists meet Monday to formulate their reply to Prime Minister Mariano Rajoy after the Spanish leader announced an unprecedented barrage of measures to stamp his authority on the rebel region. Rajoy on Saturday shocked many observers with plans to clear out the entire separatist administration in Barcelona and take control of key institutions including public media and the regional police force, known as the Mossos d'Esquadra.
Markets on Friday saw politics return to focus, with the dollar climbing and Treasuries sliding on bets President Donald Trump was closer to pulling off one of his biggest legislative priorities after the U.S. Senate approved a legislative vehicle for tax cuts. In the race for Federal Reserve chair, Trump said he's considering John Taylor and Fed Governor Jerome Powell and indicated Janet Yellen remains in the running for renomination to a second four-year term.
China's new home prices rose in 44 of 70 cities in September from the previous month, compared with 46 in August, data showed.
Terminal readers can see our Markets Live blog here.
These some key events coming up this week:
The U.S. economy probably expanded at about a 2.5 percent annualized pace in the third quarter, restrained in part by the effects of two hurricanes, economists forecast the government to report on Friday.
Among other U.S. data this week, orders for big-ticket durable goods probably increased in a sign of firmer manufacturing growth.
Australia updates on third-quarter inflation on Wednesday, while South Korea reports on GDP and Hong Kong on imports and exports. Japan reports on CPI later in the week.
The European Central Bank holds a policy meeting on Thursday at which it's expected to announce a stimulus plan for 2018.
It's a huge week for earnings. Amazon.com Inc., Alphabet Inc., Microsoft Corp., Facebook Inc., and Twitter Inc. top the technology sector; General Motors Co., Ford Motor Co., Volkswagen AG and Boeing Co. headline cars and planes. Fast food giant McDonald's Corp., Coca-Cola Co. and brewer Heineken NV join European banks including UBS Group AG, Deutsche Bank AG and Barclays Plc.
U.K. Prime Minister Theresa May is likely to make a statement to Parliament on Monday on the progress of Brexit talks following the latest European Union summit.
Here are the main moves in markets:
Currencies
The yen slid 0.2 percent to 113.78 per dollar as of 2:04 p.m. in Tokyo.
The kiwi fell as low as 69.32 U.S. cents before reversing losses to trade at 69.71. The New Zealand dollar has been under pressure amid continued skepticism among traders about the country's economic-growth outlook under incoming Prime Minister Jacinda Ardern.
The euro was down 0.1 percent at $1.1771.
The Bloomberg Dollar Spot Index was little changed.
Stocks
Japan's Topix index climbed 0.8 percent, cementing a rally to the highest since mid 2007. The Nikkei jumped 1.1 percent to continue trading at the highest since 1996.
South Korea's Kospi index fluctuated.
Hong Kong's Hang Seng fell 0.7 percent.
Australia's S&P/ASX 200 lost 0.2 percent. New Zealand was closed for a holiday.
Futures on the S&P 500 Index were little changed. The underlying gauge rose 0.5 percent on Friday to reach yet another new record.
The MSCI Asia Pacific Index added 0.2 percent.
Bonds
Australian 10-year government bond yields rose 1 basis point to 2.79 percent.
The yield on 10-year Treasuries was at 2.38 percent after rising 6 basis points on Friday.
Commodities
West Texas Intermediate crude rose 1.3 percent to $52.12 a barrel.
Gold slipped 0.3 percent to $1,276.92 an ounce.