EghtesadOnline: Stocks in Europe nudged higher, led by miners, as gains in oil and copper drove Bloomberg's gauge of commodity prices to a six-month high. The euro weakened and Spanish shares fell after Spain's government gave Catalonia a new deadline to back down from its independence claim.
The Stoxx Europe 600 Index followed gains in benchmarks from Tokyo to Sydney, with basic-resources shares reaching a four-year high. WTI crude climbed above $52 a barrel on concern tensions between Iraqi forces and Kurds will disrupt supplies, while copper surged to the highest since Aug. 2014 on speculation Chinese growth will sustain demand. The pound extended gains as British Prime Minister Theresa May headed for Brussels to intervene in deadlocked exit negotiations, Bloomberg reported.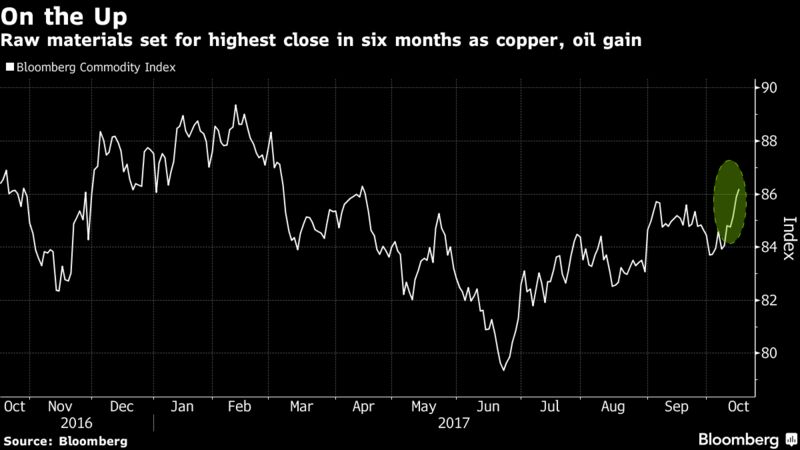 In Spain, investors are awaiting the next move in a crisis that has weighed on Spanish assets and may also roil the euro. Madrid on Monday rejected Catalan President Carles Puigdemont's response to demands he clarify his position on independence, clearing the path for the government to suspend the region's self-rule. Puigdemont has until 10 a.m. Thursday to back down, Deputy Prime Minister Soraya Saenz de Santamaria said.
The dollar advanced against its major G10 peers and Treasury yields rose after Federal Reserve Chair Janet Yellen said on Sunday her "best guess" is consumer prices will soon accelerate after a period of surprising softness, a forecast echoed by European Central Bank President Mario Draghi and Bank of England Governor Mark Carney. A host of Fed speakers and the publication of the Beige Book this week may provide further clues about the U.S. policy path.
Meanwhile, tension over North Korea continues to simmer. The U.S. and South Korean navies began a joint drill involving around 40 warships, amid signs North Korea is preparing for another provocation such as a missile launch. North Korea's state-run media agency KCNA on Saturday criticized the exercise, calling it a "reckless act of war maniacs."
Terminal subscribers can read more in our Markets Live blog.
Here are some key events coming up this week:
U.K. Prime Minister Theresa May travels to Brussels on Monday to personally intervene in deadlocked exit negotiations with the European Union.
Among Fed speakers lined up this week are Philadelphia Fed President Pat Harker on Tuesday, and New York Fed President Bill Dudley and Dallas Fed President Robert Kaplan On Wednesday. The Fed's Beige Book will also be published on Wednesday.
U.S. economic data will include a couple of September housing reports. Beginning construction on new homes and sales of previously owned properties will probably show the negative effects of Hurricanes Harvey and Irma on demand and building.
China releases data for GDP,industrial production and retail sales on Thursday.
Earnings season gets into full swing with major U.S. financial firms including Morgan Stanley, Goldman Sachs Group Inc. and Blackstone Group LP. posting results. Netflix Inc. and General Electric Co. are also reporting.
Bank of England Governor Mark Carney appears before the U.K. Parliament's Treasury Committee for the first time since June's election on Tuesday.
Here are the main moves in markets:
Stocks
The Stoxx Europe 600 Index rose 0.1 percent as of 10:42 a.m. London time, the highest in more than four months.
The U.K.'s FTSE 100 Index gained 0.1 percent.
Germany's DAX Index rose 0.2 percent to the highest on record.
Spain's IBEX Index decreased 0.7 percent.
The MSCI Emerging Market Index jumped 0.4 percent, hitting the highest in more than six years.
Futures on the S&P 500 Index increased less than 0.05 percent.
Currencies
The Bloomberg Dollar Spot Index rose 0.1 percent.
The euro decreased 0.3 percent to $1.1785.
The British pound gained 0.1 percent to $1.3297, its sixth consecutive advance.
The Japanese yen increased less than 0.05 percent to 111.81 per dollar.
Bonds
The yield on 10-year Treasuries climbed two basis points to 2.29 percent.
Germany's 10-year yield dipped one basis point to 0.40 percent, the lowest in a month.
Britain's 10-year yield rose one basis point to 1.363 percent.
Spain's 10-year yield declined one basis point to 1.6 percent.
Commodities
West Texas Intermediate crude rose 1.3 percent to $52.12 a barrel, the highest in two weeks.
Gold increased 0.1 percent to $1,304.53 an ounce.
Copper climbed 2.3 percent to $3.21 a pound, hitting the highest in more than three years.
Palladium traded above $1,000 an ounce for the first time since 2001.
The Bloomberg Commodity Index gained 0.4 percent to the highest in six months.
Asia
Japan's Topix index advanced 0.9 percent as of 2 p.m. Tokyo time and Australia's S&P/ASX 200 Index rose 0.6 percent. South Korea's Kospi index was little changed.
Hong Kong's Hang Seng Index was 0.9 percent higher, while the Shanghai Composite Index was steady.
The MSCI Asia Pacific Index rose 0.6 percent to touch its highest level since November 2007.