EghtesadOnline: Crude extended gains from the highest close in two weeks as speculation mounted over potential output disruptions in a region that's home to Iraq's oldest producing oil fields.
Futures in London rose as much as 1.7 percent after adding 2.8 percent last week. Iraqi soldiers seized facilities including a refinery after mobilizing late Sunday to take fields near the northern city of Kirkuk from Kurdish forces. Their advance comes amid clashes following an independence referendum by the semi-autonomous Kurdistan Regional Government, or KRG, on Sept. 25.
Exports of about 600,000 barrels a day from Kirkuk's fields and others in the adjacent Kurdish region were said to continue Sunday. Yet around 120,000 barrels a day pumped by the KRG from fields claimed by Baghdad are at immediate risk, while any move by neighboring Turkey to close a Kurdish pipeline would create bigger disruption, according to Bloomberg oil strategist Julian Lee.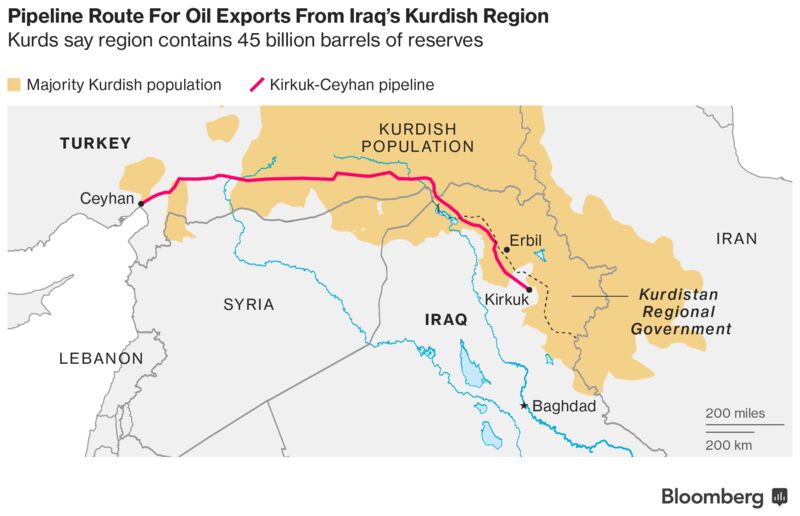 "The Kurdistan tension is the main argument for the price gain," said Bjarne Schieldrop, chief commodities analyst at SEB AB in Oslo. "The fact that the market now has started to react to geopolitical risks like this is clearly a reflection of an oil market with less abundance of oil."
Brent for December settlement rose much as 96 cents to $58.13 a barrel on the London-based ICE Futures Europe exchange, and traded at $57.92 as of 10:40 a.m. local time. Prices climbed 92 cents to $57.17 on Friday. The global benchmark traded at a premium of $5.53 to West Texas Intermediate for the same month.
WTI for November delivery advanced as much as 79 cents, or 1.5 percent, to $52.24 a barrel on the New York Mercantile Exchange, after gaining 1.7 percent on Friday. Total volume traded was about 10 percent above the 100-day average.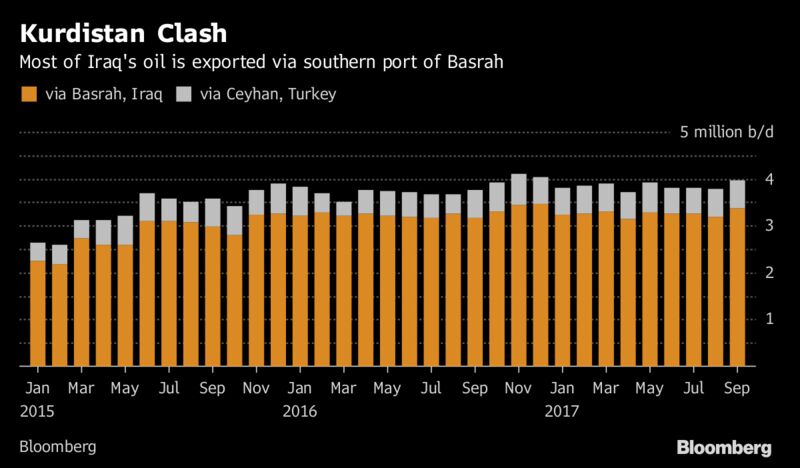 Iraq is the second-largest producer in the Organization of Petroleum Exporting Countries, and pumps most of its 4.47 million barrels a day from fields in the south, shipping it from the Persian Gulf port of Basrah. The country's Kurdish region, meanwhile, relies on a pipeline to the Turkish port of Ceyhan to get most of its crude to market. The conduit also transports some 100,000 barrels a day from federal-run fields in Kirkuk.
The shipments from Kirkuk combine crude pumped by Iraq's state-owned North Oil Co. and by the KRG, and both flows are normal, Kirkuk Governor Najmaddin Kareem said Sunday.
The Kurdistan Security Council confirmed in a Twitter message late Sunday that Iraqi forces and Shiite militias had advanced from southern Kirkuk, intending to take over a military base near the oil fields.
Other oil-market news:
Shares of oil companies operating in Kurdistan tumbled on Monday, with Genel Energy Plc falling 8.4 percent, DNO ASA dropping 6.4 percent and Gulf Keystone Petroleum Ltd. losing 11 percent as of 10:40 a.m. London time.
OPEC sees crude demand growing at a "healthy pace" over the next five years. Consumption will climb by an average 1.2 million barrels a day through 2022 and slow to 300,000 barrels a day in 2035 to 2040, Secretary-General Mohammad Barkindo said Sunday in Kuwait.
Cautious money managers cut bets on rising WTI crude in the week ended Oct. 10, U.S. Commodity Futures Trading Commission data showed.