EghtesadOnline: The dollar extended gains after Federal Reserve Chair Janet Yellen boosted expectations for an interest-rate rise in December and ahead of the U.S. president laying out his tax-reform plan. U.S. and European equity futures climbed, while most Asian stocks declined.
The Bloomberg dollar index headed for a third day of advances after Yellen said raising borrowing costs gradually is the appropriate policy stance amid uncertainty surrounding inflation. The greenback was also supported by Donald Trump's much-anticipated framework to cut taxes. That pushed down the yen, though it didn't stop Tokyo equities sinking as more than half of the companies on the Topix index traded without the right to receive the next dividend, Bloomberg reported.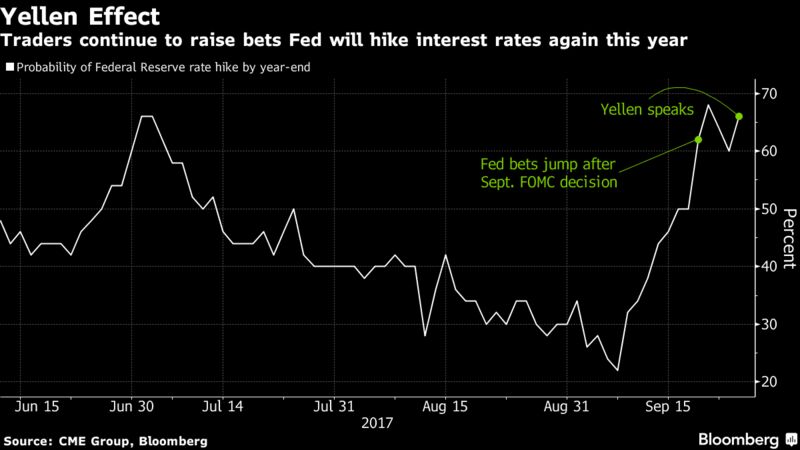 Equities are struggling to make further headway after reaching record highs earlier this month. Chances for higher U.S. rates by the end of the year rose to almost 70 percent from closer to 60 percent before Yellen's speech as the Fed boss saw the economy strong enough to withstand tighter policy. Addresses from central bankers in Canada, the U.K. and the U.S. continue a busy week for policy setters, while geopolitical concerns linger. Escalating tensions on the Korean peninsula earlier this week saw appetite climb for the yen, Treasuries and gold, a move that's since dissipated.
"If she wants markets to be prepared for the December hike she needs to pump up the probability of what the markets are pricing in a little bit higher yet," Hartmut Issel, UBS Wealth Management's head of APAC equity and credit, said on Bloomberg Television. "We can see the probabilities have moved, but probably not quite where they should be, so therefore marginally a bit of an impact yet, especially on the dollar in the short term."
Trump and Republican leaders will announce their tax plan Wednesday, cutting rates for corporations as well as proposing a top individual income tax rate of 35 percent. They'll leave to Congress the decision of whether to create a higher bracket for top earners. The rate on corporations would be set at 20 percent, down from the current 35 percent rate, and businesses would be allowed to immediately write off their capital expenditures for at least five years, three people familiar with the plan told Bloomberg News. More on that here.
China's industrial profits rose 24 percent year on year in August.
Terminal subscribers can read more in our Markets Live blog.
What to watch out for this week:
U.S. data on durable-goods orders, GDP and personal spending will provide further clues as to the potential Fed policy path.
Bank of Canada Governor Stephen Poloz is due to deliver a speech Wednesday, titled "The Meaning of 'Data Dependence': An Economic Progress Report," which will be his first major remarks since a July press conference.
St. Louis Fed President James Bullard speaks on the U.S. economy at an event in Missouri, and on Thursday the Bank of England hosts the "20 Years On" conference in London, marking two decades of independence from the government, beginning with remarks from BOE Governor Mark Carney.
The euro-area inflation rate may have accelerated a touch to 1.6 percent in September from 1.5 percent but the core will probably remain at 1.2 percent. The data is out on Friday.
And here are the main moves in markets:
Stocks
Japan's Topix index slid 0.5 percent at the close in Tokyo.
Australia's S&P/ASX 200 Index declined 0.1 percent and South Korea's Kospi index ended less than 0.1 percent lower.
Hong Kong's Hang Seng Index climbed 0.4 percent, while China's stock benchmarks were little changed.
Futures on the S&P 500 Index added 0.1 percent. The underlying gauge closed flat at 2,496.84. The Nasdaq 100 Index added 0.2 percent and the small cap Russell 2000 Index gained 0.3 percent to reach a record high.
Contracts on the Euro Stoxx 50 advanced 0.3 percent as of 7:32 a.m. London time.
The MSCI Asia Pacific Index fell 0.3 percent.
Currencies
The Bloomberg Dollar Spot Index gained 0.2 percent, touching the highest in a month.
The euro traded at $1.1774, down 0.2 percent.
The yen fell 0.2 percent to 112.51 per dollar, extending a drop of 0.5 percent in the Tuesday session.
The Aussie bought 78.66 U.S. cents after falling 0.4 percent and the kiwi traded at 71.97 U.S. cents.
Bonds
The yield on 10-year Treasuries was at 2.25, climbing more than one basis point.
10-year Australian government bond yields rose two basis points to 2.79 percent.
German 10-year bund yields rose one basis point to 0.42 percent.
Commodities
West Texas Intermediate crude was at $52.30 a barrel, up 0.8 percent, after an industry report was said to have shown an unexpected decline in crude inventories.
Gold was little changed at $1,293.51 after slumping 1.3 percent in Tuesday's session.