EghtesadOnline: U.S. stocks slid as investors weighed the impact of the Republican tax proposal that would dramatically cut levies on corporations and the wealthy. Politics dominated trading in Europe, with the euro sliding after the German election, giving European stocks a boost.
The S&P 500 Index opened lower, while the Stoxx Europe 600 Index climbed. The euro weakened against almost all its major peers after Chancellor Angela Merkel wonGermany's election with a smaller share of the vote, while the country's main far-right party, Alternative for Germany, posted a surprisingly strong result.
The yen stayed weaker as Japan's prime minister unveiled a fresh stimulus package and said he'll dissolve the lower house of parliament ahead of a general election. Developing-nation stocks headed for a third day of declines. Most government bonds advanced, according to Bloomberg.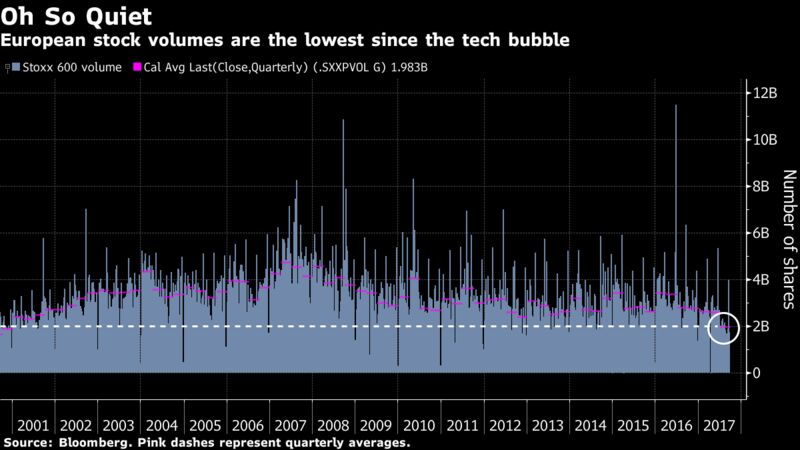 "Investors were expecting a victory for Angela Merkel, but there has been a surprise in the relatively poor performance of the CDU and SPD, who suffered their worst results since 1949," Nick Peters, multi asset portfolio manager at Fidelity International, wrote in a note.
"While this leaves the political situation more uncertain than before, the likelihood of a Jamaica coalition of the CDU, Greens and FDP remains high," he wrote. "The political implications of the elections remain relatively mute, as the euro zone continues to enjoy a strong and synchronized recovery."
The process of building a new government could take weeks, so markets may well move on from the result quickly. Trouble continues to foment in the Catalonia region of Spain, while central bank grandees including Federal Reserve Chair Janet Yellen and European Central Bank President Mario Draghi are among those scheduled to speak this week.
Meanwhile, the New Zealand dollar lost as much as 1.1 percent amid disappointment the ruling party failed to get a majority in a weekend vote, kicking off what could be weeks of coalition-building talks.
Terminal subscribers can read more in our Markets Live blog.
What to watch out for this week:
Draghi addressed EU lawmakers in Brussels on Monday. Yellen speaks in Cleveland on Tuesday. Later in the week, Bank of England Governor Mark Carney speaks, as does soon-to-depart Fed Vice Chairman Stanley Fischer.
European Union chief Brexit negotiator Michel Barnier and U.K. counterpart David Davis begin their next round of negotiations.
Household spending last month in the U.S. probably posted the smallest gain since February as motor-vehicle sales shifted into a lower gear, economists forecast government figures to show.
The euro-area inflation rate may have accelerated a touch to 1.6 percent in September from 1.5 percent but the core will probably remain at 1.2 percent on Friday.
Here are the main moves in markets:
Stocks
The S&P 500 was down 0.1 percent as of 9:46 a.m. in New York
Stoxx Europe 600 climbed 0.3 percent to the highest in more than two months.
The MSCI All-Country World Index dipped 0.3 percent to the lowest in more than a week.
The U.K.'s FTSE 100 Index fell 0.2 percent, the largest fall in more than a week.
Germany's DAX Index gained 0.2 percent to the highest since July.
The MSCI Emerging Market Index dipped 0.8 percent to the lowest in more than two weeks.
Currencies
The Bloomberg Dollar Spot Index climbed 0.3 percent to the highest in more than three weeks.
The euro dipped 0.6 percent to $1.1879, the weakest in more than three weeks.
The British pound gained less than 0.05 percent to $1.3507.
Bonds
The yield on 10-year Treasuries rose less than one basis point to 2.25 percent.
Germany's 10-year yield declined two basis points to 0.42 percent.
Britain's 10-year yield added less than one basis point to 1.36 percent.
Commodities
Gold fell 0.4 percent to $1,291.89 an ounce.
West Texas Intermediate crude rose 1.3 percent to $51.30 a barrel, the highest since May.
Asia
Japan's Topix index advanced 0.5 percent at the close in Tokyo. Australia's S&P/ASX 200 Index ended virtually unchanged and South Korea's Kospi index slid 0.4 percent.
The Hang Seng Index in Hong Kong fell 1.4 percent with Chinese property developers slumping after several cities on the mainland tightened rules on home sales.
The Japanese yen fell 0.2 percent to 112.22 per dollar.