EghtesadOnline: Stocks fluctuated near peaks and the dollar held above its recent lows with a highly anticipated Federal Reserve policy decision pending, and as investors girded for another round of geopolitical tensions after U.S. President Donald Trump threatened to annihilate North Korea.
European equity-index futures headed lower and S&P 500 Index contracts were little changed. Stock benchmarks from Tokyo to Sydney diverged. The greenback traded in a narrow range versus Group-of-10 peers and eased from a two-month high against the yen while the euro and the British pound advanced. The Mexican peso slipped after a 7.2 magnitude earthquake struck near Mexico City. Benchmark crude held below $50 a barrel and iron ore futures sunk, Bloomberg reported.
Financial markets remained largely calm as Trump's speech to the UN did little to alter views on the tensions over North Korea's nuclear ambitions. Absent any North Korean response, attention turns to Wednesday's Fed decision, with a focus on plans to start shrinking the central bank's $4.5 trillion balance sheet.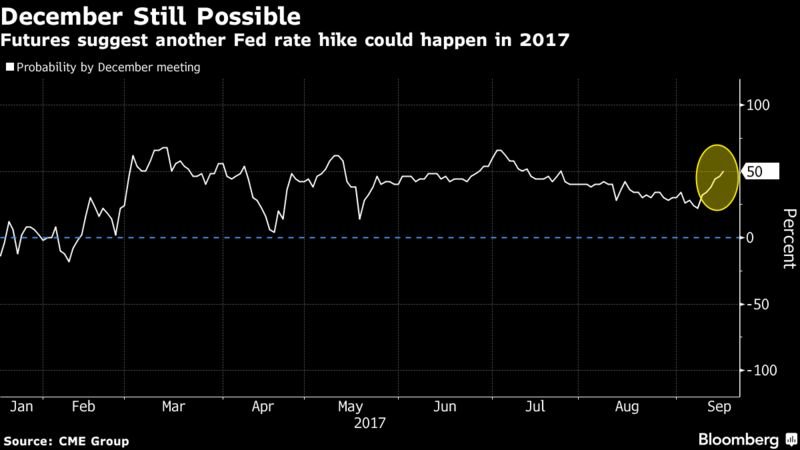 The New Zealand dollar surged, outperforming Asian currencies against the dollar, after a poll put the ruling National Party back in the lead ahead of the main opposition Labour Party ahead of this weekend's election. The fixing of the yuan remained in focus as investors try to gauge where the People's Bank of China wants the currency, following a set of weaker-than-expected fixings last week. The PBOC weakened its yuan fixing by the most since Sept. 12 on Wednesday.
What to watch out for this week:
Japan's trade surplus in August was 113.6 billion yen ($1.02 billion) compared to an estimate of 104.4 billion yen as imports and exports had double-digit increases.
Reserve Bank of Australia Assistant Governor Luci Ellis speaks in Sydney.
Malaysia's August consumer prices rose 3.7 percent versus an estimate of 3.4 percent.
The Bank of Japan is predicted to stand pat when it reviews policy Thursday. The BOJ probably won't reveal when it will unwind stimulus, but could signal determination to keep the yield curve under control.
Indonesia and the Philippines are among countries also reviewing monetary policy this week.
Brexit strategy is in focus as Theresa May prepares to outline her revised approach on Friday.
Campaigning continues in Germany, days before the Sept. 24 election. New Zealand goes to the polls on Sept. 23.
Here are the main moves in markets:
Stocks
The Topix index ended the session in Tokyo flat at the highest since August 2015. Australia's S&P/ASX 200 and the Kospi index in Seoul closed slightly lower.
The Hang Seng Index in Hong Kong swung between gains and losses with the Shanghai Composite Index.
Contracts on the S&P 500 Index were flat in early European trading. The main gauge climbed 0.1 percent in the New York session, rising for a third day.
Futures on the Euro Stoxx 50 retreated 0.1 percent as of 7:28 a.m. London time.
The MSCI Asia Pacific Index was up 0.2 percent.
The MSCI All-Country World Index slightly extended gains to consolidate at a record high.
Currencies
The Bloomberg Dollar Spot Index fell less than 0.1 percent as London opened.
The yen added 0.2 percent to 111.42 per dollar.
The pound rose 0.1 percent to $1.3521. It was little more than a cent off the year's high against the dollar after a report U.K. Foreign Secretary Boris Johnson may resign should Prime Minister Theresa May oppose his Brexit demands.
The euro climbed 0.1 percent to $1.2009, within a cent of the recent high.
The Mexican peso was trading at 17.7926 per dollar.
The Kiwi dollar jumped 0.7 percent to 73.65 per dollar.
Bonds
The yield on 10-year Treasuries was little changed after rising more than one basis point to 2.24 percent Tuesday.
Australian 10-year bond yields added about two basis points to 2.83 percent.
A single buyer snapped up everything on offer at Australia's bond auction on Wednesday, the third time this quarter that's happened. Read about it here.
German 10-year bund yields were steady at 0.45 percent.
Commodities
Gold futures added 0.2 percent to $1,313.53 an ounce.
West Texas Intermediate crude traded at $49.86 after falling 0.9 percent on Tuesday, the first retreat in more than a week.

Iron ore futures on the Dalian Commodity Exchange fell 1.6 percent. The benchmark spot price for ore delivered to Qingdao slumped 10 percent in the past four days, ending at $68.85 a dry metric ton on Tuesday, the lowest since July, amid concerns about rising supply.