EghtesadOnline: OPEC and its allies are discussing extending by more than three months the oil production cuts that expire in March 2018, potentially prolonging them well into the second half of next year in an effort to boost prices, according to people familiar with the matter.
An extension of that duration would be needed under the worst-case scenario for the oil market that OPEC ministers are now contemplating, the people said, asking not to be named because the talks were private. One option under discussion is a six-month extension, one person said.
The Organization of Petroleum Exporting Countries and other producers including Russia, Mexico and Kazakhstan pledged to reduce output by about 1.8 million barrels a day to eliminate a global surplus that was depressing prices. The deal, reached in late 2016, initially called for a six-month period, which later was extended with another nine months until the end of March 2018, according to Bloomberg.
Despite the cuts, oil prices have struggled to break above $50 a barrel after being weighed down by the resurgence of U.S. shale production.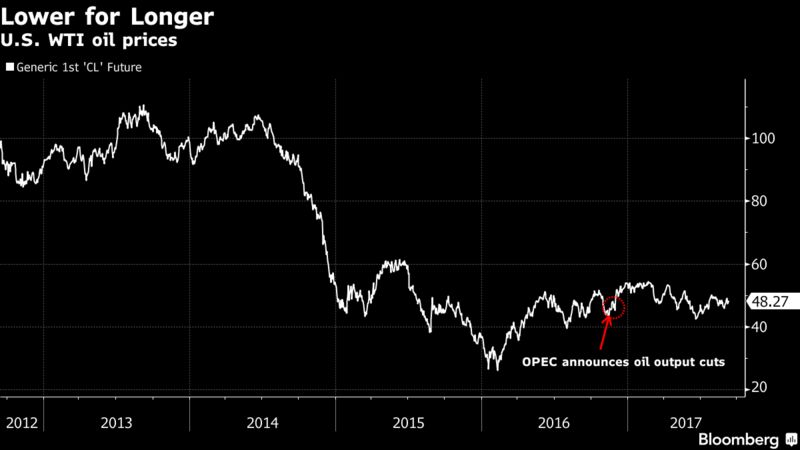 OPEC and its allies are now discussing a further rollover ahead of a ministerial meeting scheduled for late November in Vienna, with a three-month extension seen as the minimum, the people said. The duration will depend on multiple variables, including the level of compliance with agreed cuts by OPEC and its allies, the pace of the oil-output recovery in Libya and Nigeria, U.S. shale supply and the strength of global demand.
"We think there will be plenty of oil in 2018 with the need for OPEC to hold cuts through all of next year," said Bjarne Schieldrop, chief commodities analyst at SEB AB in Oslo.
OPEC's own estimates, released Tuesday, show that even with demand for its oil likely to increase next year, the group won't be able to reverse curbs on output if it wants to balance the market. The organization boosted its forecast for the amount of crude it needs to supply by 400,000 barrels a day to 32.8 million barrels in 2018, which remains in line with production last month.
The group's total output dropped 79,100 barrels a day to 32.755 million a day in August amid a retreat in Libyan production, according to the report.
West Texas Intermediate, the U.S. marker, was little changed at $48.21 a barrel on the New York Mercantile Exchange at 12:47 p.m. Singapore time. It's down about 10 percent this year. Brent crude, the benchmark for more than half the world's oil, traded at $54.14 in London on Wednesday and is almost 5 percent lower in 2017.
Saudi Arabian Energy Minister Khalid Al-Falih last weekend discussed the potential extension of the deal with his counterparts from Venezuela, Kazakhstan and the United Arab Emirates. Al-Falih said longer-lasting curbs "would be considered in due course as market fundamentals may dictate."
While the current agreement sets a good basis to go forward, "the need to develop a plan beyond March is there and it's appropriate to look at possible scenarios," Qatar's Energy Minister Mohammed Al Sada said at a briefing in Doha on Tuesday.