EghtesadOnline: Bitcoin fell as much as 7.3 percent in the U.S. after a report claimed Chinese regulators ordered the nation's digital exchanges to close, the second blow to the $150 billion cryptocurrency market after the country earlier this week outlawed initial coin offerings.
A document has been issued for local Chinese regulators to implement the shutdown, Caixin reported today, citing unidentified people close to the nation's internet financial risk prevention team. Earlier, bitcoin prices dropped 18 percent on the Chinese trading platform Huobi.com.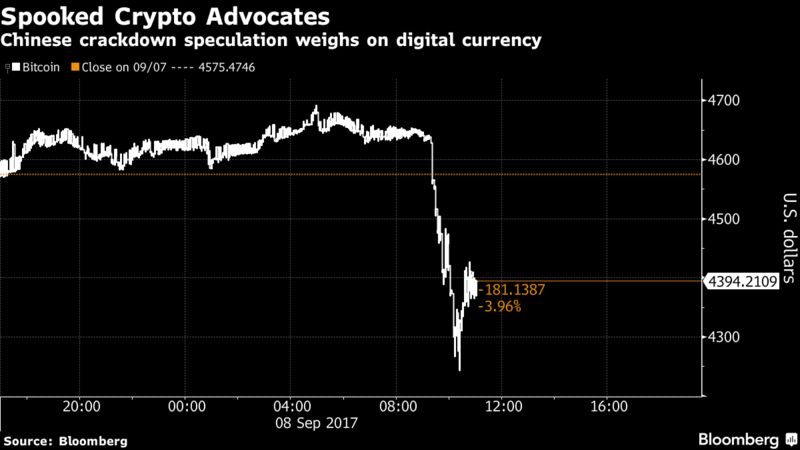 It wasn't immediately clear how the order is being conveyed to bitcoin exchanges in China. Wu Xing, a spokeswoman for Huobi, said the company hasn't received such notices and is still in operation. Tian Ying, a spokeswoman for Okcoin, said the company hasn't received such notices to shut down its exchange either.
According to Bloomberg, bitcoin fell 3.9 percent to $4399.54 as of 11:05 a.m. in New York, according to Coinbase.
The People's Bank of China said on its website Monday that it had completed investigations into ICOs, and will strictly punish offerings in the future while penalizing legal violations in ones already completed. The regulator said that those who have already raised money must provide refunds, though it didn't specify how the money would be paid back to investors.
Digital startups use ICOs to raise money to fund their development and to create digital coins that are necessary to access the applications they are building. More than $2 billion has been raised through ICOs this year, according to Autonomous Research LLC.