EghtesadOnline: Gold extended a rally to an 11-month high on demand for a haven as U.S. President Donald Trump weighed new economic sanctions that could target China after North Korea's nuclear test. Palladium retreated after earlier touching the highest since 2001.
Bullion jumped as much as 1.1 percent after North Korea said on Sunday it successfully tested a hydrogen bomb with "unprecedentedly big power," prompting Trump to threaten to boost economic sanctions and halt trade with any nation doing business with North Korea. Investors also weighed a report that Pyongyang is preparing to launch an intercontinental ballistic missile, Bloomberg reported.
Gold has surged 16 percent this year as investors weigh the possibility of conflict in Asia, with Kim Jong Un's regime pushing on with missile tests. The U.S. ambassador to the United Nations said North Korea was "begging for war" by testing a nuclear weapon over the weekend and demanded the strongest sanctions possible to bring the Kim Jong-Un regime to heel.
"Safe-haven demand is the order of the day," Simona Gambarini, a commodities economist at Capital Economics Ltd. in London, said by phone. "If tension continues to escalate, prices could rally above $1,350 and stay there until there's some more certainty about the situation in the peninsula."
Bullion for immediate delivery was up 0.7 percent at $1,334.18 an ounce at 2:07 p.m. in New York, according to Bloomberg generic pricing. It rose 2.6 percent last week, the most since June 2016. U.S. markets are closed for the Labor Day public holiday Monday.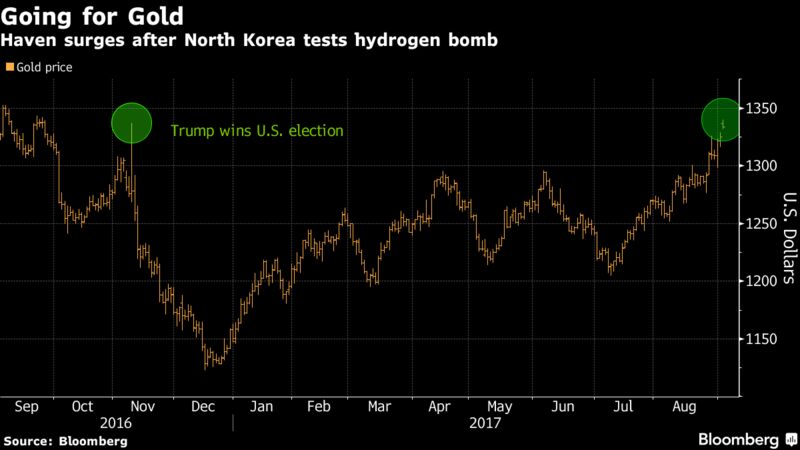 Whether the rally in gold can be sustained depends on "whose nerves will break," said David Lennox, a resource analyst at Fat Prophets in Sydney. North Korea is pushing Trump toward military action, which might lead to gold staying higher for longer, he said, adding that successful sanctions will cause the premium in the precious metal to dissipate.
Prices have also climbed as the Federal Reserve is expected to go slow on further interest-rate increases. Low rates are a boon to non-interest-bearing assets like precious metals.
"The recent event has injected another element of uncertainty," said Barnabas Gan, an economist at Oversea-Chinese Banking Corp. in Singapore. "Gold as a safe haven thrives on uncertainty. Should a quick resolution be reached before the year is up, market watchers may revert back to headline watching and yield-chasing."
In other precious metals:
Silver rose 0.9 percent to $17.90 an ounce.

Prices earlier reached the highest since April.

Platinum added as much as 0.7 percent to $1,014.70 an ounce, a six-month high.
Palladium earlier jumped as much as 1.8 percent to $999.95 an ounce, before falling 0.5 percent to $977.45 an ounce in New York.

Hurricane Harvey's devastating floods may spur a need to replace ruined vehicles in Texas. Palladium is mostly used to curb harmful emissions from gasoline vehicles, while platinum is favored in diesel cars.
"According to industry sources, as many as 500,000 cars could have been destroyed by the flooding," Commerzbank AG said in a report. "This would also keep demand for palladium high."