Faster economic expansion will likely help offset euro rally's effect on price growth
EghtesadOnline: European Central Bank Governing Council member Ewald Nowotny said last week that the euro's recent rise shouldn't be "over-dramatized," a notion that economists seem to agree with.
The euro has surged more than 13 percent against the dollar this year. In terms of the real exchange rate against the euro area's major trading partners (a measure that that the ECB keeps a closer eye on) the rise is more modest, but still a significant 5.9 percent. A sizeable part of that has come since the latest policy meeting in July.
When ECB governors meet this Thursday, President Mario Draghi is set to acknowledgethat the strong currency will be an issue ahead of talks on how and when to start winding down the extraordinary stimulus in 2018, according to a Bloomberg survey. But the new forecasts he will unveil on inflation and growth are unlikely to contain dramatic revisions, according to Bloomberg.
At first glance, the recent currency move should have a major impact on inflation in the coming years. All else being equal, models show that it could press down price growth by as much as 1 percentage point over three years. Draghi himself said back in March 2014 that "as a rule of thumb, each 10% permanent effective exchange rate appreciation lowers inflation by around 40 to 50 basis points." More recently, the ECB's staff gave a broadly similar estimate.
Yet, as policy makers from Jens Weidmann to Ardo Hansson have noted, the euro's strength is most likely a consequence of the bloc's economic health. That means falling unemployment and a closing output gap should help push inflation up, partly compensating for the currency effect.
The ECB currently forecasts price growth at 1.3 percent in 2018 and 1.6 percent in 2019, based on the assumption that the euro will average $1.09 in 2018 and 2019 – it hovered around $1.19 on Monday after briefly breaching $1.20 on August 29.
Ahead of the new projections coming this Thursday, economists at several major banks have estimated the euro's appreciation will shave 20 to 40 basis points from inflation in 2018-2019. Here's a break down and excerpts from their notes: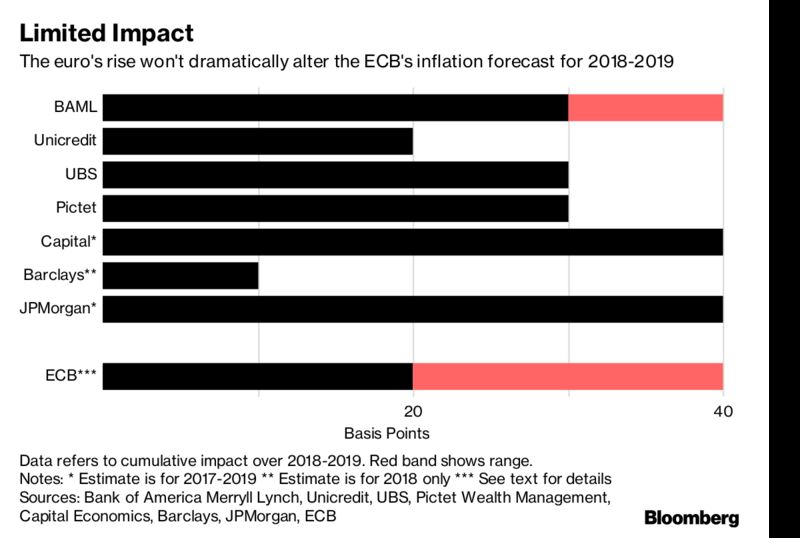 BAML: "The EUR appreciation would justify a cut to inflation forecasts by 30-40bp in 2018 and 2019, and to growth forecasts by 20-30bps."
Unicredit: "Outright cancellation of tapering plans remains a risk scenario related to further material currency appreciation, probably if the trade-weighted euro rises by a further 3-4% (…) A stronger currency and lower assumptions for euro-denominated oil prices suggest downward pressure on the numbers for 2018 and 2019, currently at 1.3% and 1.6%. We expect both projections to be lowered by 0.1pp."
UBS: "In our interactive inflation model, we laid out that historically a 1% appreciation in the nominal effective exchange rate reduces headline inflation by 0.1pp in the first year and another 0.1pp over the next two years with EUR/USD accounting for around 50% of the inflation impact (…) However, we think that the ECB revisions will be less pronounced."
Pictet: "We favor ECB staff models and Draghi's rule, suggesting an impact on 2018-2019 HICP inflation of about 30-40 basis points. However, we suspect that the revisions to the ECB staff projections in September will be somewhat smaller."
Capital Economics: "The ECB estimated in March this year that a 4% depreciation of the nominal effective exchange rate would add just 0.1pp to inflation in year one and 0.3pp in years two and three. So the 4% appreciation seen since the ECB last made forecasts in June should have reduced its inflation projections by no more than that."
Barclays: "We estimate that a 9% nominal effective exchange rate appreciation implies a cumulative reduction in euro area inflation growth of 0.3pp over the next 12 months. Assuming no further appreciation of the euro, we forecast HICP and core inflation to average 1.2% in 2018."
JPMorgan: "Based on some of the model impacts the ECB has published, the impact of the appreciation on inflation could be huge" but ECB research also "suggests that the currency impact on Euro area inflation has been declining over time (…) The impact on headline inflation would be larger in 2018 due to the initial impact via energy prices, but even the total impact on headline inflation would be only half the model estimates."