EghtesadOnline: Nickel surged to the highest level in more than two years, and copper chalked up its best mark since 2014, as bets on tighter markets, especially in top consumer China, keep metals buoyant after their longest run of weekly gains in a decade.
According to Bloomberg, Nickel advanced as much as 2.9 percent to $12,380 a metric ton, its highest since June 2015, before trading at $12,220 by 12:12 p.m. in Shanghai. Copper climbed as much as 1.2 percent to $6,915 a ton. All metals rose after the LME Index of six contracts capped an eight-week advance last Friday -- one short of a record run in 2006.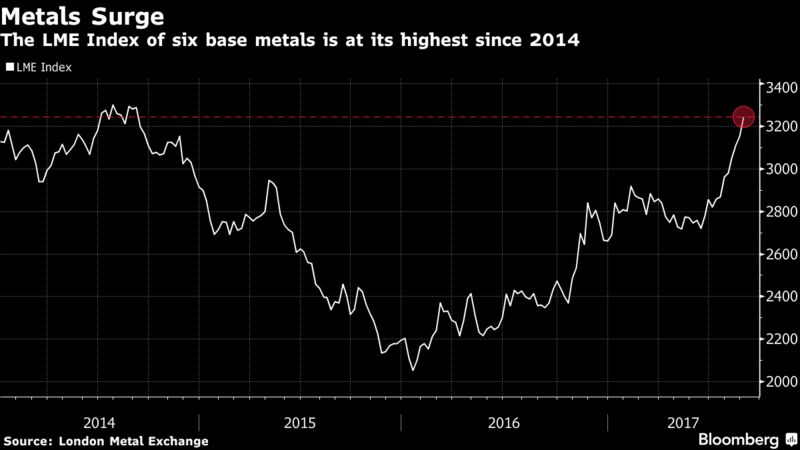 "It certainly feels like there is a broad resetting of expectations that are driving the metals at the moment," Daniel Hynes, senior commodities strategist at Australia & New Zealand Banking Group Ltd., said by phone from Sydney. "I was in China last week and I got the very strong impression that the environmental push is having a pretty profound impact, and that's not something that's going to fall away quickly."
On the Shanghai Futures Exchange, nickel was 2.2 percent higher and copper was up 0.6 percent.
Industrial metals are rising amid speculation that sustained demand growth, coupled with restrained supply, will tighten markets. In China, environmental inspections and planned anti-pollution curbs on steel and aluminum have stoked expectations of shortages. Gains are also fueled by a weaker dollar, a stronger Chinese currency, and a super-charged steel market in China that's steering sentiment for other commodities.
Hot-rolled coil, a major steel product, reached a fresh record on the Shanghai Futures Exchange, rising as much as 3.5 percent. The steel rally has a "blow-on" effect on the whole metals sector, Hynes said. "To an extent they are related by demand, so it's not surprising they get pulled along."
Miners are gaining from the metals surge, with the Bloomberg World Mining Index of shares rising for an 11th day to the highest since 2014.
BHP Billiton Ltd., the world's biggest miner, rises as much as 0.7 percent in Sydney
Top Chinese producer Jiangxi Copper Co. gains as much as 6.9 percent in Shanghai
Copper-zinc miner MMG Ltd. increases as much as 4.4 percent in Hong Kong
Nickel Asia Corp.'s up as much as 6.8 percent in Manila