EghtesadOnline: Here we go again. Financial markets are registering some modest flight-from-risk in the aftermath of North Korea's most powerful nuclear test yet.
The Sunday detonation forced investors to again question the wisdom of holding on to equities near their highs for the year while reflecting on allocations to havens such as gold. It's a question they've been presented with repeatedly, after a series of missile launches and increased rhetorical tensions between North Korea and the Trump administration, Bloomberg reported.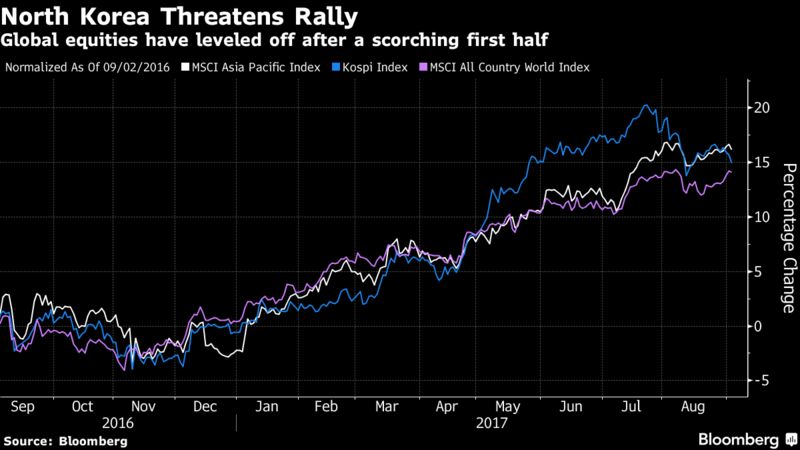 Market players demonstrated that there's no consensus view on how to incorporate North Korea risks into portfolio strategies, with bearish warnings from some quarters contrasting with a call from RBC Capital Markets to buy the won, and domestic South Korean investors being advised to accumulate local shares as foreigners get out.
For Nader Naeimi, who heads a dynamic investment fund at AMP Capital and helps manage about $110 billion, the latest provocation from the North Korean dictatorship marks "a dangerous new phase." He has about a 30 percent position in cash and an allocation to gold, and he's also short emerging-market currencies against the dollar, anticipating a market correction.
The Kospi 200 Volatility Index, a measure of price swings for some of the largest stocks in South Korea, jumped 11 percent to 14.78 for the biggest gain since Aug. 11, when markets were roiled by North Korea's threat to fire missiles near the U.S. territory of Guam and President Donald Trump responded with his rhetoric about "fire and fury."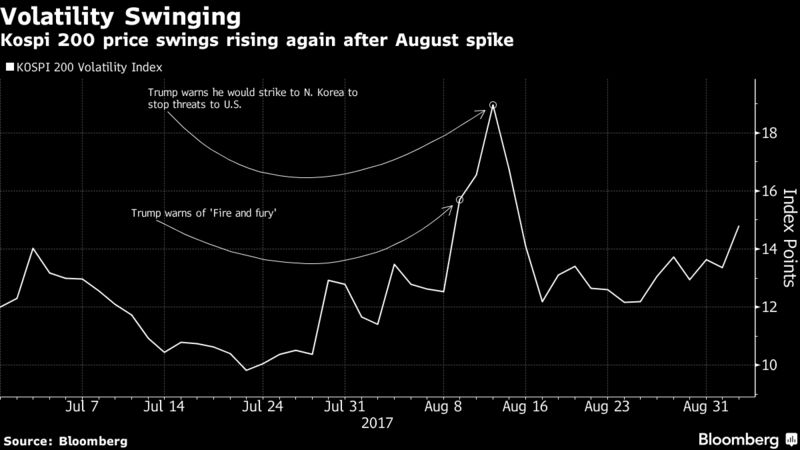 Less-risky assets are benefiting from the geopolitical tensions, as they have in past incidents. Gold rose as much as 1 percent, trading at the highest levels since September 2016, while the yen also climbed as much as 0.9 percent.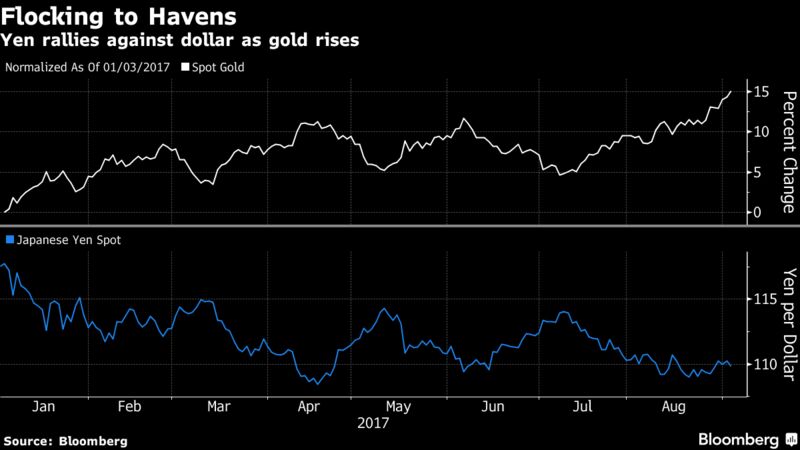 U.S. Treasuries weren't trading due to the American Labor Day holiday, so don't have an opportunity to benefit from haven demand, while S&P 500 Index futures declined 0.3 percent as of 12:55 p.m. Hong Kong time. South Korean 10-year government bonds slipped, sending yields higher.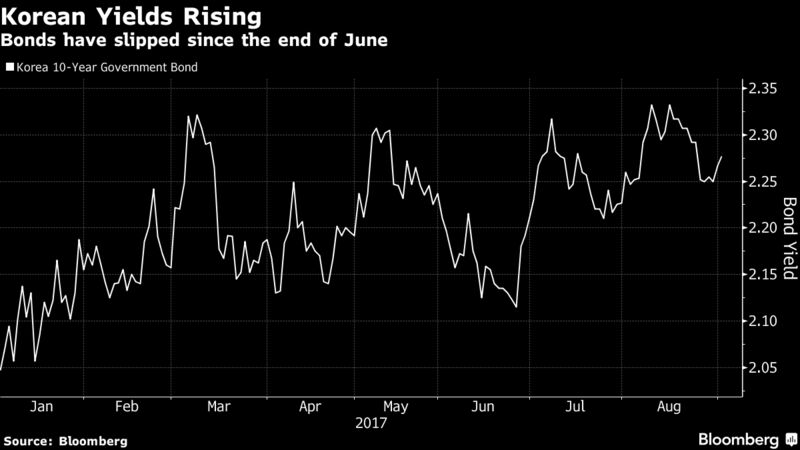 The South Korean won at one point Monday saw its biggest decline against the dollar since March, though the drop eased as the trading session wore on, as with stocks. The currency remains on track this year for its biggest annual gain since 2012.