EghtesadOnline: Donald Trump's repeated threat to terminate the North American Free Trade Agreement could bring a little bit closer together the two U.S. partners who he's complained about most: Mexico and China.
At first glance, the two are more natural competitors than allies. Both thrive on cheap labor and assembling products to sell to consumers in wealthier nations. When China comes looking to buy goods from Latin America, it's usually commodities to fuel its own boom -- iron ore from Brazil or copper from Chile -- rather than finished products from Mexico. Yet they find themselves on the same side of the globalization argument -- opposite the U.S. -- advocating more trade as the pathway to growth, according to Bloomberg.
That helps explain why President Enrique Pena Nieto will be in China next week, meeting with President Xi Jinping, just as U.S. negotiators are in Mexico wrapping up the second round of talks on Nafta. Pena Nieto has been invited to a business forum at a summit of the BRICS -- Brazil, Russia, India, China and South Africa.
"This is an intentional effort of the president to show that Mexico has alternatives to the United States," said Eric Farnsworth, vice president of the business group Council of the Americas. "They're in the midst of Nafta negotiations and the U.S. president is saying very publicly that Nafta may have to be abrogated. If you're the leader of either Mexico or Canada, that's a pretty strong signal that you need a Plan B."
Policy makers have realized that they took Nafta for granted for much of the past two decades and didn't advance enough in trade with other nations. Despite having trade accords with more than 40 countries, Mexico still sends 73 percent of its exports to the U.S., according to International Monetary Fund Data.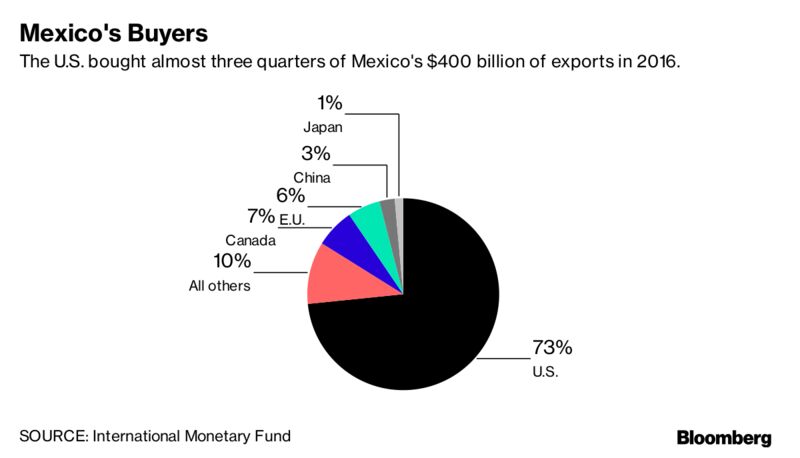 No Easy Task
In addition to its overtures with China, Mexico is also working to update its trade accord with the European Union, while deepening ties with Brazil and Argentina, as well as nations like Japan, Australia and New Zealand, who were part of the Trans-Pacific Partnership that Trump abandoned in January. But to get an idea of the size of the challenge, those countries bought just 11 percent of Mexican goods in 2016. While Mexico has managed to increase exports to China 12 percent since 2012, they still only account for $10 billion a year.
China and Mexico have traditionally been rivals rather than partners. A sign of that competition is their share of U.S. imports. China has more than doubled its market share in the U.S. since joining the World Trade Organization in 2001, accounting for 21 percent of goods sold last year, up from 8 percent in 2000, according to the U.S. Commerce Department. That compares with Mexico's 13 percent share, not much changed from the start of the past decade.
Bancomext, Mexico's export-import bank, opened an office in Beijing in 2014 as it tried to turn its competitor into a collaborator. Mexican authorities tout the efforts to sell tequila to China's market of 1.4 billion consumers, as well as cars and mobile phones.
Eggs and Baskets
"We have to enhance the opportunities here," Francisco Gonzalez, Bancomext's head, said in a July interview in China's capital. "With the changes in the administration in the U.S., that opens a lot of opportunities because of the risk" to continuing with just one primary trade partner, he said.
The nations have had difficulty collaborating before. In November 2014, Mexico awarded a $4.3 billion contract to a consortium led by China Railway Construction Corp. for a high-speed line between Mexico City and the industrial hub of Queretaro. The contract was canceled three days later, just before journalists revealed first lady Angelica Rivera had agreed to buy a luxury home from a unit of Grupo Higa, a member of the consortium. CRCC planned to bid again on the project, but the Mexican government scrapped it early the next year amid spending cuts.
Chinese foreign direct investment in Mexico has been next to nothing -- a total of $600 million since 1999, compared with $30 billion for Canada, $60 billion for Spain and $227 billion for the U.S., according to data from Mexico's Economy Ministry.
One sign of progress in relations comes from energy. China National Offshore Oil Corp, known as CNOOC, has entered Mexico's industry by winning rights to develop two deep water oil areas near the U.S. maritime border last year. Each could require investment of as much as $4.4 billion throughout the life of the contract to reach peak oil production, according to Mexico's Energy Ministry. CNOOC is also qualified to bid in October to form joint ventures with Mexico's state-owned Petroleos Mexicanos.
"It's clear that whatever bad blood was generated, both countries seem to have an incentive to put it behind them, move forward and see what they can do together," Farnsworth said.