EghtesadOnline: Asian stocks fell and the yen gained after North Korea fired a ballistic missile over Japan, promising to fan simmering tensions with the U.S. Gold extended a rally above $1,300 an ounce and oil rebounded as investors weighed the damage from Tropical Storm Harvey.
Equities fell from Seoul to Sydney and volatility jumped. Japan's currency gained versus all major developed peers and the Swiss franc advanced, while the Korean won and Australian dollar dropped in a classic risk-off move. Japan said the missile landed off the eastern coast of Hokkaido in the Pacific Ocean. Gasoline added to a rally as the storm is picking up strength again after inundating refineries along the Texas coast, Bloomberg reported.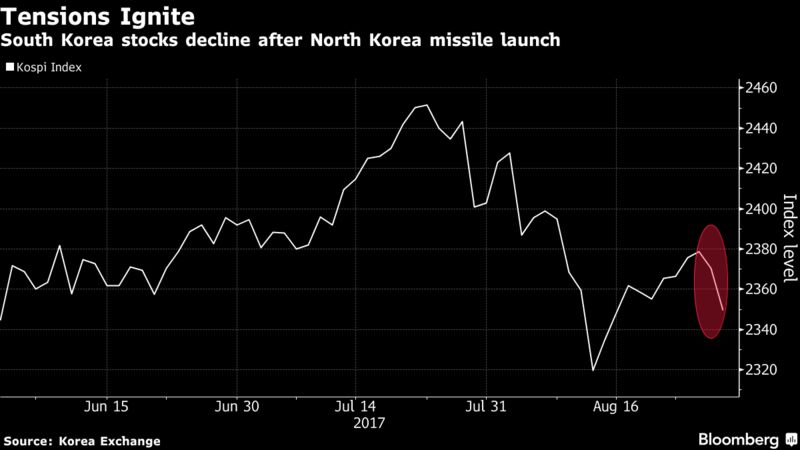 Tuesday's missile firing thrusts the confrontation between the U.S. and North Korea back to the fore after the hermit kingdom had been praised by Secretary of State Rex Tillerson last week for its "restraint." Tillerson said that North Korea hadn't carried out "provocative acts" since the UN Security Council imposed new sanctions earlier this month, and that Pyongyang's temperance might lead to negotiations "in the near future." Kim Jong Un last tested a missile on July 28.
North Korea had threatened to fire a missile over Japan toward the U.S. territory of Guam, prompting Trump to browbeat the country with his "fire and fury" comments that roiled global markets. Japanese Prime Minister Shinzo Abe said a missile flying over Japanese territory was "an unprecedented, grave and serious threat." Japan has asked the United Nations Security Council to hold an emergency meeting and Abe said that he agreed with Trump to increase pressure on North Korea in a 40-minute phone call on Tuesday morning.
"Some observers had thought U.S. and North Korea were pursuing discussions behind closed doors, but it turns out North Korea continues to pursue missile development," said Chihiro Ohta, a Tokyo-based senior strategist at SMBC Nikko Securities. "The risk-off stance is likely to continue even if the U.S. responds calmly."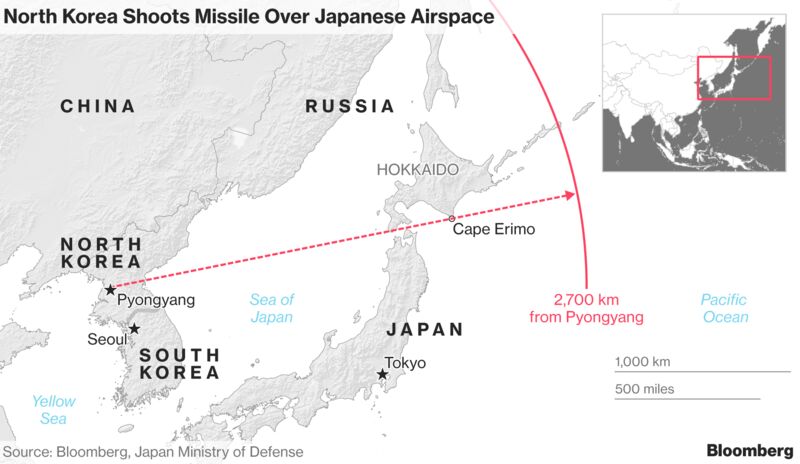 Among other key events looming this week:
The U.K. is due to resumes Brexit talks with the European Union.
Hong Kong reports on retail sales on Tuesday, and Japan releases figures for the industry on Wednesday.
Australia is due to publish data on Wednesday detailing construction work done.
The U.S. updates second-quarter GDP and core price data on Wednesday, and reports on August payrolls on Friday.
And here are the main moves in markets:
Stocks
The Topix index dropped 0.2 percent as of 2:08 p.m. in Tokyo, while the Kospi lost 0.7 percent and the S&P/ASX 200 Index in Sydney declined 1 percent. Hong Kong's Hang Seng Index fell 0.4 percent, while the Shanghai Composite Index fluctuated.
Contracts on the S&P 500 Index were down 0.6 percent after falling as much as 0.9 percent. The underlying measure was little changed on Monday.
Dow Jones Industrial Index contracts retreated 0.4 percent, while those on the Nasdaq 100 were 0.6 percent lower. The MSCI All-Country World Index fell 0.1 percent.
Currencies
The yen advanced 0.4 percent to 108.81 per dollar.
The won slid 0.5 percent to 1,125.36 per dollar.
The euro was little changed $1.1978, while the franc gained 0.3 percent.
The Aussie dropped 0.5 percent.
The Bloomberg Dollar Spot Index was little changed.
Bonds
Ten-year Treasury yields fell three basis points to 2.13 percent.
The yield on Australian notes of similar maturity fell about four basis points to 2.62 percent.
Commodities
West Texas Intermediate crude rose 0.5 percent to $46.79 a barrel, retracing some of its 2.7 percent slide on Monday.
Gasoline for September delivery climbed 1.5 percent to $1.7380 a gallon, after climbing 2.7 percent on Monday. Harvey shut more than 10 percent of U.S. fuel-making capacity.
Gold advanced 0.6 percent to $1,316.66 an ounce, extending a 1.3 percent advance on Monday.