EghtesadOnline: Futures on American equity indexes slipped, paring gains from the biggest weekly advance of August, as investors waited to gauge consequences for stocks and industries from the strongest storm to hit the U.S. since 2004.
September contracts on the S&P 500 Index were down 0.1 percent as of 9:02 p.m. in New York, after the cash index climbed 0.7 percent last week and ended within 1.6 percent of its record close set Aug. 7. Futures on the Dow Jones Industrial Average lost 0.1 percent while the Nasdaq 100 Index measure decreased 0.2 percent. Gasoline jumped and oil futures were steady, Bloomberg reported.
Unprecedented flooding from Harvey, now a tropical storm, is the latest variable to test investor resolve and joins a lengthening list that includes President Donald Trump's political travails, the withdrawal of Federal Reserve stimulus and soaring valuations. On Friday, stocks and Treasuries rose after a speech by Fed Chair Janet Yellen's was less hawkish than some expected.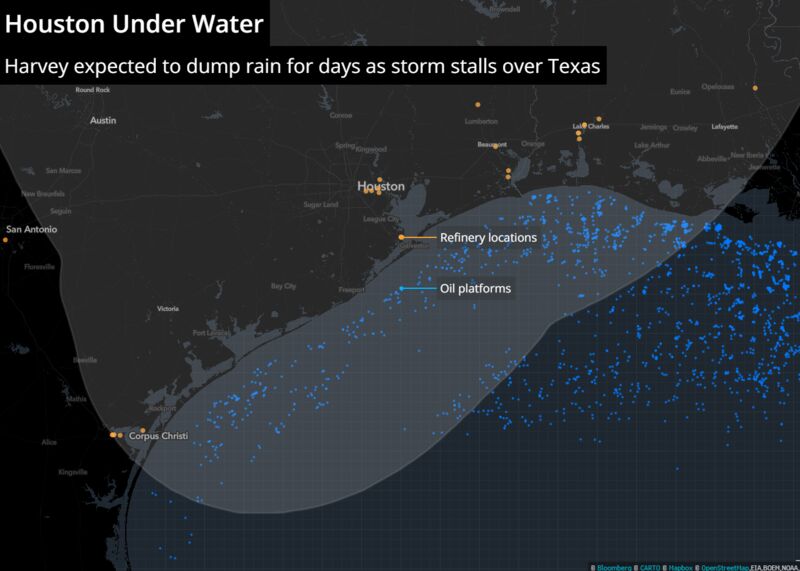 To date, those concerns have only rarely interrupted the upward slope of U.S. equities that have been steadily buoyed by surging corporate earnings and low interest rates. The S&P 500 is up more than 9 percent in 2017 without any help from energy stocks, which are down almost 17 percent year to date.
"The question is what the disturbance to the global supply chain will be," Kevin Kelly, founder of Recon Capital Partners and managing partner at New York-based Kelly & Co., said by phone. "If the Port of Houston is shut down for longer than anticipated it could have an impact that could be to the benefit of the trucking or rail industries. But the initial pain will likely be in oil given the shale revolution that has happened in the states.
On Sunday, Harvey was inundating Houston and the surrounding area as bands of torrential rain pinwheeled across South Texas, the heart of U.S. energy production. As much as 25 inches of rain has already fallen and another two feet is possible, the National Hurricane Center said at 5 p.m. New York time.
Economists said the storm will have major economic consequences for an area critical to U.S. energy production, but the damage is unlikely to reverberate across the country. Texas has the second-largest economy in the nation after California and accounts for about 9 percent of U.S. gross domestic product.
"Typically the impact on GDP is smaller than anyone imagined," Robert A Brusca, chief economist At FAO Economics, said in an interview. "So while the local economy is being rocked and some really bad things are happening to people, many of them have insurance for the kind of damage. I would look for a small negative impact on the economy small. Not affecting policy."
Here are some of the industries that may be impacted:
Harvey's cost could mount to $24 billion when including the impact of relentless flooding on the labor force, power grid, transportation and other elements that support the region's energy sector, Chuck Watson, a disaster modeler with Enki Research, said Sunday. Catastrophe bonds tied to weather risks tumbled the most in seven months as Harvey advanced.
The storm is striking a region that has a cluster of refineries that process 5 million barrels of oil a day. About 1 million barrels a day of crude and condensate refining capacity in Texas have been shut by companies including Valero Energy Corp.
Exxon was shutting down its Baytown complex, Citgo's Corpus location was said to close ahead of the storm, Valero shut its Corpus Christi East and West plants and Three Rivers refinery, Petrobras closed its Pasadena plant and Phillips 66 shut its Sweeny refinery.
Companies shutting or reducing rates at platforms and rigs in the area included BP, BHP Billiton, Exxon, Hess, ConocoPhillips, Marathon, Shell, Statoil and Chesapeake.
Texas is the largest U.S. cotton producer and many farmers are storing excess supplies on fields following a bumper harvest.
At least 100 cotton storage modules blew away near the community of Gregory, Texas, a local farmer said.
Flooding will disrupt wheat shipments through ports in Houston and Corpus Christi and impact grain elevators in the area, according to the Texas Wheat Producers Board.
United Continental Holdings Inc. suspended its regional operation and all mainland flights out of Houston to non-hub airports around the country, the airline said in a statement Saturday.
Among Food retail and mass merchants, public companies with the highest exposure to Texas based on store base include Sprouts (15.6 percent), Natural Grocers (15.4 percent), Wal-Mart's Sam's Club (12.9 percent and Wal-Mart 10.8 percent.
Retail chains with the most stores in Texas, according to Bloomberg Intelligence analysis as of May, include Stage Stores (28 percent of its stores are in Texas), Dillard's (20 percent), Stein Mart (15 percent), Ross Stores (14.5 percent), Buckle (11.6 percent), Wal-Mart (11 percent), Burlington (10.6 percent), J.C. Penney (9 percent), Express (8.2 percent), Target (8.2 percent), Abercrombie & Fitch (7.4 percent) and Zumiez (7.4 percent)
Texas is home to the second-largest number of chain restaurants by state, behind California, according to Bloomberg Intelligence, citing Chain Store Guide, and notable exposure may include Jack in the Box, Fiesta Restaurant, Sonic, Texas Roadhouse, Denny's, McDonald's, Domino's
Harvey could knock out one-sixth of U.S. olefin, polyolefin, and chlor-alkali production, according to Tudor Pickerin.
Chlor-Alkali producers such as Dow Chemical, Olin, Westlake took plants down as a precaution ahead of the hurricane.