EghtesadOnline: Germany's stellar economic year isn't enough to prevent companies and investors from getting a touch of the nerves.
The closely watched Ifo index of business confidence eased back from a record high in August -- a slight drop but one that follows a separate survey showing a third monthly slide in investor confidence in the nation. The wavering in sentiment comes even as economic data shows the country on track for its strongest growth since 2011, and can be pinned largely on one development: the appreciation of the euro, Bloomberg reported.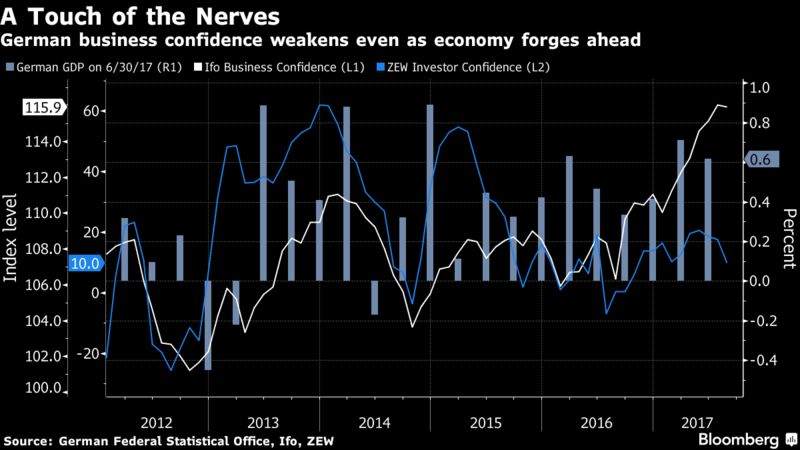 "Most companies do not change prices immediately in their foreign markets when the exchange rate changes -- that means their margins will be smaller and I'm sure the export industry is concerned about that," Clemens Fuest, president of the Munich-based Ifo Institute, said in a Bloomberg Radio interview. "If the euro rises above something like $1.20, I think companies will be concerned about it. But it's just one factor."
The surge in the single currency to around $1.18 currently from below $1.04 late last year has also caused consternation outside the currency bloc's largest economy, with some European Central Bank policy makers fretting about a potential overshoot at their July gathering. The issue may arise again at the Governing Council's Sept. 7 meeting, complicating its discussions over when it might start to wind down the region's bond-purchase program.
Jackson Hole
Investors are on guard for any signals from ECB President Mario Draghi's speech at the U.S. Federal Reserve's symposium on Friday in Jackson Hole, Wyoming. He has previously spoken out when he feels the exchange rate is a problem, but has said little on the topic this year.
Other policy makers have tried to play down the importance of the euro's gain, including the head of Germany's central bank. Bundesbank President Jens Weidmann said this week that the trend is largely due to the euro area's own "surprisingly strong" recovery.
Germany, which accounts for about 30 percent of euro-area output, is a key driver in that upturn. A breakdown of gross domestic product published Friday showed consumers and the government drove the expansion last quarter. Exports rose, though imports climbed faster and made net trade a drag on growth.
| GDP GROWTH BY COMPONENT | SECOND QUARTER | FIRST QUARTER |
| --- | --- | --- |
| Overall | 0.6% | 0.7% |
| Private Consumption | 0.8% | 0.4% |
| Government Consumption | 0.6% | 0.2% |
| Equipment Investment | 1% | 2.7% |
| Construction | 0.9% | 3.4% |
| Exports | 0.7% | 1.6% |
| Imports | 1.7% | 0.4% |
A purchasing managers survey published this week indicated that the German economy is on track to expand by more than 2 percent this year, and the Bundesbank has said growth may be stronger than the 1.9 percent it forecast in June.
Bloomberg Intelligence says that while growth may moderate this quarter, the economy will probably expand 2.1 percent in 2017.
The nation's uncertainties also derive from domestic factors, such as its automaker scandal and next month's elections, and the outlook may be about to brighten. While Ifo's measure of current economic conditions fell, its gauge of expectations increased.
"Usually expectations lead the current assessment by three months or so," said Holger Sandte, chief European analyst at Nordea in Copenhagen. "It really defies gravity. I wouldn't say it points to faster growth, but it points to very resilient development."