EghtesadOnline: U.S. stocks and Treasuries rose while the dollar sank after Janet Yellen's speech didn't take the hawkish tone some expected. Oil gained as Hurricane Harvey churned toward the energy-rich Texas coast.
The S&P 500 Index had its best week in over a month as the measure held earlier gains sparked by comments from the president's top economic adviser. The euro touched the highest in two and half years versus the greenback as traders showed signs of relief after Mario Draghi didn't talk down the value of the currency in his Jackson Hole speech. Bloomberg's dollar gauge fell to its lowest level since January 2015, Bloomberg reported.
Earlier, stocks jumped on remarks by Gary Cohn, director of the National Economic Council, who said in an interview that he expects tax reform to pass this year and that he didn't intend to resign in protest over the president's reaction to riots in Charlottesville, Virginia.
Investors are keeping their eyes on strengthening Hurricane Harvey, which was upgraded to Category 3 and is set for landfall in Texas overnight Friday. Oil refiners in the Gulf Coast, home to as much as half of the nation's refining capacity, began halting operations amid warnings of deadly floods and storm surges. It will be the strongest storm to hit the U.S. since Wilma in 2005.
"We think that the flooding impact of Hurricane Harvey could make it more destructive to U.S. crude and product supplies as well as port facilities than the market is currently assuming," Barclays energy analyst Michael Cohen wrote in a note Friday.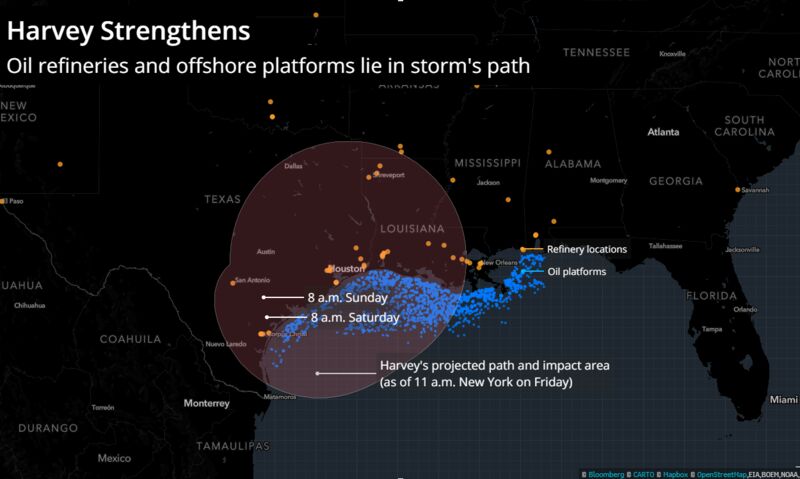 Here are the main moves in markets:
Stocks
The S&P 500 Index rose 0.2 percent to 2,443.09 as of 4 p.m. in New York, for a weekly gain of 0.7 percent.
The Stoxx Europe 600 Index fell 0.1 percent, set for a third monthly loss.
The MSCI World Index of developed countries advanced 0.4 percent.
Currencies
Bloomberg Dollar Spot Index decreased 0.7 percent, touching the lowest since January 2015.
The euro advanced 1.1 percent to $1.1923, biggest gain since July and touched the highest level since January 2015 at $1.1941.
The British pound increased 0.7 percent to $1.2884, set for its first weekly gain this month.
The Japanese yen fell 0.3 percent to 109.25 per dollar.
Bonds
The yield on 10-year Treasuries fell two basis points to 2.17 percent, touching its lowest level since June during the day.
Britain's 10-year yield is steady at 1.053 percent.
Germany's 10-year yield gained less than one basis point to 0.38 percent.
Commodities
West Texas Intermediate crude climbed about 1 percent to settle at $47.87 a barrel, its fourth weekly slide in a row.
Gold futures rose 0.5 percent to settle at $1,297.90 an ounce.