EghtesadOnline: U.K. companies are getting more worried about the economy and feeling less confident in spending money on hiring or investing, according to a new report.
The Recruitment and Employment Confederation said an index of economic conditions has fallen to the lowest this year, with a greater proportion of respondents to its survey saying things are getting worse. Employers are still looking to hire, it said, but their confidence in doing so has diminished.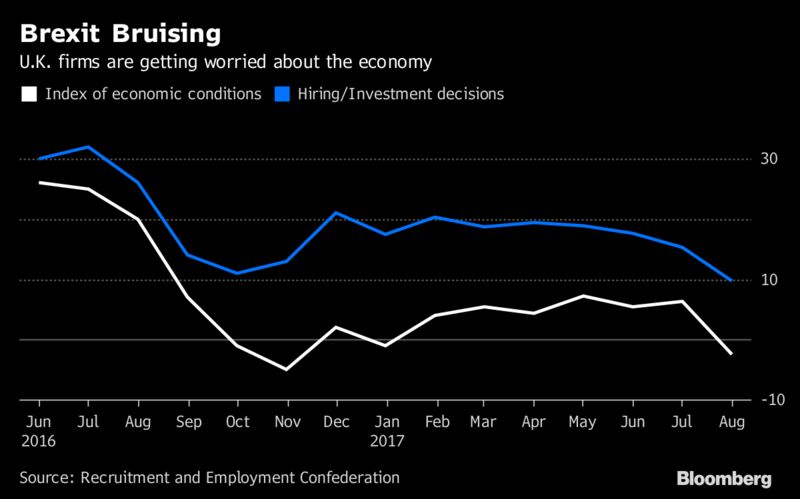 According to Bloomberg, the report comes less than a week before the U.K. resumes talks with the European Union on its exit from the bloc, with both sides at odds again over how soon they can start working on a new trade deal. Irish Prime Minister Leo Varadkar told Bloomberg this week that he remains "confused and puzzled" about the U.K.'s global trading plans after Brexit.
While easy access to EU markets is one worry weighing on U.K. companies, another is their ability to tap into the pool of EU workers they say they need.
"The government must do more to create an environment where businesses have clarity," REC Chief Executive Kevin Green said. "The jobs market is in a good place but employers will only continue to hire and invest if they feel assured about the future."
Separately, Migration Watch, a group arguing for lower immigration, published a report saying that net migration from non-EU countries won't fall significantly by the end of the current parliamentary term in 2022 without further "determined action." The figure stood at at 175,000 last year, accounting for 70 percent of overall net migration of almost 250,000.
Prime Minister Theresa May has vowed to cut immigration to the "tens of thousands," though there have been warnings that such an aggressive reduction could damage the economy.