EghtesadOnline: Asian stocks eked out modest gains in thin trading as the yen snapped four days of gains and investors reassessed positions ahead of a meeting of central bankers. Bridgewater Associates' Ray Dalio said he was reducing risk.
The MSCI Asia Pacific Index rose with U.S. equity-index futures after the S&P 500 Index halted a two-day slide. Stocks from Tokyo to Sydney bounced, coinciding with a speech by President Donald Trump in which he outlined a new strategy for the U.S.'s engagement in Afghanistan. Trading was thin after volumes on the S&P 500 were about 15 percent below the 30-day average on a day highlighted by the first total solar eclipse to sweep the U.S. from coast to coast in 99 years, according to Bloomberg.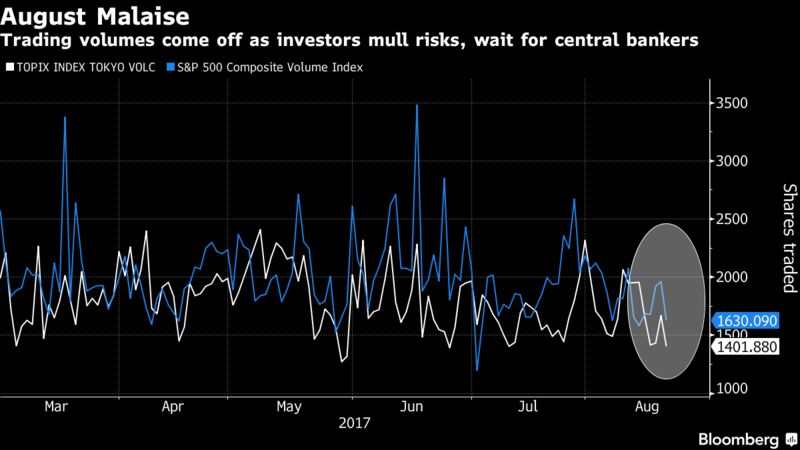 Trump's address provided one focal point for investors sensitive to events in the past week, including turmoil in Washington, fresh terrorist threats and the persistent tension between the U.S. and North Korea. Dalio, the billionaire founder of the world's largest hedge fund, said he's "tactically reducing our risk" because he's "concerned about growing internal and external conflict leading to impaired government efficiency," according to a LinkedIn post Monday.
With little in the way of top-tier economic data out this week, markets are focusing on the annual conference of global central bankers hosted by the Kansas City Federal Reserve Bank at Jackson Hole, Wyoming. The gathering comes as advanced economies grapple with how to start trimming back unprecedented monetary easing, even as stubbornly tepid inflation clouds the outlook. Fed Chair Janet Yellen and European Central Bank President Mario Draghi will be among the officials addressing the summit, which kicks off on Thursday.
"The key event this week is the Jackson Hole central bank policy forum," Citigroup Inc. strategists including Peter Goves wrote in a note to clients. "The market spotlight will likely focus on Yellen, given the generally low U.S. inflation environment and the likelihood of Fed balance sheet reduction occurring relatively soon."
Among other key events looming this week:
Economic releases in Asia include Hong Kong July CPI and Taiwan unemployment.
Indonesia's central bank sets monetary policy.
A raft of survey data will probably show euro-area growth slowed in the third quarter.
Combined sales of new (data Wednesday) and previously owned (Thursday) U.S. homes probably edged up in July from the prior month, indicating a still robust real estate market held in check by rising property prices, economists forecast.
Here are the main moves in markets:
Stocks
Japan's Topix index was up 0.2 percent, while the Kospi index gained 0.4 percent as did Australia's main gauge.
Hong Kong's Hang Seng Index rose 1 percent, outperforming other equity markets in Asia, on strong earning results. Read here more.
Futures on the S&P 500 added 0.2 percent as of 12:31 p.m. in Tokyo. The underlying gauge rose 0.1 percent on Monday.
The MSCI Asia Pacific Index advanced 0.3 percent.
Currencies
The yen lost 0.3 percent to 109.27 per dollar, erasing Monday's gains.
The Bloomberg Dollar Spot Index rose 0.1 percent. It fell 0.3 percent on Monday.
The euro was trading at $1.1805 after climbing 0.5 percent in the previous session.
The Australian dollar was little changed at 79.38 U.S. cents.
Bonds
The yield on 10-year Treasuries rose less than one basis point to 2.19 percent.
The Australian 10-year bond yield was steady at 2.64 percent.
Commodities
West Texas Intermediate crude gained 0.3 percent to $47.55 after tumbling 2.4 percent on Monday.
Gold was down 0.2 percent to $1,288.93 an ounce following a 0.6 percent gain.