EghtesadOnline: Sanctions from the U.S. have taken a toll on Russia's local debt, but a bigger threat may lurk much closer to home.
While tougher U.S. penalties, first announced in June, put the breaks on gains in ruble bonds, the Russian central bank's monetary easing is still luring investors to the debt, which is on track to deliver an 11 percent return in dollar terms this year, Bloomberg reported.
Goldman Sachs Group Inc., however, is warning of a new risk: the ruble's 8 percent drop against the European currency will spur the cost of imports and fan inflation, forcing the Bank of Russia to scale back its rate cuts and prompting a selloff in so-called OFZ bonds.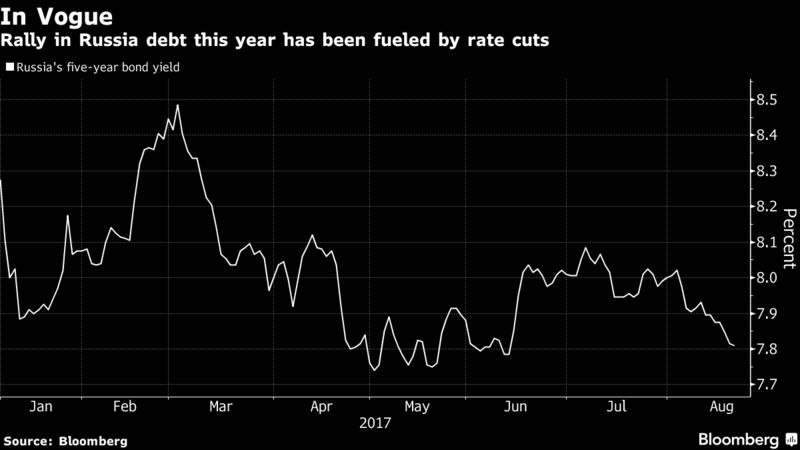 "Further capital gains in Russian fixed-income assets will likely be harder to realize," Goldman economist Clemens Grafe said in a note. An "above-consensus" view on economic growth makes equities look like "the most attractive Russian asset," he said.
The euro has rallied this year as the currency union's economy recovers, political risks fade and traders anticipate a reduction in the European Central Bank's stimulus. ECB officials this month sounded the alarm at the threat of an even stronger euro, as its gains to the highest since they unveiled quantitative easing in 2015 cloud efforts to revive inflation.
The 19-member euro area accounts for more than a third of Russia's imports. Shipments from the European Union as a whole rose 24 percent in the first six months from a year earlier, according to the Federal Customs Service.
Goldman's warning on local debt stands in contrast to Morgan Stanley, which earlier this month called Russian bonds the "most rewarding" among developing nations. Russian local debt is the best performer in emerging markets in August after Egypt, according to data compiled by Bloomberg.
Grafe raised his year-end inflation forecast to 3.9 percent from 3 percent, predicting the ruble's weakness against the euro will add as much as 60 basis points to inflation in December while higher food prices will contribute a further 30 basis points. The bank also halved its forecast for rate reductions in Russia to 75 basis points by the end of the year. At the same time, the central bank's more cautious stance will make the ruble more attractive, according to Goldman.
While a cold start to the Russian summer brought a "food-supply shock," the exchange rate poses a "more important challenge to inflation," Grafe said.