EghtesadOnline: White House economic adviser Gary Cohn is emerging as the clear front-runner for the nomination to succeed Federal Reserve Chair Janet Yellen, according to a National Association for Business Economics survey.
Just 17 percent of 176 economists polled from July 18 to Aug. 2 said Yellen would be picked for a second term. Two-thirds said she wouldn't be renominated and 16 percent were unsure. Her four-year term ends in February.
Among the economists who expect someone else to get the nod and offered an opinion, 49 percent said Cohn was most likely, followed by 9 percent for former Fed Governor Kevin Warsh, 6 percent for Stanford University economist John Taylor and 4 percent for Glenn Hubbard, dean of Columbia University's business school, Bloomberg reported.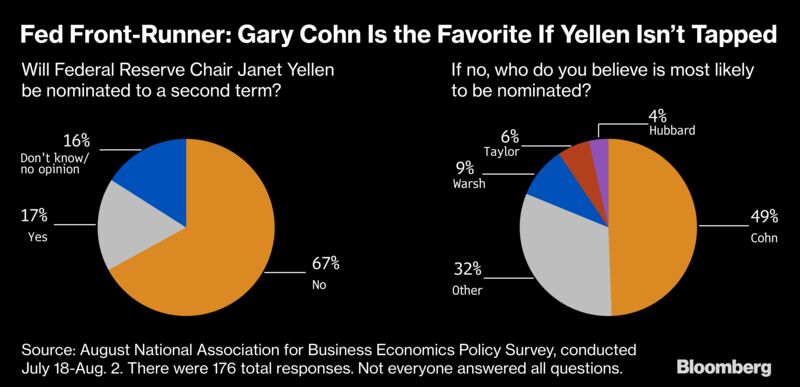 The results are similar to a July 27-28 survey of economists conducted by Bloomberg, where Cohn was the favorite for the top Fed position, followed by Yellen, Warsh, Hubbard and Taylor.
Both surveys were completed after a Wall Street Journal interview showed President Donald Trump considering both Cohn and Yellen for the job. In the story, published on July 25, Trump said he had gained "great respect" for Cohn and characterized Yellen as "a low-interest-rate person."
The two surveys also were carried out before the violence in Charlottesville, Virginia. Cohn was reportedly upset by Trump's response, though a White House official said last week on the condition of anonymity that he had no plans to resign.
'Unconventional' Nominee
Cohn would create some uncertainty about the Fed's direction because his views on monetary policy are unknown, according to Richard DeKaser, a Wells Fargo & Co. corporate economist in Washington and NABE policy survey chair. Cohn is an investment banker who last served as president of Goldman Sachs Group Inc.
"We have an unconventional president, so it is not unusual that we could have an unconventional Fed nominee," DeKaser said. "The chair has generally been held by professional economists and Cohn would be a break from that practice. He obviously brings in tremendous capital-markets experience, which would be an asset."
A slight majority of the economists surveyed expect the Fed to raise interest rates one more time this year, which is in line with the Federal Open Market Committee's median forecasts in June. Most of the economists expect no more than two increases next year.