EghtesadOnline: As the world's top central bankers gather in Wyoming this week, their relief about a stronger global economy will be tempered by a growing unease that inflation remains inexplicably low.
Federal Reserve Chair Janet Yellen and European Central Bank President Mario Draghi will be among the officials addressing this year's installment of the annual conference hosted by the Kansas City Fed. The summit, held at a Jackson Hole mountain retreat, comes as central banks in advanced economies creep toward the policy exit after years of unprecedented easing, even with outlooks are clouded by stubbornly tepid inflation, according to Bloomberg.
Prices have been slow to pick up despite solid growth and falling unemployment, suggesting that the long-observed relationship between inflation and labor-market slack might have frayed. That puzzle will likely surface as the conference debates this year's theme of "Fostering a Dynamic Global Economy" against the backdrop of the Grand Teton mountains.
"Inflation has been the big question mark, both here and abroad," said Michelle Meyer, head of U.S. economics at Bank of America Corp. in New York.
Yellen will speak about financial stability at 8 a.m. local time (10 a.m. in New York) on Aug. 25. Draghi will take the podium at 1 p.m. His remarks will focus on the themeof the conference, an ECB spokesman said, responding to speculation over whether the Italian might choose to send a policy signal on the central bank's bond-buying program.
Advanced economies face common challenges that range from rising asset valuations to the uneven effects of globalization that galvanized the populism behind Brexit and the election of Donald Trump. It's a lot easier to solve these problems with faster growth.
"What we're trying to analyze is -- how do we improve growth?" Dallas Fed President Robert Kaplan told reporters in Lubbock, Texas, on Thursday, when asked about Jackson Hole.
Still, inflation may be the most pressing riddle facing central banks, which are failing to meet their price mandates.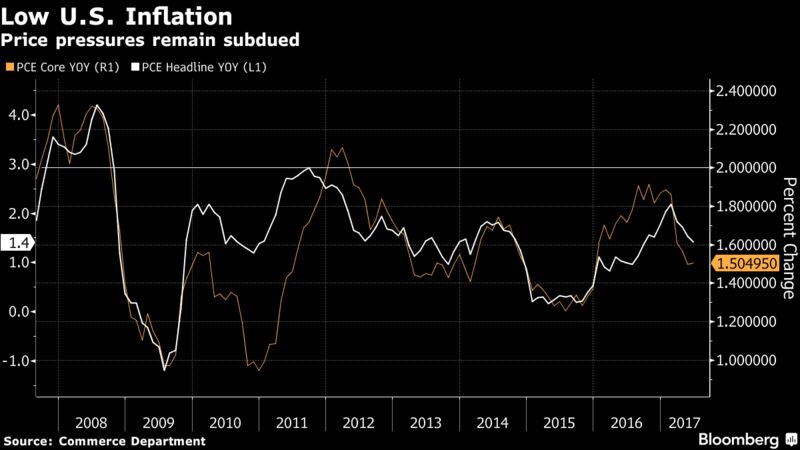 U.S. inflation fell to 1.4 percent in June, based on the Fed's preferred gauge, and consumer prices in the euro area -- currently at 1.3 percent -- have wavered since the start of the year. Both central banks shoot for 2 percent inflation, although the ECB formally aims below, but close to, that level.
Those glacial price gains come even as unemployment has dropped steadily, more than halving in the U.S. to 4.3 percent since its post-recession peak and declining to 9.1 percent from a high of 12.1 percent in the euro area. Inflation is also low in Japan, though sub-par price gains have been a longer-lived issue there.
While the Bank of Japan hasn't confirmed Governor Haruhiko Kuroda's schedule, he's attended Jackson Hole every year since becoming chief in 2013. Bank of England Governor Mark Carney plans to skip the event.
The slow progress on inflation suggests that the Phillips Curve -- a relationship where low joblessness begets higher prices -- may no longer operate. If central bank leaders reaffirm their belief that it will start to work, that would be a sign of confidence that price gains are coming.
Jackson Hole almost guarantees market-important information, and this year "I would bet it has to do with inflation," said Guy LeBas, chief fixed-income strategist at Janney Montgomery Scott in Philadelphia. "Inflation is the biggest -- and the discussion of the Phillips Curve is the second-biggest -- economic issue that has policy implications."
The Fed has already signaled that it will probably get moving on unwinding it's $4.5 trillion balance sheet in September, and Yellen could solidify that view. Still, if the Fed chair signals any uncertainty over her inflation outlook, it could cast doubt on the Fed's projection for one more interest-rate increase this year.
Draghi, who will have spoken in Lindau, Germany, on Wednesday before traveling to Wyoming, will be a key focus on policy-watchers' attention.
The ECB is entering a crucial phase of its battle to restore euro-area price stability. It was in Jackson Hole three years ago that Draghi laid the groundwork for its 2.3 trillion-euro ($2.7 trillion) bond-buying program.
The region's recovery has gathered pace since the start of the year, allowing officials to pledge to start talks this fall about a strategy for 2018 that could include gradually reducing purchases to zero.
Yet policy makers also appear uncertain about how fast to proceed. That's become more evident since a Draghi speech in late June, in which he referred to reflationary forces, sent the euro higher. At the ECB's Governing Council meeting on July 20, officials expressed concern over the potential for an exchange-rate overshoot that undermines the economic revival.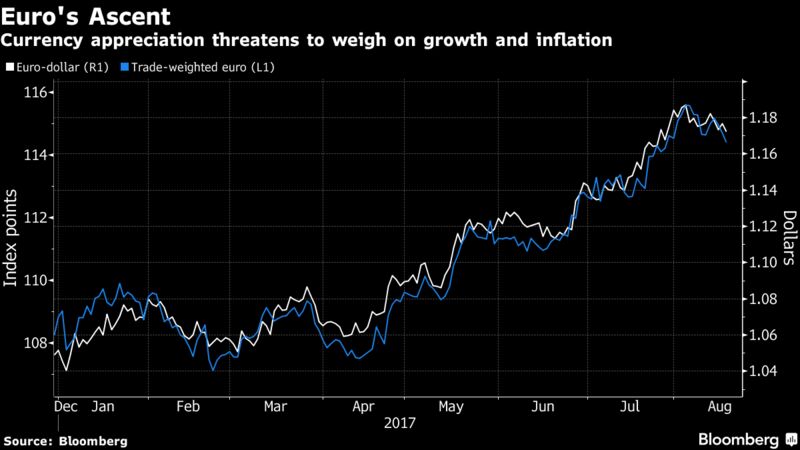 "As the ECB signals that it is gradually approaching the exit, euro appreciation could be provoked, which will flatten the expected recovery in inflation and thereby reduce the probability of exit," said London-based Deutsche Bank economist Mark Wall.
Draghi may therefore choose to strike a cautious tone -- expressing optimism over the economy but steering clear of signaling his thoughts on tapering until Sept. 7, when the Governing Council meets and he holds a press conference.
Yellen's action, as the Fed leads the way in unwinding emergency-era policies, may also be a key determinant for the ECB as it crafts the timeline for its own removal of stimulus, said Claus Vistesen, an economist at Pantheon Macroeconomics in Newcastle, U.K.
As the Fed starts to move, "it gives the ECB room, with a lag, to move as well," Vistesen said.