EghtesadOnline: Brent rose to the highest since late May on signs supplies are tightening and a broader market rally sparked by Steve Bannon's departure from the White House.
The global benchmark rose 3.3 percent. U.S. stocks surged earlier following the ouster of President Donald Trump's chief strategist. Government data earlier in the week showed that crude stockpiles declined the most since September last week, while U.S. oil production had the biggest weekly advance since June. Meanwhile, the global physical market is strengthening beyond the seasonal peak in demand, according to Bloomberg.
Futures are "finally catching up with some of the signs we've seen that the physical market is tightening," Clayton Rogers, an energy derivative broker at SCS Commodities Corp. in New Jersey, said. "Brent spreads are ripping, U.S. crude stocks are drawing rapidly."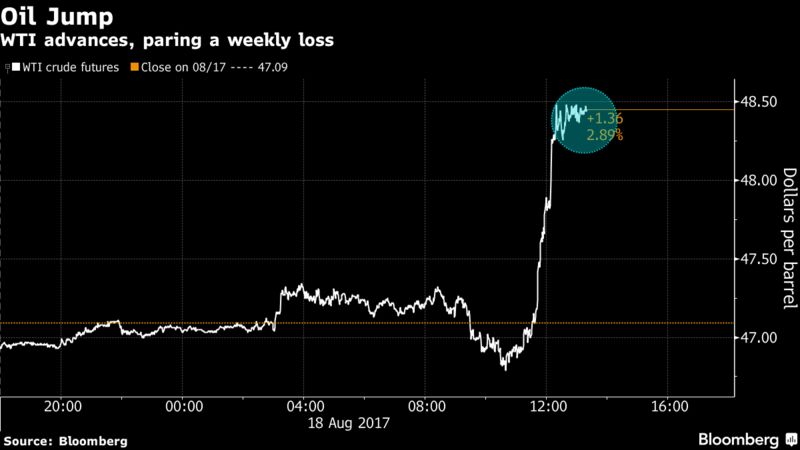 Oil in New York has lingered below $50 a barrel as the Organization of Petroleum Exporting Countries and its allies make efforts to reduce supplies and help rebalance the market. While U.S. crude production is at the highest level since July 2015, the latest data from Baker Hughes Inc. show nationwide oil rigs declined by five this week.
West Texas Intermediate for September delivery climbed $1.42 to settle at $48.51 a barrel on the New York Mercantile Exchange, the biggest advance in more than three weeks. Total volume traded was about 16 percent above the 100-day average. Prices declined 0.6 percent this week.
Brent for October settlement advanced $1.69 to end the session at $52.72 a barrel on the London-based ICE Futures Europe exchange. The global benchmark crude traded at a premium of $4.06 to WTI, the widest level since September 2015.
The removal of Bannon, the former chairman of Breitbart News, may quell some of the fallout from Trump's remarks on violence in Charlottesville, Virginia, which continue to raise questions about his ability to retain his team and focus on his economic plans and U.S. energy strategy.
Brent futures for the nearest delivery traded at a premium of 31 cents to those for the following month, in backwardation for an eighth straight day. This pattern typically signals tighter supplies, while the opposite contango structure signals a glut.
"The real action has been in the time spreads," Harry Tchilinguirian, head of commodity markets strategy at BNP Paribas SA in London, said by telephone. "A lot of the focus is moving away from what oil is trading at in terms of levels, towards how the structure of the curve has significantly changed."
Oil-market news:
The physical crude market is showing strength beyond its usual seasonal peak, a positive indicator for global benchmark futures that remain stuck near $50 a barrel.
Brent's curve has strengthened to levels last seen in 2014, when prices topped $100.
Royal Dutch Shell Plc's Deer Park, Texas refinery is said to reduce output at downstream production units as it expects to take at least a week to repair fire damage on its biggest crude unit, according to a person familiar with operations.