EghtesadOnline: China reclaimed its position as the top foreign owner of U.S. Treasuries after increasing its holdings for the fifth straight month.
China's holdings of U.S. bonds, notes and bills rose to $1.15 trillion in June, up $44.3 billion from a month earlier, according to Treasury Department data released Tuesday in Washington. Japan owned $1.09 trillion, a decrease of $20.5 billion from its total in May. Japan had overtaken China in October as the largest holder of American government bonds, the figures showed.
The two countries account for more than a third of all foreign ownership of Treasuries, which gained by $47.7 billion in June to $6.17 trillion, the figures showed.
According to Bloomberg, China's foreign-exchange reserves rose for sixth straight month to $3.08 trillion in July as the yuan strengthened and economic growth remained strong. Stricter capital controls and a stabilizing currency this year have eased outflow pressures as policy makers encourage foreign investors to channel more money into the country. The yuan has climbed nearly 4 percent against the dollar this year, after declining about 7 percent in 2016.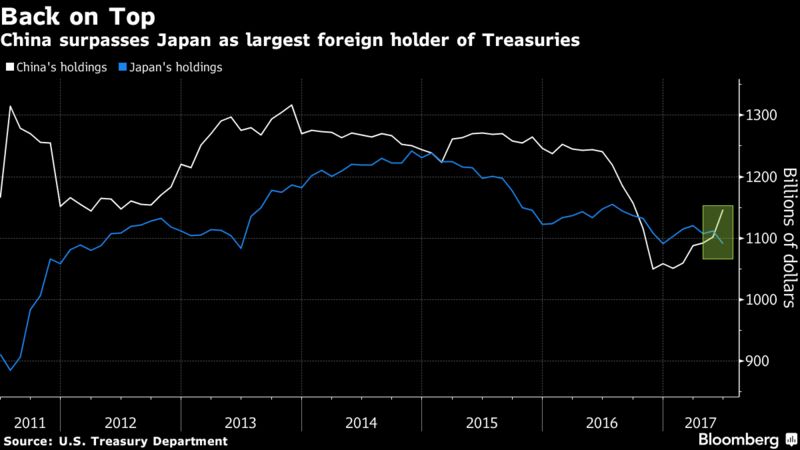 Strong trade flows between the U.S. and China have helped the country's exporters, boosting China's demand for U.S. sovereign debt. China's holdings will likely continue to increase in the coming months, said Thomas Simons, a senior economist at Jefferies LLC in New York.
"I don't think China's done buying, given their trade balance with the U.S.," Simons said. "The trade flows are going to create more demand for Treasuries."
Belgium's ownership of Treasuries, often seen as a home to China's custodial accounts, fell in June to $98.3 billion.
The Treasury report, which also contains data on international capital flows, showed a net inflow into the U.S. long-term securities of $34.4 billion from $91.9 billion in May. It showed a total cross-border inflow, including short-term securities such as Treasury bills and stock swaps, of $7.7 billion following $54.7 billion the prior month.