EghtesadOnline: Metals are the undisputed kings of commodities and among the world's best performing major investments thanks to Chinese state power.
While energy and farming prices wallow in glutted markets, the top six raw materials in the Bloomberg Commodity Index this year are all metals, mostly due to China's pledges to use its control of local producers to rein in supply, Bloomberg reported.
Aluminum, with prices up 20 percent this year, led copper, zinc, gold, silver and then nickel higher on the index, while natural resources from sugar to crude oil and soybeans are all lower. A London Metal Exchange gauge of prices for six industrial metals has jumped to its highest in more than two years, beating major assets including U.S. equities and bonds.
"I don't see anything to make me doubt our belief that base metals are now in a bull market," said Guy Wolf, head of market analytics at Marex Spectron Group. "As people start to realize that the reasons for prices going up are robust and sustainable, that's going to bring more money into the market."
The picture contrasts with oil, still below $50 a barrel after a slump in 2014 as a glut from U.S. shale production persists. Excess output is also weighing on agricultural markets such as soybeans and sugar, with the European Union poised to allow farmers to plant as much beet as they want.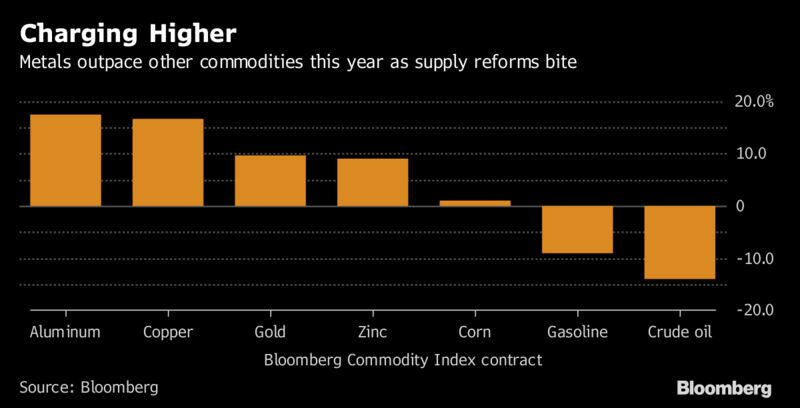 The aluminum industry, plagued by oversupply since a slump in demand after the global financial crisis almost a decade ago, has been reining in inventories. About 5 million metric tons of the 7 million tons of excess metal produced from 2008 to 2011 has now been consumed, according to researcher CRU Group.
Prices have also surged this year on expectations that Chinese government plans to curb local capacity will lead to a worldwide deficit of the metal.
"The price has rightly reacted to this step change in the Chinese government's approach to managing aluminum production," said Eoin Dinsmore, a senior consultant at CRU. Demand is also lending support, particularly as usage in China's auto industry picks up, he said.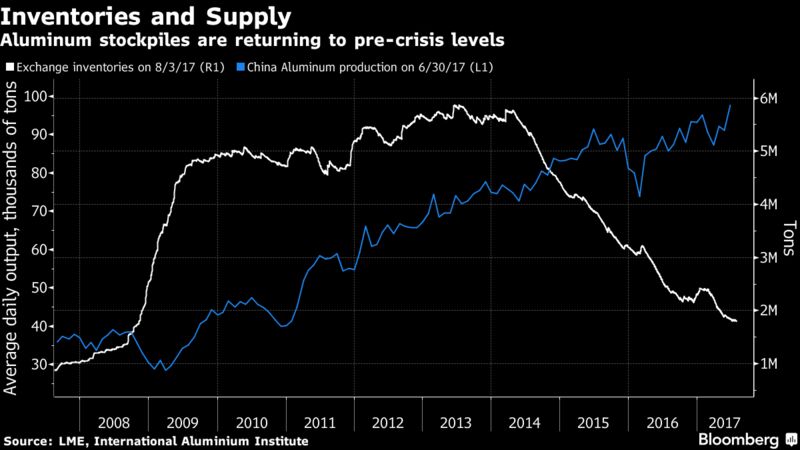 The Asian country is also behind copper's surge to its highest level in nearly three years as efforts by authorities to spur economic growth boosted manufacturing demand. China's rising consumption, as well as mine disruptions around the world, has prompted a surge in bullish bets by hedge funds.
"We've seen in the past how speculative froth in these markets can take prices to unsustainable levels," Ole Hansen, head of commodities strategy at Saxo Bank A/S, said by phone from Copenhagen.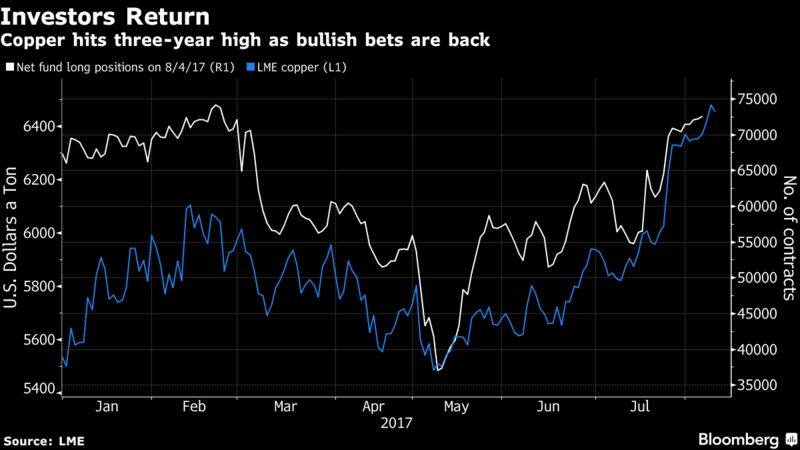 A weak dollar has lent support to metals by making them cheaper for buyers in key markets like China. The Bloomberg Dollar Index is down 8 percent this year, set for its biggest annual loss since the gauge started in 2004.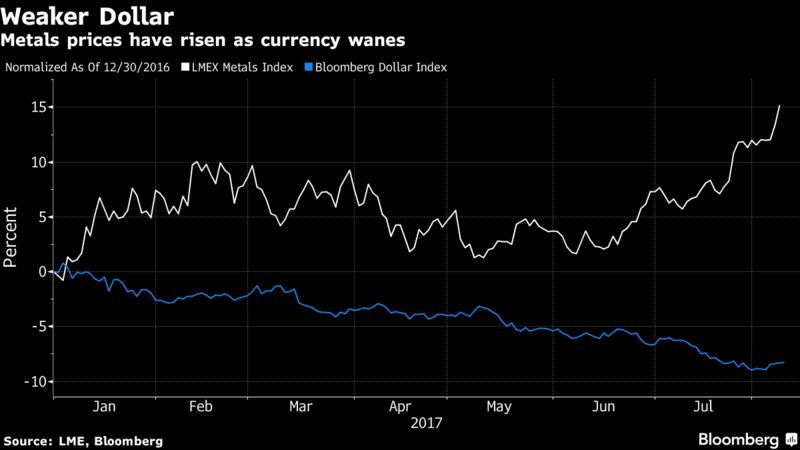 Gold is one area where the U.S. has had a strong influence. The metal's up 11 percent this year as investors in exchange-traded funds turned positive in January, mopping up 170 tons of supply in the first six months after an initially negative reaction to the election of U.S. President Donald Trump in November.
A constant flow of erratic commentary from Trump, including sharp rhetoric against North Korea this week that handed gold its biggest one-day gain in almost three months, has helped to drive the precious metal higher.