EghtesadOnline: Russia's economy expanded at the fastest pace in more than three years after exiting its longest recession this century, and analysts say the most likely driver is an old one -- consumer demand.
Gross domestic product grew 2.5 percent last quarter from a year ago, the Federal Statistics Service said Friday, citing preliminary estimates. That outstrips the 1.7 percent growth forecast by economists, according to a Bloomberg survey. The Economy Ministry estimated output increased 2.7 percent in the period, according to Bloomberg.
"Consumption has most likely started to recover after lending began improving," said Natalia Orlova, chief economist at Alfa Bank in Moscow. "Also there is the weather factor, which accelerated industrial production."
The statistics service doesn't give details of growth contributors in its preliminary reports.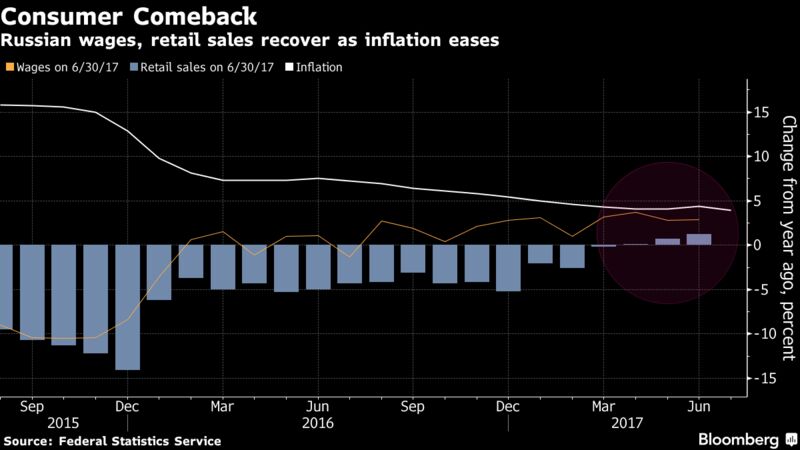 Even as the economy picks up speed, Russia may already be at the limit of what the central bank believes it can accomplish without embarking on a structural overhaul. While much of the country is spinning its wheels, households are turning increasingly confident, loosening their purse strings as inflation settles near a record low and real wages expand for almost a year.
"Growth of 2.5 percent was unexpected, despite the gradual improvement in the economy that we observed in recent months," said Sergey Narkevich, an economist at Moscow-based Promsvyazbank PJSC. "This growth seems too high. We want to understand what's behind this jump, so we're waiting impatiently for further data."
A colder spring than usual may have aided growth as the heating season ran into April, giving some industries a boost, the Economy Ministry reported earlier this year.
Improving Finances
The turnaround is all the more striking after consumers, the main growth driver for more than a decade, bore the brunt of the recession and Russia's worst currency crisis since 1998, with millions sinking into poverty. Real disposable incomes didn't shrinkin June for the first time in five months and unemployment is approaching a record low reached in 2014. The ruble is up about 2.2 percent against the dollar in 2017, adding to its best-ever year in 2016.
"The squeeze on the consumer should continue to fade," said William Jackson, an analyst at London-based Capital Economics.
Improving household finances are finally getting the cash registers ringing. Everyday spending has grown for a third month, according to research company Romir. Sales of new cars and light commercial vehicles rose for a fifth month, soaring 19 percent in July from a year earlier, a pace of growth not seen since 2012, according to the Association of European Businesses.
"It appears that, finally, the middle-class buyer has woken up, encouraged by a brighter outlook on the economy," Joerg Schreiber, of the automakers' committee of the AEB, said in a statement this week. "The recent sales trend is great news and feeding the optimism that 2017 will indeed become a turn-round year for the industry."