EghtesadOnline: U.S. equity traders grown accustomed to docile markets were shaken awake as tension over North Korea escalated, sending the S&P 500 to the largest weekly drop since March.
Those with an eye on the credit markets probably had an easier time navigating the carnage.
A breakdown in high-yield bonds that began five days ago showed up in equities as stocks with the worst credit ratings led losses and balance sheet health separated the winners from losers. Exchange-traded funds tracking large-cap equities and speculative debt fell by nearly identical amounts in the week, Bloomberg reported.
Data compiled by Bloomberg showed the division within the S&P 500, where companies with bond ratings below investment grade lost 3.4 percent on average, more than twice the 1.3 percent loss for higher-rated ones.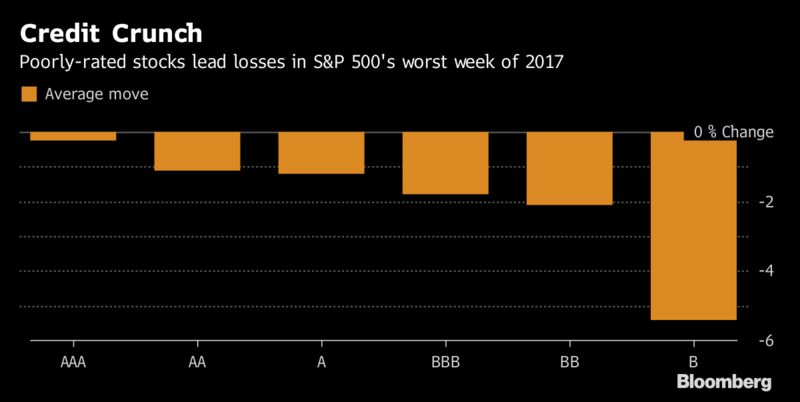 The phenomenon can also be seen in the spread between indexes by Goldman Sachs Group Inc. that divide companies according to finances. Stocks in the bank's weak balance sheet group dropped 2.3 percent as their stronger counterparts lost 0.8 percent.
Over the five days, the S&P 500 dropped 1.43 percent, one basis point shy of the year's biggest weekly drop, posted in March. The Dow Jones Industrial Average declined 234.49 points to 21,858.32.
The tech-heavy Nasdaq Composite Index ended the week 1.5 percent lower at 6,256.56, including a 2.1 percent plunge Thursday, as President Donald Trump delivered a warning to North Korean leader Kim Jong Un that the U.S. would respond to any further aggression. As is often the case, Wall Street was treated to volatility in August, the stock market's most turbulent month.
"Any time I get phone calls from people I don't hear about 90 percent of the time -- high-grade bond traders, people from the retail side -- I know something's going on," Amy Wu Silverman, managing director and equity derivatives strategist at RBC Capital Markets LLC, said by phone from New York. "This is what's been happening. I receive calls from people I don't usually talk to."
Two of the equity market's top strategies this year, chasing winners and buying companies with the highest expectations for earnings growth, both stalled in the market rout.
Momentum stocks in an iShares ETF, up 21 percent on the year, lost 1.3 percent for the worst week since December. As the market dipped Thursday, stocks in the Russell 1000 Growth index lost 1.7 percent, the worst daily move since May.
Financial stocks and energy companies had the biggest industry declines over the period as every primary industry group in the S&P 500 apart from consumer staples declined.
Among individual shares, Macy's Inc. posted the worst weekly move in the benchmark gauge, dropping 12 percent after a double-digit plunge on second-quarter earnings. Chesapeake Energy Corp. fell 8.6 percent as oil producers fell and crude slid 1.5 percent.