EghtesadOnline: The Bloomberg Dollar Spot Index was little changed and the euro was lower versus the greenback as investors awaited the release of U.S. inflation data later Friday.
Even though President Donald Trump escalated the war of words with North Korea, currency havens in the Group-of-10 currencies stayed within relatively tight ranges, possibly due to reduced positioning after the latest washout. Still, implied volatilities remained bid, with euro's volatility skew pointing to increased bearishness across most tenors, according to Bloomberg.
One-month risk reversals in euro-dollar extender their run lower, after closing below par Thursday for the first time in more than two months. In the spot market, the common currency was 0.1 percent lower at 1.1755 as of 10:06 a.m. London time amid muted flows, according to a Europe-based trader. While investors failed to react to inflation readings out of euro-area countries, they may prove more sensitive when U.S. data take center stage.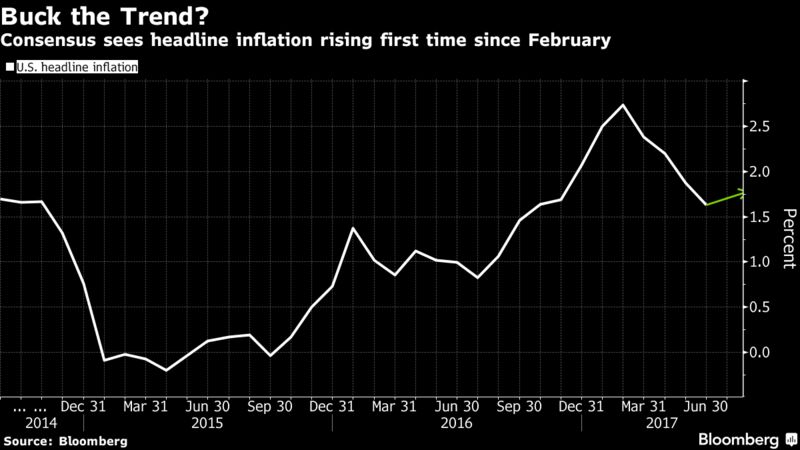 Consensus is for headline annual U.S. inflation to rise to 1.8 percent in July, from 1.6 percent a month earlier, with core steady at 1.7 percent. A weak reading may be enough for the euro to close above $1.1773, which would mark a fifth week of gains for the first time in nearly seven months.
Large orders lie away from current levels, with sizable buying interest within 1.1650-80 and sellers sitting above 1.1830, said the trader, who asked not to be identified as he wasn't authorized to speak publicly

One-year volatility gains a fourth day and touches 8.12%, its highest since April; tenor sees demand from macro accounts while corporate selling pressure has eased, according to a London-based trader

Yen vols gain the most among major pairs, with one-week in USD/JPY set for its longest winning streak in six months

The pair briefly erased its Asia-session losses after London open yet revisited its day low at 108.91 as EUR/JPY selling weighed; a drop below 108.83 will mark the weakest level since April 20
The Swiss franc gained versus all its peers but the yen, albeit within ranges of less than 0.3% against most of them

The pound may see its second weekly decline, for the first time since March, as U.K. data provide little ammunition to sterling bulls

Rallies above 1.3000 are seen as a selling opportunity by leveraged investors: trader

Abundance of expiries in the majors may dictate price action with most notable ones being EU2.5b rolling over in EUR/USD within 1.1750-65, $1.64b in USD/JPY at 109.00, EU876m in EUR/GBP at 0.9000 and $1.48b in USD/CAD within 1.2725-45: DTCC