EghtesadOnline: Stocks in Hong Kong fell the most since November and volatility surged as U.S. President Donald Trump stepped up pressure on North Korea.
The Hang Seng Index declined 2 percent to take its weekly drop to 2.5 percent, the biggest loss since mid-December. Tencent Holdings Ltd. tumbled the most since February 2016 as investors took profit in some top performers. The HSI Volatility Index, which measures expected price swings on the Hong Kong benchmark, climbed 16 percent for its biggest weekly advance since January 2016. The Hang Seng China Enterprises Index and Shanghai Composite Index both also fell the most this year on Friday, according to Bloomberg.
"All the investors are screaming, 'where's the door?"' said Andrew Clarke, director of trading at Mirabaud Asia Ltd. in Hong Kong. "Hong Kong has been a market where it's all in or all out -- retail clients are taking big profits."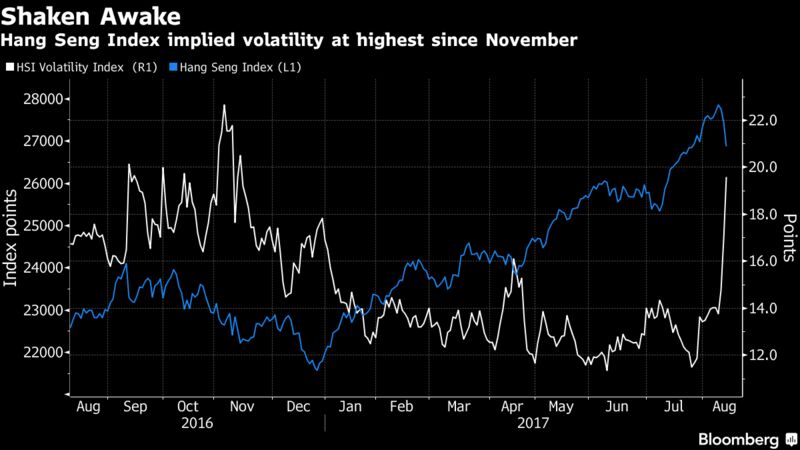 Tencent, which soared 74 percent this year through Wednesday, fell 4.9 percent after a selloff in technology stocks in the U.S. and as it emerged the company is being investigated for cyber-security law violations. Other outperformers this year also hit the brakes, with Geely Automobile Holdings Ltd. and AAC Technologies Holdings Inc. falling at least 3.8 percent. Hong Kong Exchanges & Clearing Ltd. continued its slide from Thursday, when China Merchants Securities Co. was among those to downgrade the company to sell.
Global equity markets were down after U.S. President Donald Trump issued another warning to North Korea, promising a response to any strike against America or its allies. U.S. equities sold off the most since May on Thursday, sparking an unprecedented rush for protection in the options market.
Mainland investors also took profit in Hong Kong stocks through trading links. They offloaded net 1.2 billion yuan ($180 million) of shares through the Shanghai and Shenzhen links, the most since Dec. 8, according to data compiled by Bloomberg. It was the first net selling through Shenzhen since the launch of the program early December.
Tencent was the biggest drag on the Hang Seng Index. Investors took profit after a tech stock selloff in the U.S. and to avoid earnings uncertainty, according to Richard Ko, an analyst at China Merchants Securities Co.
A measure of technology companies on the Hang Seng Composite Index dropped the most since February 2016, with BYD Electronic International Co. and IGG Inc. tumbling more than 7%.
HKEX slid 3.1% for a weekly drop of 7.2%, the most in nearly two years. Market turnover in the city is unlikely to stay strong, according to Jerry Li, a Hong Kong-based analyst with China Merchants Securities.
Volume on the Hang Seng Index was 76 percent more than its 30-day intraday average, according to data compiled by Bloomberg.
On the mainland, a measure of materials companies fell the most on the CSI 300 Index, with Jiangxi Copper Co. and Aluminum Corp. of China sinking more than 9.4%. The subindex has jumped 23% this year, more than twice the gain of the broader gauge. Materials shares also led losses in Hong Kong.
Ping An Bank Co. dropped 5.7% in Shenzhen, the most since September 2015, after earnings showed little improvement in asset quality and a narrowing net interest margin.
The Shanghai Composite and Shenzhen Composite indexes both slid 1.6 percent, while the Hang Seng China Enterprises Index and CSI 300 Index both lost 1.9%.