EghtesadOnline: A pushback against the populist movements that have threatened to destabilize the European Union will help bolster the euro for years, according to Andrew Sheets, chief cross-asset strategist at Morgan Stanley.
The U.S. investment bank raised its forecasts for the shared currency on Thursday, projecting it would reach $1.25 early next year, and trade one-for-one against the pound for the first time. This is a "multi-year call" for a stronger euro, Sheets said in an interview with Bloomberg TV's Guy Johnson on Friday.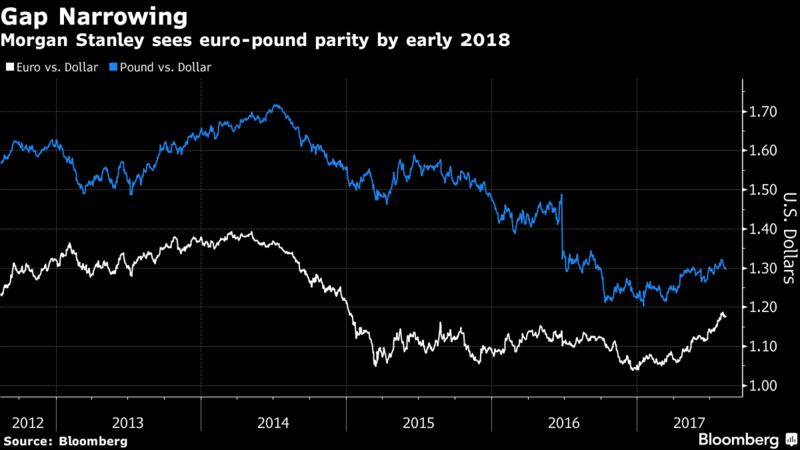 "What markets will focus on is this idea that the core of Europe, France and Germany, are working toward a stronger European Union, making a push toward reform that we haven't seen in a number of years," Sheets said. "That's structurally bullish for the euro."
According to Bloomberg, the common currency has soared 12 percent against the dollar this year amid improving economic growth and as fears of a populist revolt against the European Union diminished when pro-establishment politicians won elections in France and the Netherlands. A vote in Germany next month is giving more cause for optimism as polls suggest German Chancellor Angela Merkel will comfortably win a fourth term.
Increasing demand from pension and insurance funds from Switzerland and Japan will add fresh momentum to the year's best performing Group-of-10 currency in the coming months, as investors scale back hedges and increase positions in euro-denominated assets, Morgan Stanley strategists including Hans Redeker wrote in a research note published Thursday.
Traders who adopt trend-following strategies have ridden this year's euro rally, followed by speculators who in recent months have built up the biggest net-long positions in six years. Now Europe's institutional investors have a slew of good economic and political reasons to buy assets priced in euros closer to home, according to Morgan Stanley.
Meanwhile, the bank is bearish on the pound, and not only because of its bullish outlook for the euro. It reckons sterling is poised for another downward march amid weak growth, low inflation-adjusted yields and increased political uncertainty as it exits the European Union.
The euro advanced 0.2 percent to $1.1799 on Friday, putting it on course for a fifth week of gains, the longest stretch since January. The pound was little changed at $1.298.