EghtesadOnline: U.S. stocks opened mixed as investors assessed the latest batch of corporate results ahead of Friday's jobs report. The British pound slumped after the Bank of England cut its U.K. growth outlook.
The Dow Jones Industrial Average hovered near an all-time high, while small caps slid for the sixth time in seven sessions. The dollar firmed as U.S. labor-market data broadly met expectations as attention turns to tomorrow's payrolls report for clues on the economy's strength. Sterling headed for the biggest drop since June and U.K. bond yields fell as the BOE cut its growth forecast. Crude pushed toward $50 a barrel, Bloomberg reported.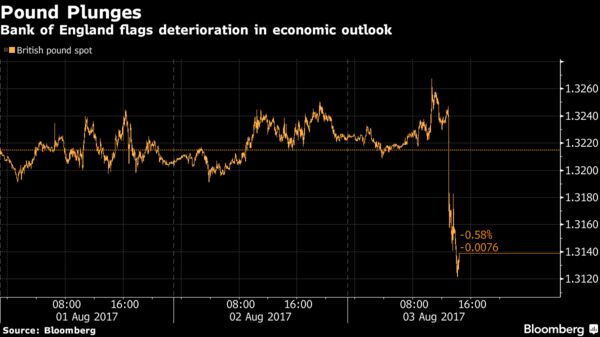 Corporate results have been largely dominating sentiment this week, but Friday's report on the U.S. employment market may provide the next inflection point. Investors are looking for clues on the strength of the world's largest economy and the Federal Reserve's next policy move, not least to see if the dollar will get any respite.
"There is a lot riding on the continued global expansion, perhaps everything for investors," Dave Lafferty, chief market strategist at Natixis Global Asset Management, wrote in a client note. "Investors should remain hyper-vigilant about the global economy and earnings. It is even more important today as neither central bankers nor troublesome valuations are an investor's friends."
Terminal users can read more in our Markets Live blog.
Here are some key upcoming events:
U.S. jobs data on Friday will probably show employers added about 180,000 workers in July.
Here are the main moves in markets:
Stocks
The S&P 500 Index lost 0.1 percent as of 9:31 a.m. in New York, while the Dow hovered near 22,000.
The Stoxx Europe 600 Index added 0.2 percent after swinging between a loss of 0.4 percent and a gain of 0.2 percent.
The MSCI All-Country World Index declined 0.1 percent,
The U.K.'s FTSE 100 Index advanced 0.7 percent to the highest in two weeks.
Currencies
The euro gained less than 0.1 percent to $1.1863.
The Bloomberg Dollar Spot Index was unchanged at 1,155.3.
The British pound declined 0.8 percent to $1.3124, the biggest drop in six weeks.
Bonds
The yield on 10-year Treasuries declined three basis points to 2.24 percent.
U.K. 10-year yields slipped seven basis points to 1.17 percent.
Germany's 10-year yield fell two basis points to 0.47 percent.
Commodities
West Texas Intermediate crude gained 0.4 percent to $49.83 a barrel.
Gold rose less than 0.1 percent to $1,267.21 an ounce.
Asia
The Kospi index fell as much as 2.2 percent, the most since Nov. 9. Samsung Electronics Co., which has the largest weighting on the index, dropped 2.5 percent.
Japan's Topix index closed little changed near a two-year high as investors parse through recent earnings results.
Australia's S&P/ASX 200 Index lost 0.2 percent as Rio Tinto shares tracked their London stock lower.
Hong Kong's Hang Seng Index was down 0.3 percent and the Shanghai Composite Index fell 0.4 percent.