EghtesadOnline: China's small-caps share gauge, cowed by the nation's battle against speculators, is on the verge of becoming cheaper than the Nasdaq Composite Index for the first time on record.
The ChiNext Price Index's valuation based on reported earnings is now at 36.2, compared with 34.3 for the Nasdaq, leaving the narrowest gap since the Chinese board started in 2010. The ChiNext, which is made up of mostly technology companies, has plummeted 25 percent in the past year, while the U.S. gauge has climbed more than 25 percent as of Friday, Bloomberg reported.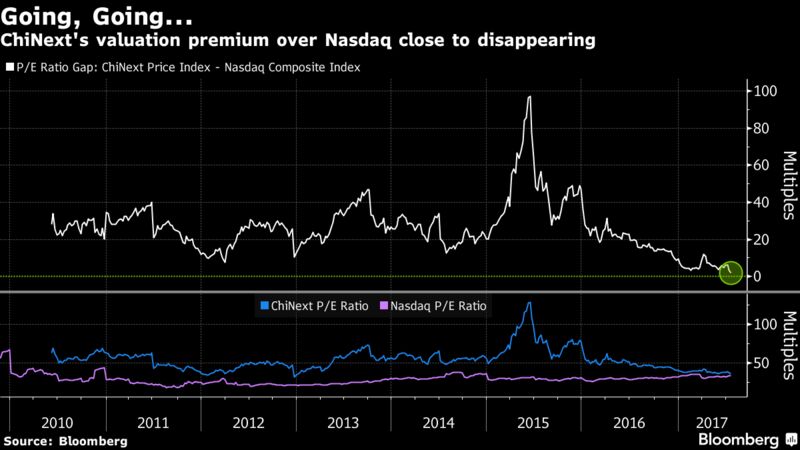 Once a darling of local investors, the ChiNext has fallen out of favor in the past year as China intensified efforts to reduce leverage in the financial system. Concerns were heightened this month, with the Xinhua News Agency citing President Xi Jinping as saying at a five-yearly policy conference that authorities will actively prevent financial risks. While valuations on the small-cap gauge have crumbled from the giddy peaks of the 2015 stock market bubble, they're still elevated relative to the rest of China's stock market, or most global indexes.
"Investors have lost risk appetite in the face of tighter liquidity conditions and increased supply of new stocks," said Qiu Zhicheng, Hong Kong-based strategist at ICBC International Research Ltd. "Given the conference has just signaled policy preference to enhance regulation and reduce risk, the ChiNext will probably continue to fall."
Earnings have played a part as well. Profit warnings by companies including Enjoyor Co.to Hithink Royal Flush Information Network Co., and reports regulators are probing the finances of index heavyweight Leshi Internet Information & Technology Corp., have added to investor bearishness.
After raising $21 billion from share sales in the three years through 2016, the 100 ChiNext members posted a combined profit of just $17 billion and negative combined free cash flow for the period, according to data compiled by Bloomberg. In comparison, the 107 components of the Nasdaq 100 Stock Index reported profit of $905 billion and free cash flow of $996 billion after selling shares for $24 billion in three years.