EghtesadOnline: Stocks in Asia dropped and the yen rose for a fifth day as traders showed caution ahead of a week packed with earnings results and a Federal Reserve interest-rate decision. Oil remained below $46 a barrel before an OPEC meeting on Monday.
Equities gauges were lower in Japan, Australia and South Korea, while benchmarks in Hong Kong and China advanced. The Australian dollar remained above 79 U.S. cents ahead of a speech by Reserve Bank of Australia Governor Philip Lowe on Wednesday.
According to Bloomberg, the market is bidding down the dollar as risk aversion increases ahead of senior presidential adviser Jared Kushner appearing before the Senate intelligence committee on Monday, and Donald Trump Jr. and former Trump campaign Chairman Paul Manafort going before Senate committees investigating Russian meddling on Wednesday.
Earnings from industry bellwethers from Amazon.com Inc. to GlaxoSmithKline Plc and Credit Suisse Group AG are due this week, and central bank policy discussions are providing the latest tests for the bull market in equities that's propelled the value of global shares to $78 trillion. The Fed is expected to stand pat, with investors looking to the accompanying statement for clues on how officials plan to start reducing the balance sheet.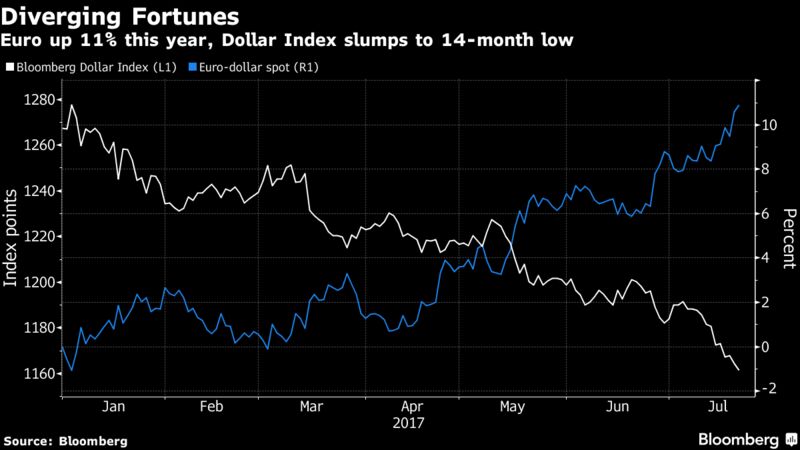 Here are some key events coming up this week:
Australia's inflation probably slowed in the second quarter, possibly below the RBA's target of between 2 percent and 3 percent, forecasts show ahead of the release on Wednesday.
Japanese June data also due this week may show sluggish CPI, even amid a tightening labor market and increased household spending.
China posts industrial profits for last month, with early indicators pointing upward.
Fed chief Janet Yellen is in something of a bind: inflation remains muted and the job market robust. As a result, the central bank is expected to make no change to policy on Wednesday with investors and economists parsing the statement for clues on how officials plan to proceed in reducing their massive portfolio.
Alphabet Inc. and Facebook Inc. results are also all on the calendar this week, as are global banks Deutsche Bank AG, Nomura Holdings Inc., BNP Paribas SA and UBS Group AG. Pharma giants like Merck, Roche and Eli Lilly are also due along with McDonald's, Caterpillar, GM, Ford, Boeing, Royal Dutch Shell, Total and Exxon.
These are the notable moves in markets:
Stocks
Japan's Topix index slid 0.8 percent. Australia's S&P/ASX 200 Index lost 1.1 percent and South Korea's Kospi index dropped 0.2 percent.
The Shanghai Composite Index advanced 0.2 percent while Hong Kong's Hang Seng was 0.4 percent higher.
Futures on the S&P 500 Index fell 0.2 percent. The underlying gauge closed flat on Thursday and Friday last week.
Currencies
The yen climbed 0.2 percent to 110.96 per dollar as of 12:23 pm. in Tokyo, a fifth day of gains. The euro was steady at $1.1672.
The Australian dollar remained above 79 U.S. cents. All eyes will be on RBA Governor Lowe who speaks on Wednesday after Guy Debelle, the central bank's No. 2, last week appeared to tone down the RBA's more hawkish tone recently.
Commodities
WTI crude rose 0.3 percent to $45.89 a barrel after declining 1.7 percent last week. Limiting output from Nigeria and Libya, which are exempt from the curbs, won't be on the agenda when the Organization of Petroleum Exporting Countries and its partners meet Monday in St. Petersburg, according to people familiar with planned talks.
Gold was little changed at $1,254.59 an ounce, having climbed the past two weeks.
Bonds
The yield on the 10-year Treasury note was little changed at 2.24 percent.