EghtesadOnline: Stocks pared recent gains and the dollar sat at an 11-month low as investors assess an investigation into the U.S. president that may stall his economic agenda. The Australian dollar plunged the most since May after a dovish speech by the central bank deputy governor.
European equity markets opened lower, echoing moves in Asia, while U.S. index futures were steady. The New Zealand dollar led G-10 currency gains against the greenback, hitting its highest since September after the country's finance minister said the kiwi's level reflected a strong economy. The euro continued to gain and was at its highest intraday level since Aug. 24. U.S. Treasuries and Australian bonds advanced, according to Bloomberg.
Global equities have continued hitting fresh highs this week amid corporate results that have reinforced faith in earnings and the economy. While it's early in the U.S. reporting season, some 83 percent of companies have topped estimates on the bottom line. Asian shares are up more than four percent in the past two weeks, with markets in Japan and Hong Kong near two-year highs.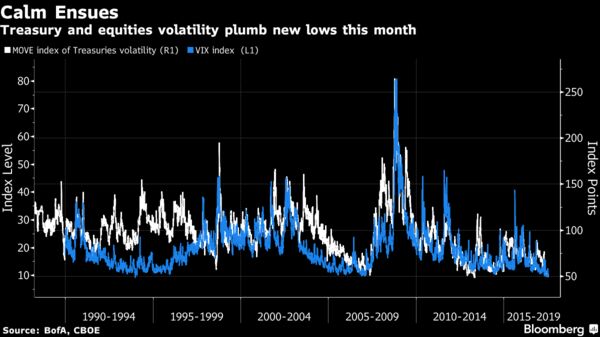 Politics in Washington are again at the forefront after central banks dominated proceedings earlier in the week, with reports that U.S. special counsel Robert Mueller is expanding his investigation of Donald Trump. The news came less than a day after the president told the New York Times that any digging into his finances would cross a red line.
Here are the main moves in markets:
Stocks
The MSCI Asia Pacific Index was down 0.2 percent as of 3:15 p.m. Hong Kong time, its first decline in 10 days. Japan's Topix Index fell 0.2 percent Friday, though it's still near its highest since August 2015. Australia's S&P/ASX 200 Index slid 0.7 percent.
The Euro Stoxx 50 dropped 0.2 percent after closing little changed Thursday. The FTSE 100 rose 0.1 percent, extending gains to a third day.
The Hang Seng Index fell 0.1 percent, the Shanghai Composite Index lost 0.2 percent. Futures on the S&P 500 Index were unchanged after the underlying gauge closed flat Thursday.
Currencies
The Aussie tumbled 0.7 percent to 79.00 U.S. cents, after RBA Deputy Governor Guy Debelle said board discussions on the level of the neutral interest rate shouldn't be interpreted as a signal for tighter policy. Governor Philip Lowe is due to speak next week. The kiwi rose 0.4 percent to 74.24 U.S. cents following comments by Steven Joyce.
The Bloomberg Dollar index was down 0.2 percent, in line for a weekly loss of 0.8 percent. The yen was up 0.1 percent at 111.75 per dollar.
The euro jumped 0.3 percent to $1.1667 at a 23-month high, building on its 1 percent surge Thursday.
Commodities
WTI crude was steady at $46.90 a barrel after losing 0.9 percent Thursday.
Gold was up 0.3 percent at $1,247.84 an ounce, rising for a second week.
Bonds
The yield on U.S. 10-year Treasuries fell one basis point to 2.25 percent.
The yield on Australian government notes with a similar maturity was down four basis points at 2.70 percent, and the three-year yield fell seven basis points to 2.02 percent.