EghtesadOnline: Poseidon is wading into the battle between U.S. crude and Middle East supplies in the world's biggest oil market.
The crude variety named after the mythical Greek god of the sea was bought by an Asian refiner for delivery in September from Royal Dutch Shell Plc, according to traders with knowledge of the matter. State-run Bharat Petroleum Corp. will get 500,000 barrels each of the Poseidon and Mars grades -- both produced in the Gulf of Mexico -- at its refinery in Kochi on India's southwest coast. That's the processor's first purchase of U.S. oil, Bloomberg reported.
Poseidon is the latest grade similar in quality to Middle East supply to lure a buyer in the world's biggest oil consuming region. It's a consequence of OPEC's output cuts, which has reduced cargoes of the moderately sulfurous sour crude pumped by nations such as Saudi Arabia and Kuwait. That's boosted regional benchmark Dubai against the U.S. marker, West Texas Intermediate -- making American oil cheap enough for Asian refiners to haul it all the way from the Gulf of Mexico to the other side of the world.
"This is a trial cargo, and similar to the Middle Eastern crude we generally use," said R. Ramachandran, director of refineries at Bharat Petroleum, known as BPCL. "We have to see what value it brings on processing at our refineries, before deciding on any long term requirements."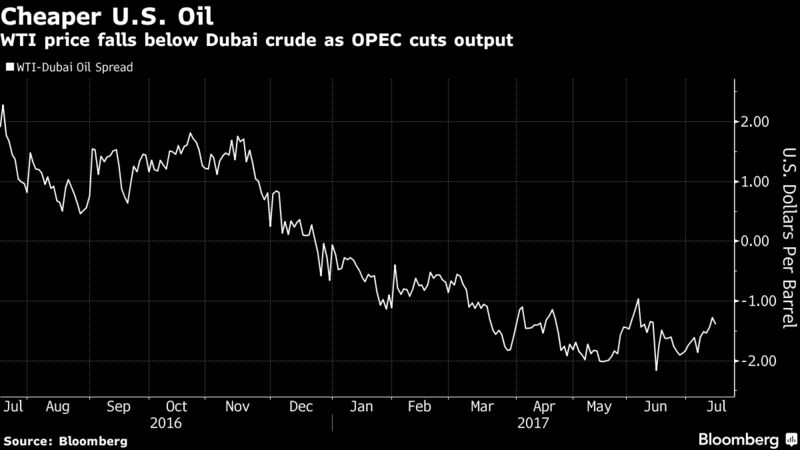 WTI traded at $1.36 a barrel below Dubai crude on Monday, after it flipped from a premium to discount in December for the first time in at least six months, according to data compiled by Bloomberg. The price at which Bharat Petroleum bought the U.S. crude was similar to the landed cost of Middle East grades, said a company official who asked not to be identified because of internal policy.
Earlier this month, Indian Oil Corp. bought Mars Blend crude for arrival in October to the South Asian country, where demand is growing at the fastest pace in the world. It was the refiner's first purchase of American supply. About 1.6 million barrels of the grade will be loaded with 400,000 barrels of Western Canada Select on a very large crude carrier to be delivered to Paradip on the country's east coast.
These cargoes and more from the U.S. present a challenge to traditional Middle East suppliers such as Saudi Arabia, the biggest producer in the Organization of Petroleum Exporting Countries. While they are trying to shrink a global glut and prop up prices by curbing output, they are also grappling with increased competition for sales in Asia from rivals who are not part of their production-cut agreement.