EghtesadOnline: Federal Reserve plans for gradual interest-rate increases hinge on inflation rising to its 2 percent target, but it's not showing up and they don't know why. That's undermining Chair Janet Yellen's case for further policy tightening.
Over two days of congressional testimony this week, Yellen stuck to the Fed's outlook for gradually rising inflation that would support additional hikes in their policy rate. That was before Friday's consumer price index report that showed continued weak pricing power in June across a range of goods and services for the fourth consecutive month, Bloomberg reported.
"There is no way of getting around it," said Laura Rosner, a senior economist and partner at MacroPolicy Perspectives LLC in New York. "The weakness is pretty broad and it's partly happening in cyclical areas of the economy that might be slowing, like motor vehicles."
At the Fed's June policy meeting, and in her testimony before U.S. lawmakers, Yellen stuck with the Federal Open Market Committee's baseline forecast, which predicts increasing resource constraints gradually lifting inflation and supporting another rate increase this year with three more in 2018.
She told the Senate Banking Committee Thursday that inflation risks were "two-sided," dismissing some of the weakness in recent reports to "transitory" moves in some categories of the data series.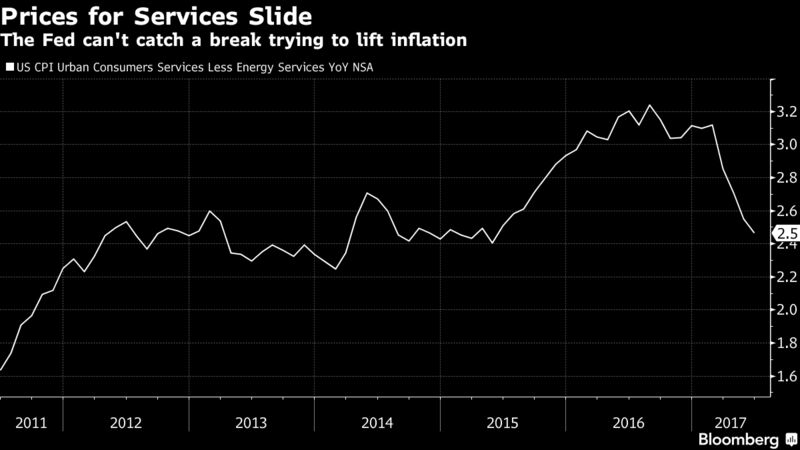 "It's premature to conclude that the underlying inflation trend is falling well short of 2 percent," she said. At her June 14 press conference, Yellen said the committee continues to believe that with a strong labor market, "the conditions are in place for inflation to move up."
The FOMC's outlook and Yellen's comments reflect forecasters' bedrock understanding of how inflation works. They look at public expectations of prices, near-term inflation performance or "inertia," and resource-use benchmarks such as estimates on what rate of unemployment begins to trigger higher compensation that fuels demand in the economy.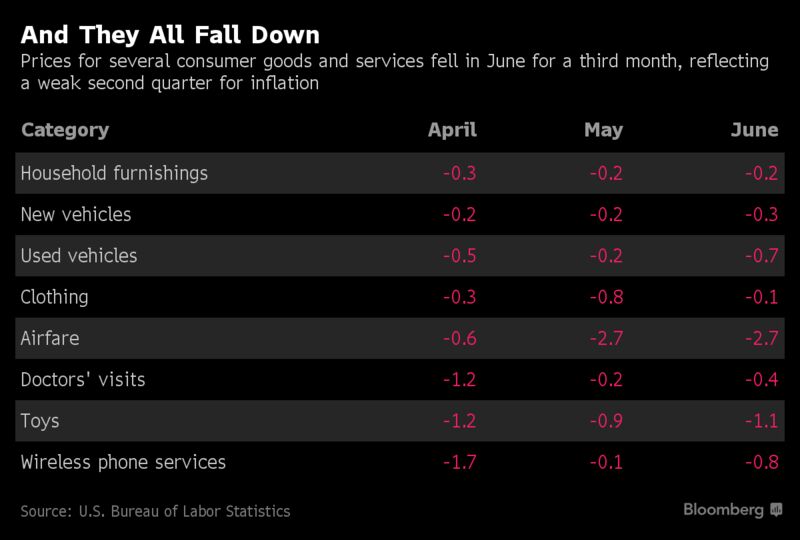 Expectations have been low but stable, while inflation inertia has shown little upward traction. Right now, central bankers are making a big bet that low rates of unemployment will boost prices eventually. Their estimate for the unemployment rate that keeps supply and demand in balance in the economy is 4.6 percent. It's been below that rate since March and stood at 4.4 percent in June.
"They are saying: We don't see the world as tremendously different and at some point domestic resource scarcity will push inflation up to 2 percent," said Michael Gapen, chief U.S. economist at Barclays Plc and a former member of Fed Board staff.
'Not There'
"As long as inertia is due to one-offs -- that is, transitory and non-monetary, then they dismiss it," Gapen added. "But at some point you say maybe that is dumb and shift your tone. They are not there yet."
Even so, cracks in the committee's consensus view that inflation eventually shows up are starting to appear. In her written testimony, Yellen said cited "uncertainty about when -- and how much -- inflation will respond to tightening resource utilization."
Speaking at a National Bureau of Economic Research Event on Thursday, Fed Governor Lael Brainard said, "I don't think anybody can give a fully satisfactory answer to why we're seeing the inflation trajectory that we see today."
"I'm just being very cautious about making sure that our monetary policy settings are orientated to very firmly defending the credibility of our symmetric 2 percent target," Brainard added.
Awaiting Progress
Dallas Fed President Robert Kaplan, who is a voting member of the FOMC this year, said Friday during a discussion in Mexico City that he would like to see "more evidence that we're making progress in meeting our inflation objective before we take further steps in removing accommodation."
U.S. consumer prices slowed to a 1.6 percent rate for the 12 months ending in June from 1.9 percent in May. Minus food and energy, the core rate was unchanged at 1.7 percent.
Investors see a less than one-in-two chance of another hike this year, according to pricing in federal funds futures contracts. The Fed's preferred price measure, the personal consumption expenditures price index, rose just 1.4 percent in May on a 12-month basis, continuing a trend of being below the Fed's 2 percent target for most of the past five years.
"The Fed did not get what it wanted" with the June CPI report, said Omair Sharif, senior U.S. economist at Societe General in New York. "If you are looking for something transitory, you are not going to find it. There is a pretty broad-based deceleration underway."