EghtesadOnline: The optimism that fueled U.S. bank stocks after Donald Trump's election is starting to fade.
JPMorgan Chase & Co. toned down its outlook for loan growth and interest income in the second half, while Wells Fargo & Co. reported a drop in lending that surprised some analysts. Citigroup Inc. joined both in posting less trading revenue as clients pull back from betting amid congressional gridlock, according to Bloomberg.
All but two of the 24 companies in the KBW Bank Index, which soared after Trump won the presidency in November, fell on Friday in New York as investors looked beyond quarterly profits that beat estimates to signs that Washington's inaction is eroding the industry's prospects. While Citigroup's leaders said it was never reasonable to expect Trump and the Republican-led Congress to push through big reforms quickly, JPMorgan Chief Executive Officer Jamie Dimon was blunt about his frustration.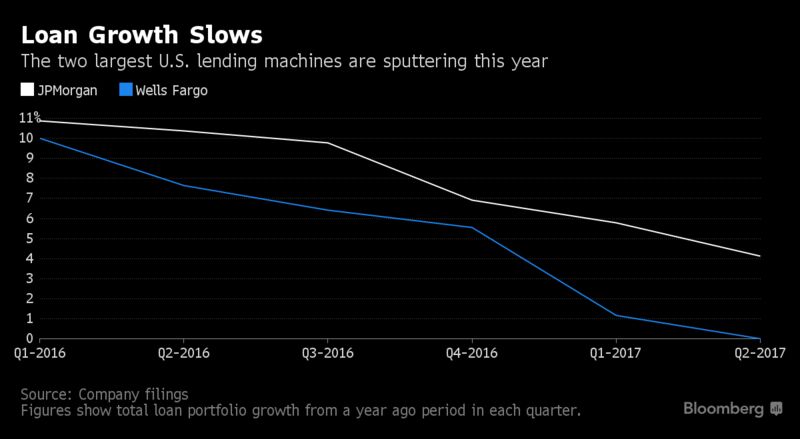 "There would be much stronger growth if there were more intelligent decisions and less gridlock," Dimon, 61, said on a conference call with analysts. He said he doesn't like listening to the "stupid shit" Americans have to deal with, such as the nation's inability to invest in infrastructure and overhaul the tax code.
By the typical yardsticks, banks have been doing well. JPMorgan earned $26.5 billion in profit over the past 12 months, the most ever by any major U.S. bank. While trading results reported Friday were worse than analysts' estimated, second-quarter earnings set a record.
Still, the stock fell 0.9 percent on Friday, the most since May, while the S&P 500 climbed to a record. The bank said that net interest income will probably climb $4 billion this year, less than the $4.5 billion it previously projected. One area of weakness is mortgages, where the market may shrink and competition is stiff, Chief Financial Officer Marianne Lake said. (Wells Fargo, in contrast, said it still sees longer-term opportunities to grow that business.)
JPMorgan, the biggest U.S. bank, kicked off earnings season for the industry, offering insight into how Wall Street trading and advisory and Main Street lending businesses are performing. Following a first quarter in which most firms posted better-than-expected trading results, executives have spent recent weeks tempering investor expectations. Trading desks have been hurt by low price volatility and diminished client activity.
JPMorgan said its markets revenue fell 14 percent in the second quarter. At Citigroup, trading revenue was down 7.2 percent. Wall Street executives have said markets need idiosyncratic events of the kind that helped boost trading in 2016 -- the U.S. election and U.K. referendum, for example -- to change that dynamic.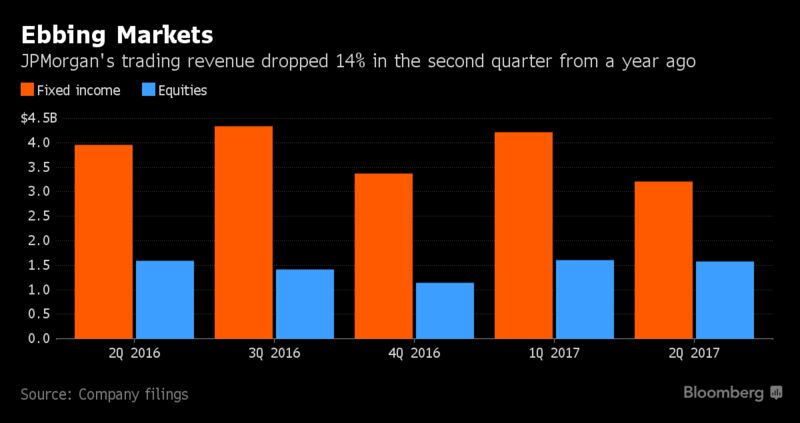 At Wells Fargo, new car loans dropped by almost half in the second quarter, while its automotive portfolio fell to the lowest level in two years after the San Francisco-based company tightened underwriting standards. Total loans fell for a second-straight quarter after they had climbed for seven consecutive periods. The stock fell 1.1 percent to $54.99.
Consumers also are growing more concerned about their own finances. U.S. consumer optimism fell this month to the lowest level since October, University of Michigan preliminary survey data showed Friday. Inflation in June rose less than expected, pushing long-term rates down.
Banks' quarterly results are now providing a check on shareholders' high expectations, said Shannon Stemm, an analyst at Edward Jones & Co.
"Optimism has been high around the prospects for better rates and a better regulatory environment, and some of that optimism is warranted," she said. "But the fundamental picture is a bit more mixed. Earnings bring us back to the underlying results."