EghtesadOnline: Bonds rebounded while U.S. stock futures were steady before U.S. inflation data and bank earnings that will serve as a test for the strength of the economy.
Treasuries headed for their first weekly gain in three, bolstered by Fed Chair Janet Yellen's gradualist tone to policy tightening as inflation languishes below the central bank's 2 percent target. Bunds rose for the first day in four. A gauge of the dollar fell for the fifth day, its longest streak of losses in two months. S&P 500 index futures were little changed after financial shares led gains yesterday with three large banks slated to deliver earnings Friday, Bloomberg reported.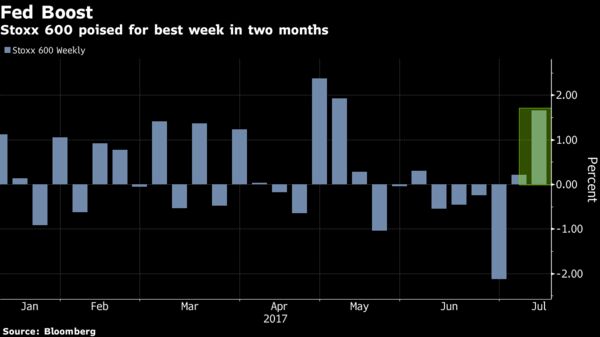 The pace of recent inflation in the world's largest economy has become even more pertinent after Yellen hinted in a congressional testimony this week that sluggish price rises have structural causes. A weak June CPI number will continue more than a quarter of poor progress at a time when some Fed officials are hinging their support for further rate rises on this metric.
Investors will also get clues on how choppy data during the second quarter translated into corporate earnings when JPMorgan Chase & Co., Wells Fargo & Co. and Citigroup Inc. report results. U.S. retail sales and industrial production figures are also due.
Here are the main moves in markets:
Stocks
The Stoxx Europe 600 was little changed after a weekly gain of 1.6 percent as of 6:27 a.m. in New York. The measure headed for its first consecutive weekly advance since May 12.
Futures on the S&P 500 index were little changed.
Currencies and bonds
The pound added 0.2 percent to $1.2968 and the euro gained by a similar amount to $1.1415.
The Bloomberg Dollar Spot Index was down 0.1 percent near its lowest since September.
The 10-year U.S. Treasury yield fell one basis point to 2.33 percent, while sovereign yields across Europe also declined with the benchmark bund yield dropping two basis points and French peers four basis points lower.
Commodities
West Texas Intermediate crude rose 0.7 percent to $46.40 a barrel for a weekly advance of 4.9 percent.
Gold was up 0.2 percent at $1,219.42 an ounce.
Rebar futures in Shanghai fell 2.9 percent to close at 3,551 yuan a ton, paring their weekly advance to 3.6 percent.